Snowy Sunday at Lambeau Field: Green Bay Packers WIN vs. Houston Texans, 21-13
GREEN BAY -- The Green Bay Packers welcomed the Houston Texans to a snowy Lambeau Field on Sunday afternoon, December 4th.

Kickoff was set for noon.

The conditions on the field because of the snow made it a bit dicey for both teams. The Texans were first to cough up the ball -- and the Packers' Morgan Burnett snared it -- and ran it to the Houston 24 yard line.

But within a matter of a few minutes, the Packers fumbled on a muffed snap -- and gave up the ball to the Texans on the five yard line.




At 8:02 in the second quarter, the Packers scored first with a nine-yard touchdown pass from Aaron Rodgers to Randall Cobb (check out his endzone celebration below). It was Packers on top 7-0.




And that was it for the scoring in the first half.




In the second half, Houston was first to score -- they tied the game 7-7 with 7:32 left in the third quarter.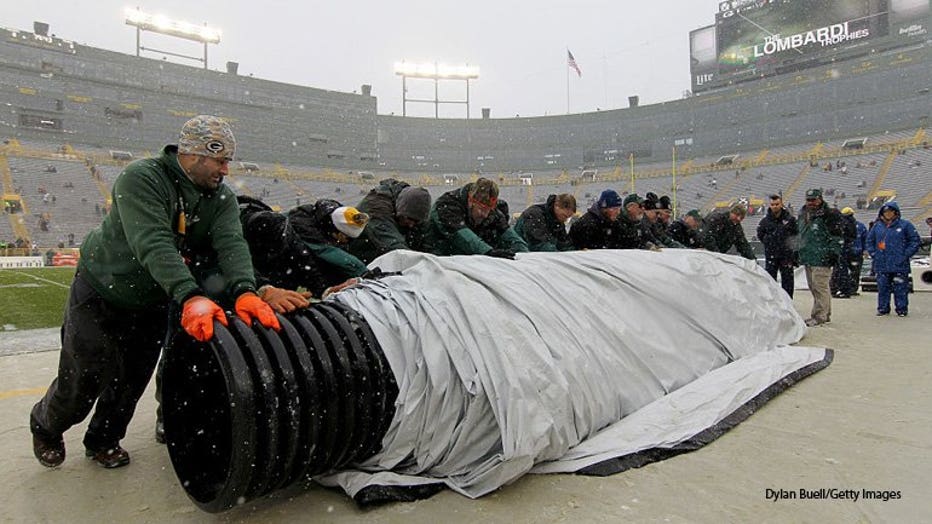 GREEN BAY, WI - DECEMBER 04: The grounds crew removes a tarp from the field before the game between the Green Bay Packers and the Houston Texans at Lambeau Field on December 4, 2016 in Green Bay, Wisconsin. (Photo by Dylan Buell/Getty Images)


The game was all tied up heading into the fourth quarter -- but didn't stay that way for long!




Early in the fourth quarter, Packers QB Aaron Rodgers found Jordy Nelson for a TOUCHDOWN!

The Packers then led the Texans 14-7.




The next score of the game came courtesy Packers' Aaron Ripkowski -- with a three-yard touchdown which brought the score to Packers 21, Texans 7 with 4:11 left in the game.




The Packers led the Texans by eight points after a missed extra point by the Texans after a touchdown catch by Texans' wide receiver DeAndre Hopkins.

The score was then 21-13 -- and that would be the final score -- a Green Bay Packers WIN!




The Packers next face the Seattle Seahawks Sunday, December 11th at 3:25 p.m. It's a game you'll see ONLY ON FOX6!