Slinger senior finds new home on the slopes
SLINGER, Wis. - Tackling the sport of alpine skiing may sound intimidating to some, but for Marc Wiese, the challenge piqued his interest.
"It's just fun going down the hill," said Marc Wiese, senior foreign exchange student at Slinger. "It's just, you've got speed, can turn a little bit and just have fun."
Having fun is the key because why not try out new things in your senior year of high school?
Wiese embraced that idea fully. You see, he's not only new to the Slinger/Hartford ski team, but he is also spending his first winter here in the United States.
"I decided to go for Canada and U.S. as a combination, and I couldn't really decide where I wanted to go, so it was just like, random, but I really like it here in Slinger," said Wiese. "I'm happy to be placed here."
Wiese decided to spend his senior year abroad, coming to Slinger all the way from Germany.
"Getting to learn new people, new friends and a new host family," said Wiese. "That's the process you go through, but I think that really builds up your character and really helps you for the future."
In fact, Wiese is the third foreign exchange student in the last four years to join this ski team, so why has it been such a draw?
Head coach Ryan McMeeken knows all too well.
"The classmates tell them about how it's a great group to be around, and they just want to be a part of it," McMeeken said.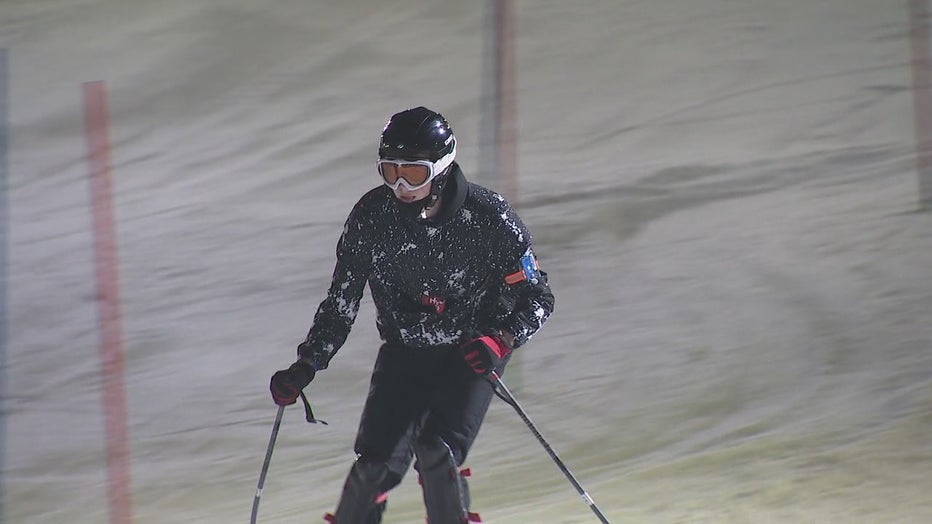 RELATED: Check out the new and improved FOX Sports app
After coming to Wisconsin last August, Wiese joined the Owls soccer team as a goalie. Then he decided to sign up for skiing. The catch? He had no idea how to ski.
"I wanted to do a different sport over the year, not just soccer," said Wiese. "At first, it was just learning the technique, not really going down the hill, just learning how the technique worked and just, you know, every time, going a little bit further and further up the hill. I think at the end of the first day, I could go down the bunny hill with the help of the coach."
Now, four months into his training, he's going down the slopes at Little Switzerland in Slinger with ease.
"I think I've gotten a lot better. Practice just always helps," Wiese said. "The more you practice, the better you get. I've been here so many times just practicing but just on my own."
Wiese is such a fast learner that in his first race, he finished 12th out of 21 skiers.
"I wasn't surprised because if you watch him, and I watch him at practice, he shows no fear going through the course," McMeeken said.
His team wasn't surprised either.
"My teammate always motivated me to do better, and they were just always a great help for me," Wiese said.
SIGN UP TODAY: Get daily headlines, breaking news emails from FOX6 News
"The whole team embraces Marc," said McMeeken. "The first time he came down, we call 'Big Deal,' the main hill here, we were all cheering him on, and it was great to see."
Conquering the biggest of hills, these slopes provided Wiese with the perfect homecoming and one important lesson that applies to all.
"Just to learn new things and always try stuff and just, go for it," Wiese said.