Pre-season home opener: Packers to face Eagles at Lambeau Field, without WR Jordy Nelson
GREEN BAY -- The Green Bay Packers are set to return home to take on the Philadelphia Eagles on Saturday, August 29th at Lambeau Field. It's the Packers' third pre-season game -- and they'll be without wide receiver Jordy Nelson -- who is out for the season with a knee injury.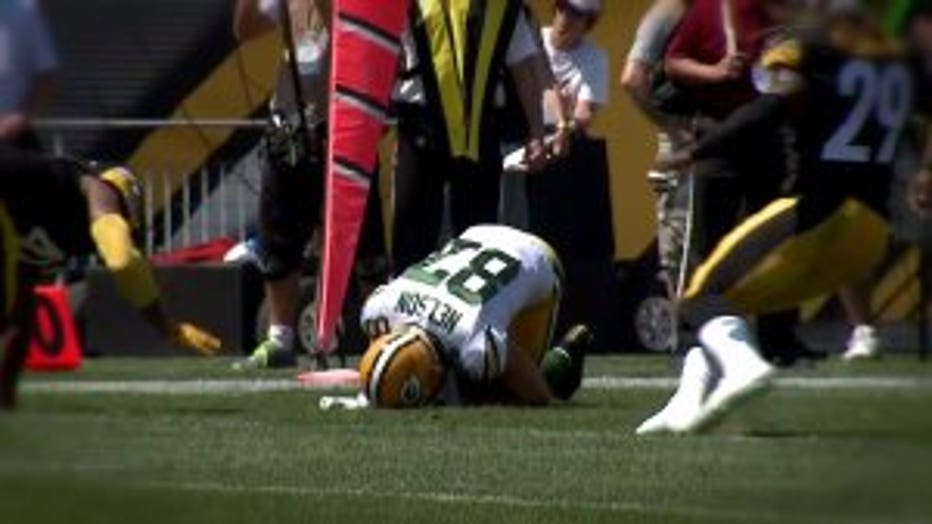 Jordy Nelson went down early in the Packers pre-season game vs. the Pittsburgh Steelers on Sunday, August 23rd — after his second catch of a drive. He fell to the ground when he tried to cut after making an eight-yard reception on Green Bay's opening drive. He appeared to have plenty of room to run when defensive back Antwon Blake slipped, but instead Nelson tumbled to the turf. He limped off the field, and then headed to the Packers locker room.

The NFL said on Twitter Sunday an initial diagnosis on Green Bay Packers wide receiver Jordy Nelson is a torn ACL.

Packers officials haven't confirmed that Nelson did, in fact, suffer a torn ACL -- but he won't be back on the field for the Packers this season.

The Packers are 1-1 in the pre-season -- falling to the Pittsburgh Steelers last Sunday 24-19. Green Bay led into the fourth quarter -- but suffered its first loss of the pre-season.

During Sunday's game, QB Aaron Rodgers led Green Bay's quarterbacks with a 114.2 passer rating, completing 4 of 5 pass attempts for 57 yards in two drives of work. QB Scott Tolzien saw the most action of any of the Packers' quarterbacks, completing 11 of 19 passes for 102 yards and one touchdown.

The score was a 21-yard completion to TE Richard Rodgers late in the second quarter that combined with a two-point conversion to give Green Bay a 16-9 lead going into halftime.

Packers' first round draft pick CB Damarious Randall saw his first NFL action on Sunday -- recording an interception, picking off a deep pass intended for Steelers WR Martavis Bryant on the first play of the third quarter. It gave Green Bay the ball at its own 48-yard line and the ensuing drive resulted in a 55-yard field goal by K Mason Crosby, his only field-goal attempt of the game, to put Green Bay up 19-9.

The Packers had nine players miss the game Sunday due to injury: WR Javess Blue, CB Demetri Goodson, DB Kyle Sebetic, LB Clay Matthews, LB Nick Perry, T David Bakhtiari, DT Mike Daniels, TE Justin Perillo and WR Jared Abbrederis.

Additionally, T.J. Lang and Scott Tolzien were being evaluated for concussions following Sunday's game, and Packers Head Coach Mike McCarthy said earlier this week they were going through concussion protocols.

This is in addition to the loss of Jordy Nelson -- who is out for the season with that knee injury.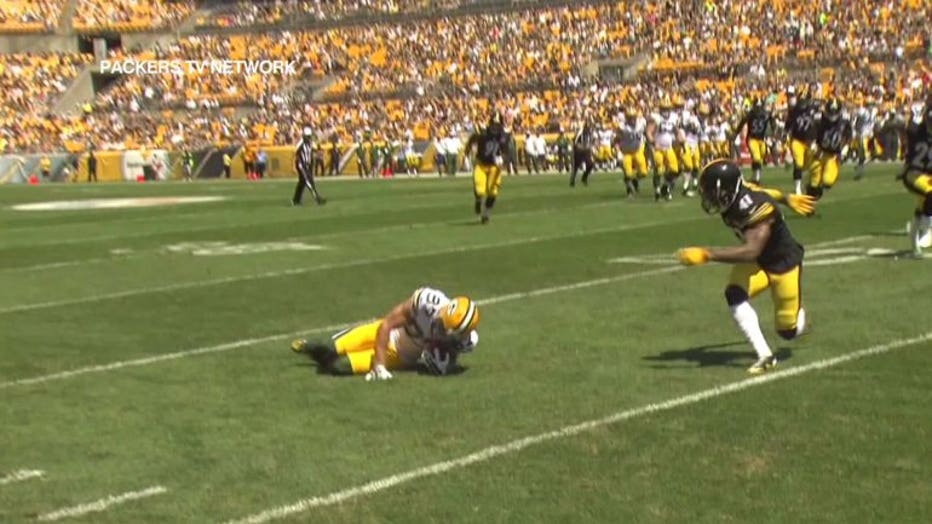 The Packers began the pre-season at New England on August 13th -- where they defeated the defending Super Bowl champion Patriots 22-11.

This Saturday evening, the Packers are back at Lambeau Field for their pre-season home opener. Kickoff is set for 7:00 p.m.

Saturday's game marks the 15th time the Packers and Eagles have met in the pre-season. The Eagles lead the pre-season series, 8-6.

The Eagles will make the trip to Lambeau Field for the first time during the pre-season since 1983.

The two teams first met in the pre-season in 1941 in Milwaukee. The first time the Eagles visited the Packers at Lambeau Field was in 1949.

The teams last met during the 2014 regular season -- on November 16th, 2014. The Packers won at Lambeau Field, 53-20. The victory gave the Packers a 25-14 lead in the regular-season series.

The teams last met in the pre-season back in 2002 (on August 10th, 2002). The Eagles won at home, 20-13. The Eagles have won the last two pre-season meetings.

In that 2002 game, QB Brett Favre completed 6 of 10 passes for 53 yards and one interception while QB Craig Nall connected on 5 of 16 passes for 62 yards.

RB Tony Fisher led the Packers in rushing with 55 yards on nine carries (6.1 avg.) with a long of 28.

QB Tim Hasselbeck saw the most time for the Eagles as he completed 5 of 6 passes for 66 yards and one touchdown (152.1 passer rating).

Eagles RBs Dorsey Levens and Brian Westbrook helped ignite the ground game as they combined for over 100 yards and one score.

The Packers will play their final pre-season game at Lambeau Field next Thursday, September 3rd vs. the New Orleans Saints. Kickoff is set for 6:00 p.m.

CLICK HERE for much more on this Saturday's matchup via Packers.com.

---

As fans prepare for Lambeau Field's first preseason game Saturday night, the Packers are set to welcome fans to Lambeau Field and are reminding game attendees about the stadium's exit and re-entry policy.

Beginning four hours prior to kickoff, no exiting and re-entry will permitted. Guests that leave the stadium after entering will not be allowed to re-enter. The Lambeau Field Atrium, Packers Pro Shop, 1919 Kitchen & Tap and Packers Hall of Fame will only be open to ticketed guests at 11 a.m. on Saturday, and guests will not be able to exit and re-enter after 3 p.m.

Saturday's game is the annual Midwest Shrine game. Since its inception in 1950, the game has raised more than $3.5 million for the Midwest Shrine's burn centers and hospitals. Janine Brass will be performing the national anthem. Brass is a former patient of the Shrine Hospital and has been a fan favorite at the Shrine game for many years.

Available for fans to use at Saturday's game is free, enhanced Wi-Fi service, installed during the past offseason at Lambeau Field. Fans can connect to the "LambeauField" Wi-Fi network through the settings on their mobile devices, and those with cell service through Verizon Wireless can connect to Verizon's own Wi-Fi network in the stadium and enjoy enhanced cellular coverage. Those with service through AT&T can also expect improved coverage in Lambeau Field.

During halftime, the High School Quarterback Challenge competition on the field will feature players from Rice Lake High School and Superior High School.

Saturday's game will recognize USA Football Month, as the Packers have invited four teams from Racine Youth Sports to play on the field during halftime, with players ranging in age from 9 to 11. In addition, the Packers have donated more than 3,300 tickets split between the team's preseason home games to Heads Up Football youth programs.

'USA Football Month,' a national campaign that takes place throughout the NFL preseason, incorporates youth football scrimmages at NFL stadiums and shares USA Football messages during network preseason telecasts. USA Football developed the Heads Up Football program to address the complex challenges of player health and safety in youth and high school football. Details can be found online at usafootball.com.

While the NFL safety policy remains unchanged, this year fans entering at the Shopko Gate will become the first to use newly installed walk-through metal detectors. A league-wide mandate for use at all stadium gates for 2016, the units will be phased in at Lambeau Field with the Shopko Gate debut this season and at all remaining gates next season. Unlike the screening machines at airports, guests are asked to not remove any jackets, belts, coins, keys, wallets, watches, or other objects of similar size. Guests will instead be asked only to remove cell phones, cameras, tablets and other large metal objects and place these items in an extended tray alongside each machine in close proximity and in clear sight.

As in previous years, no bags or purses will be allowed inside Lambeau Field unless they are clear plastic, vinyl or PVC and are no larger than 12" by 6" by 12". Small clutches that do not exceed 4.5" by 6.5" are permitted. Stadium cushions are also not allowed, however, stadium seats and stadium pads that contain no pockets or zippers and are 18" wide or smaller are allowed.

For more information on the NFL's safety policy, please visit nfl.com/allclear.

Saturday's game will feature magnetic game schedules as the game giveaway, compliments of Cenex.

The free Green Bay Metro gameday bus service is available again this year, with extended service to several areas of Green Bay. Fans visiting prior to gameday also are encouraged to use the free G-Line bus route, which runs each half hour between Lambeau Field and downtown Green Bay.

Further details and gameday route information is available at greenbaymetro.org/en-us/packers/default.aspx.

Also at Saturday's game is the premier gameday tailgate party in the Tundra Tailgate Zone (TTZ) in the Lambeau Field parking lot, open to ticketed and non-ticketed guests alike. Activities include photo opportunities, interactive games and live music.

Visit packers.com/gameday/gameday-information.html#s3 for more information on the TTZ.

The Lambeau Field parking lot will open at 3 p.m., along with the TTZ. Gates will open at 5 p.m.

For more gameday information, visit packers.com/gameday/gameday-information.html.

---

The Wisconsin Department of Transportation (WisDOT) Northeast Region Office is reminding motorists heading to Lambeau Field on Saturday, August 29th for a 7 p.m. Green Bay Packer/Philadelphia Eagles preseason football game that I-41 and adjacent roadways from Oneida St. north to Suamico in Brown County are under construction.

I-41, WIS 172 and I-43 could experience significant backups near the stadium, as could the interchanges at I-41/WIS 172 and I-43/I-41. Barrier walls, orange barrels, narrow lanes will affect travel.  Due to the I-41 Project construction, Ashland Avenue through De Pere and Ashwaubenon will also experience increased traffic congestion as additional motorists use this as an alternate route.

WisDOT strongly recommends motorists allow themselves additional time to reach their destinations and check WisDOT's 511 website (www.511wi.gov) or call 511. Additionally, motorists are advised to remain alert and plan on exercising patience as they drive through the Green Bay area.

Here is a list of the major roads in northeast Wisconsin most Packers fans will be traveling as they head for Lambeau Field and the road conditions they should anticipate.

Art Street

The Art Street Festival will be taking place all weekend in downtown Green Bay.  Motorists should be aware that the festival will generate additional traffic going to and from the downtown area.

I-41 and WIS 172 Interchange

Motorists should expect heavy congestion and potential long delays at this interchange before the game and again following the game. Motorists should consider avoiding this interchange area and utilize alternate routes if possible.

Oneida Street and I-41/Oneida Street interchange

Oneida street between Ridge Road and Hansen Road is reduced to single lanes in each direction and drivers should expect significant delays before and after the game.  Drivers are urged to consider alternate routes.

I-41

All construction on I-41 will cease on Saturday for the Packer Game, although barrier walls, narrow lanes, short merge distances and orange barrels will be present in various locations.


I-43 and I-43/I-41 interchange


WIS 441/US 10 and Roland Kampo Bridge

Winnebago, Outagamie and Calumet counties.


WIS 32/WIS 57/County X intersection

Brown County


WIS 441/US 10 and Roland Kampo Bridge

Winnebago, Outagamie and Calumet counties.


Freeway Service Team

Two freeway service teams will be working on game day in Brown County.  One team will be on I-41 from 10 a.m. to midnight and the other will be on WIS 172 from 3 p.m. to 7 p.m. and again from 10 p.m. to midnight.  These teams will assist motorists - free of charge - who are involved in minor crashes or are experiencing a breakdown. If necessary, the Freeway Service Team quickly relocates disabled vehicles from the highway's travel lanes and/or shoulders to safe, pre-designated locations away from traffic.

Services the team provides include:


Please note if you are involved in a crash:

The WisDOT's Division of State Patrol advises you to immediately call 911 if you are involved in a crash.  If there are no injuries and the vehicles can be moved, report the other vehicle plate numbers as you may then be advised to move off the main portion of the roadway to a crash investigation site or to a ramp out of traffic.  This will assist first responders in reaching you while helping to clear traffic delays during the critical travel times before and following the scrimmage.

Additionally, if your vehicle becomes disabled in the US 41 work zone between De Pere and Suamico, notify authorities immediately, and WisDOT will send the Freeway Service Team vehicle to your location. Motorists can then contact their motor club or towing preference after WisDOT has relocated your vehicle to a more accessible and safe location.

Travelers should allow extra time and can check online for real-time traffic information, including travel times, lane closures and incidents, at Wisconsin 511 online (www.511wi.gov) or by calling 511 on a phone.