Packers, several other NFL teams stay off field during anthem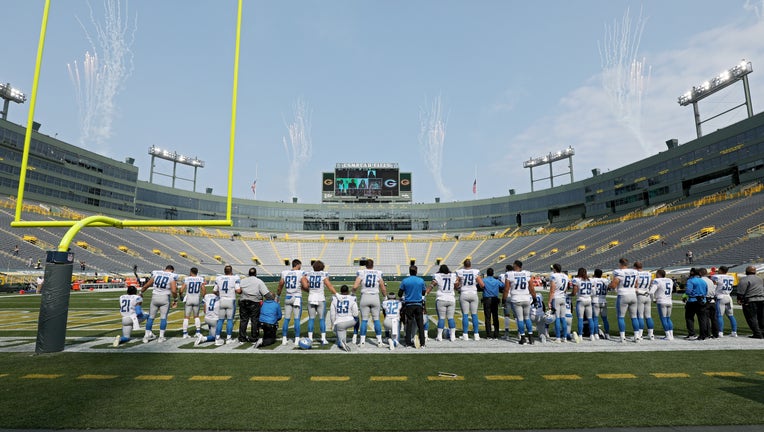 GREEN BAY, Wis. - Several NFL teams stayed off the field when the national anthem was played before their Week 2 games. The New York Jets, Minnesota Vikings, Green Bay Packers, Buffalo Bills and Miami Dolphins were among the teams choosing to stay out of sight.
The San Francisco 49ers, Tennessee Titans, Philadelphia Eagles, Los Angeles Rams, Indianapolis Colts and Detroit Lions were seen by reporters during the "The Star-Spangled Banner," and while many players stood, some took a knee or raised a fist.
Some players were kneeling during the national anthem as former San Francisco 49ers quarterback Colin Kaepernick did several years ago when he started bringing attention to social injustice.
FREE DOWNLOAD: Get breaking news alerts in the FOX6 News app for iOS or Android
The timing of the national anthem seemed to catch the Titans by surprised as they hustled to the sideline to line up when the song was heard. Titans linebacker Rashaan Evans, safety Kenny Vaccaro, linebacker Jadeveon Clowney took a knee and defensive lineman Jeffery Simmons held his right fist in the air.
On the other side of the 50, Titans left guard Rodger Saffold knelt with center Ben Jones with his right hand on Saffold's back. Tennessee right guard Nate Davis took a knee as right tackle Dennis Kelly's rested his left hand on Davis' right shoulder.
The Colts lined up across a goal line for the playing of "Lift Every Voice and Sing."
The Lions were heading toward the locker room before kicking off at Green Bay as the anthem started to play. That's when about 20 of Lions turned around and faced the flag from where they were positioned at the end zone. Several Detroit players were kneeling while other teammates stood.
The Chicago Bears had "END RACISM" cut into the white line under the goal posts behind one end zone and "IT TAKES ALL OF US" in the same spot at the other end at Soldier Field.