Packers draft Ohio State's Myers, Clemson's Rodgers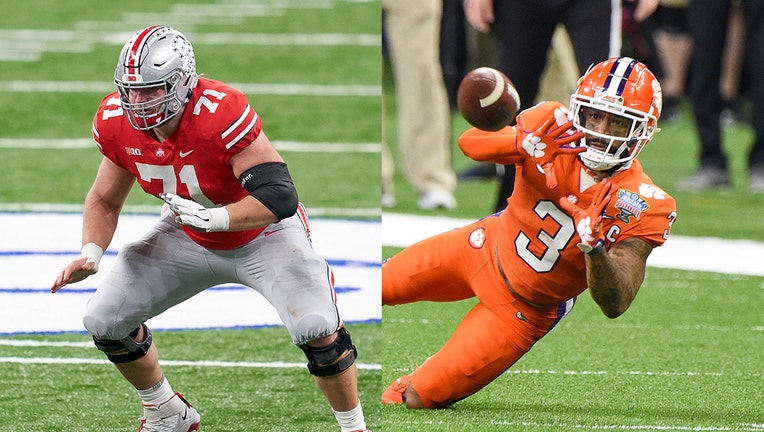 article
MILWAUKEE - The Green Bay Packers drafted offensive lineman Josh Myers in the second round, 62nd overall, of the 2021 NFL draft on Friday, April 30.
The team later on Friday acquired the 85th overall pick in a trade with the Tennessee Titans, selecting Clemson wide receiver Amari Rodgers.
After losing starting center Corey Linsley, also an Ohio State alumnus, in free agency, the Packers went back to the Buckeyes in search of a replacement.
Myers said he has watched plenty of film of Linsley and has seen him and spoken to him on several occasions at Ohio State's campus. Now he has a chance to take over for him.
"It would mean everything to me, to come in an be able to do that," Myers said. "He's just such a great player. To follow him up is a big task that I'm excited to get a shot at."
FREE DOWNLOAD: Get breaking news alerts in the FOX6 News app for iOS or Android.
During Ohio State's run to the College Football Playoff championship game, Myers played through an injury that required surgery. Myers said he hurt his toe in the Big Ten championship game and aggravated the injury in the semifinal victory over Clemson.
"I just felt like I owed it to myself and to my teammates, our coaches and everyone at Ohio State to kind of gut it up and play through it, you know, give ourselves a shot at the national championship," Myers said. "To be honest, I knew there was a chance it could hurt me going into the NFL draft, but it was just one of those things, I felt like I needed to do it whether it hurt me or not because it's what was best for the team. I definitely plan on bringing that same team-first mentality to Green Bay."
Rodgers played four seasons for the Tigers, amassing 2,144 receiving yards and 15 touchdowns. He posted a 1,000-yard season in his final campaign.
In the first round on Thursday, the Packers selected Georgia cornerback Eric Stokes 29th overall.
The Associated Press contributed to this report.
RELATED: Check out the new and improved FOX Sports app