Packers DE Letroy Guion loses appeal; suspended without pay for first three games of season
GREEN BAY -- Green Bay Packers DE Letroy Guion has been suspended without pay for the first three games of the 2015 regular season, the Packers announced Thursday, August 27th.

This, for violating the NFL Policy and Program for Substances of Abuse.

Guion will be eligible to return to the Packers' active roster on Tuesday, September 29th following the team's September 28th game against the Kansas City Chiefs.

Guion is eligible to participate in all preseason practices and games.

ESPN reports Guion completed his appeals hearing Monday on the three-game suspension following his off-season arrest, according to a source, but no ruling was made.

The NFL informed Guion of his suspension in late July, shortly before the start of Training Camp. The 28-year-old Guion told ESPN recently that he would not comment on the suspension until a ruling was made on his appeal.

Guion was was arrested following a traffic stop that occurred on February 3rd in Starke, Florida -- his hometown. Police say they found more than $190,000, marijuana and a firearm in his vehicle.

The arrest occurred shortly after 11:00 p.m. when Guion was pulled over for failure to stay in his lane. An officer reported he could smell a strong odor of marijuana coming from the vehicle.

As an officer approached the vehicle, Guion was apparently hanging out of the driver's side window -- asking the officer if he knew who he was, police say. The officer asked Guion to exit the vehicle and called for backup.

When asked if he had anything illegal in the vehicle, such as weapons or narcotics, Guion told police he had a firearm that was registered to him in the vehicle. Police initiated a search of the vehicle and located a 9mm semi-automatic handgun.

As the search continued, police say Guion became "extremely uncooperative and hostile." An officer reported Guion "kept coming towards the vehicle several times -- saying 'hey man, my money is in there. Don't let him take my money.'" Guion then rushed the driver's side of the vehicle in an attempt to remove a black backpack located on the passenger seat. Guion was then placed in handcuffs, police say.

Inside that backpack, police found a large bag containing a green, leafy substance -- along with a large plastic bag containing two clear gallon bags -- each containing the green, leafy substance. That substance was tested and it was found to be marijuana.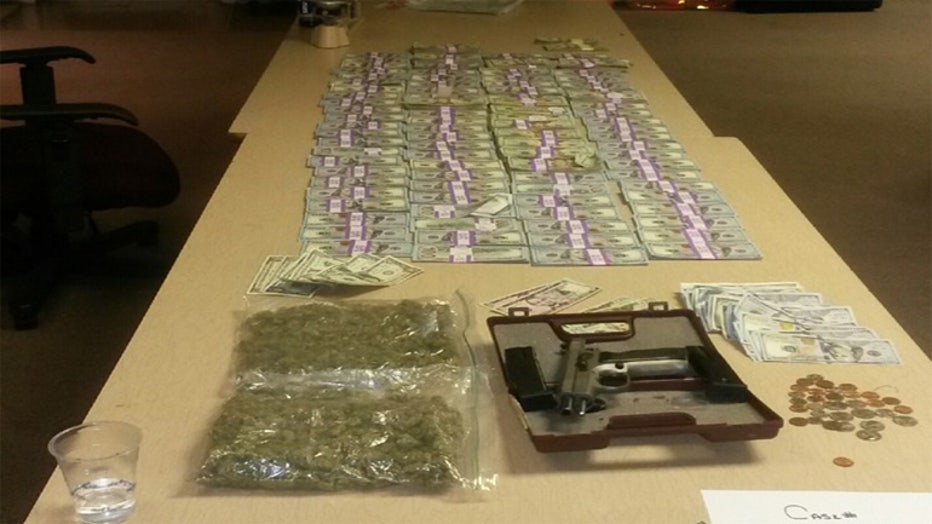 Marijuana, firearm, money seized from Guion


Guion was placed under arrest for felony possession of marijuana and possession of a firearm in commission of a felony.

The bags were weighed at 190 grams and 167 grams -- for a total of 357 grams of marijuana.

More than $190,000 in cash was also found in the backpack, police say.

Green Bay signed Guion to a one-year deal as a free agent last offseason. He turned into a key cog on the defensive line.