Notarized and verified: Milwaukee Brewers say, "This is definitely the original Hank"


MILWAUKEE -- The Milwaukee Brewers held a news conference at the Wisconsin Humane Society on Friday morning, March 4th to dispel rumors about Hank the Ballpark Pup. Rumors suggested Hank was an impostor, he was in the witness protection program, he had expired, or he simply had left to country -- working for a soccer team in Spain.

The team announced it had secured a notarized letter from Dr. William Rice, Hank's veterinarian from Lakeside Animal Hospital. The letter shows Hank was examined on March 3, 2016 -- and he was found to be in excellent health. After checking Hank over, verifying his microchip and dental records, the Brewers say, "This is definitely the original Hank."

PHOTO GALLERY



For a second opinion, another scan was performed on Friday morning by Dr. Nancy Weiss, Wisconsin Humane Society Veterinary Director, which reconfirmed that Hank is…Hank.




"Based on his personality, alone, I am convinced that this is the real Hank, but, using my scanner, with Hank, just a few moments, ago, I can also confirm that his microchip is a match to the one, and only, 'Hank,'" said Dr. Weiss.

Anne Reed, President and CEO of The Wisconsin Humane Society said the following in a statement:

"Every day at the Wisconsin Humane Society, we see animals transform from scraggly strays to healthier, stunning pets simply because of excellent care and good grooming. In Hank's case, it's evident that his transformation is solely due to the loving care he receives from his family. In addition, Hank was microchipped and a simple scan of a chip can reveal an animal's identification. This technology not only helps to reunite lost animals with their families, but in Hanks's case, verifies that he is indeed the true Hank."

The folks at the Wisconsin Humane Society also say Hank's dental records match his teeth. The only thing that doesn't match is his appearance these days.

"He was starving and full of ticks and other things when he came to us," said Brewers Vice President and General Counsel Marti Wronski.

But, this goes to show how quality canine care, including a few fancy feasts and a whole lot of love, can help heal a hound.

The Brewers then introduced Hank -- and a very large white dog (see below) came out from the hallway near the podium (clearly not Hank). The big dog drew laughter. But after joking around with the story a bit, the "original Hank" walked out to meet the cameras.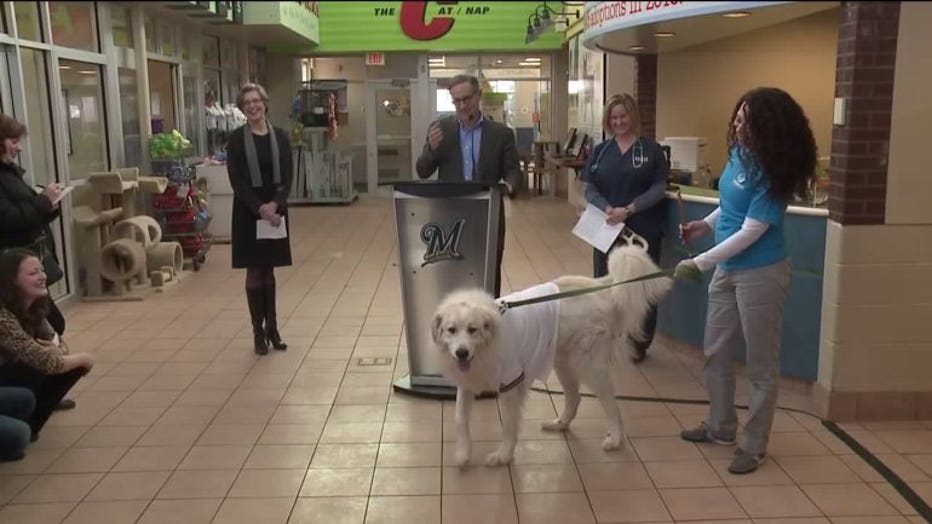 "We are a little bit crazy about the food we're feeding him. It's a lot of pressure to own Hank," said Wronski.

Hank's story dates to February of 2014 when he wandered into the Brewers Spring Training complex in Maryvale, Arizona. Hank quickly became a fixture at Brewers camp, participating in workouts and becoming a media star on an international level. He moved to Milwaukee later that spring and was adopted by the family of Marti Wronski.