NFL Draft prospect Peter Skoronski ready to honor legendary Packers grandfather as NFL journey begins
Peter Skoronski, one of the top offensive line prospects entering this week's NFL Draft, has had the perfect role model to look up to on his football journey to get to this point in his career. 
His grandfather, Bob Skoronski, was a Green Bay Packers legend during his days in the NFL, captaining Vince Lombardi's five world champion teams. He played 11 seasons at tackle, and after retiring, the Packers placed him in their Hall of Fame. 
Some can say the bar was set high for his grandson, who comes out of Northwestern as a projected first-round pick this Thursday. Unfortunately, Bob Skoronski passed in 2018, and will not be able to hear his grandson's name called by whatever team decides to bring him into their building.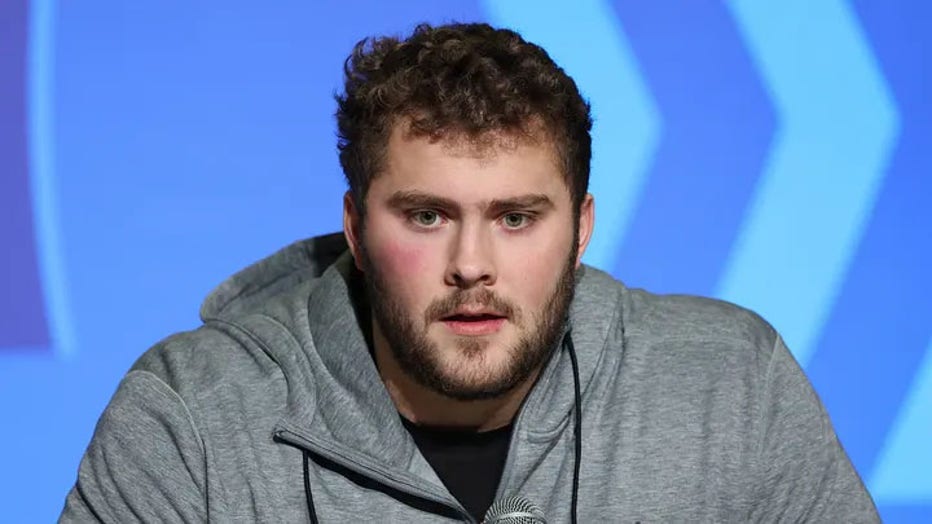 Northwestern offensive lineman Peter Skoronski speaks to the media during the NFL Combine at Lucas Oil Stadium on March 4, 2023 in Indianapolis. (Michael Hickey/Getty Images)
However, Peter Skoronski knows what advice his grandfather would give him as he is entering the biggest transition of his life to date. 
"Just generally, his advice was just work hard, stay humble and keep your head up," Skoronski told Fox News Digital. "Just keeping a positive attitude and keep going. I think those are just words to live by in any walk of life, especially coming up in the Draft and the uncertainty of everything. Just continue to work hard, get better and stay positive about things. I'll remember that in terms of what he would probably say."
Because of his grandfather's status as a Packers legend, Skoronski grew up a "die-hard" fan. However, Bob Skoronski's days around a football field did not end in 1969 when he hung up his cleats. He was always supporting his grandson whenever he got out to the field. 
"His overall support of me and I think the few times he got to see me play it meant a ton to him because I spent my whole childhood basically looking up to him, watching old Packers stuff and all that," Skoronski said. "Just knowing that he supported me….I think that the connection that we had in supporting each other in our own careers that's what sticks with me."
Skoronski was able to connect even more to his grandfather when he visited Whiteman Air Force Base near Kansas City thanks to USAA, the official NFL Salute to Service partner. Bob Skoronski devoted two years of his life in the U.S. Air Force, stepping away from football before returning in 1959, which was Lombardi's first year coaching the Packers.
His grandson admitted he is not too keen on heights, but he was able to fly in a UH-60 Black Hawks helicopter thanks to the Missouri National Guard, and got to tour the base to see the B-2 Spirit Stealth Bomber and the A-10 Warthog.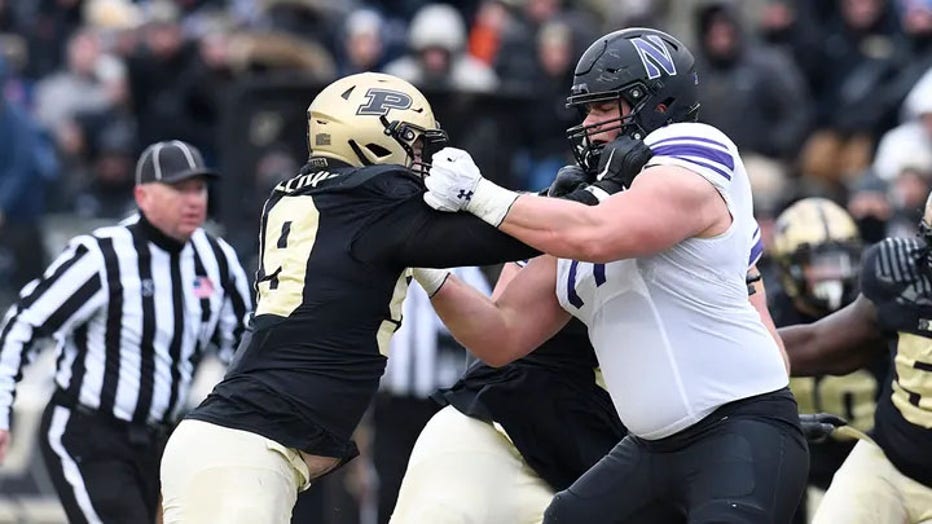 Northwestern Wildcats offensive lineman Peter Skoronski, #77, blocks Purdue Boilermakers defensive end Jack Sullivan, #99, during the college football game between the Northwestern Wildcats and the Purdue Boilermakers on Nov. 19, 2022, at Ross-Ade St
"Just a really cool experience to meet some of the members of the military, too, and show our appreciation for everything they do. It's close to me because my grandfather served in the Air Force," he said. 
Could Skoronski get even closer to his grandfather with the Packers drafting him Thursday night? They now own the No. 13 overall pick following the Aaron Rodgers trade to the New York Jets, and Skoronski has been mocked as high as No. 9 to the Chicago Bears. 
In fact, Skoronski joked that he received an interesting email from the Packers after years of seeing them flood his inbox.
"I grew up a Packers fan, a die-hard fan. That would be pretty special," he said. "I got an email today – I've been getting Packers emails my whole life and from the Pro Shop and stuff. I got an email about some Draft promotion about an auction and the subject was, 'The pick is in and it could be you!' I'm like, 'Oh, that's funny because it could be me actually.'"
Skoronski, standing at 6-feet-4-inches and weighing 313 pounds, played his entire collegiate career at left tackle for the Wildcats, but many NFL experts believe he could be a Pro Bowler if the team that drafts him moves him to guard or even center.
Why? Arm length is a big physical trait that evaluators focus on for offensive tackles in the NFL, and Skoronski's 32 ¼ inch arms are suboptimal. 
While he does not mind moving inside, Skoronski is confident he can follow in his grandfather's footsteps and play tackle. 
"I think I'll play whatever the team I go to needs me to play. Whether that's tackle, then tackle. I'm happy to play guard or center or whatever. I think I can excel at multiple positions, but I know I can play tackle. I know a lot of people in general think 'Oh, his arms are a certain length, so he can't play tackle.'"
"Happy to move wherever a team needs me."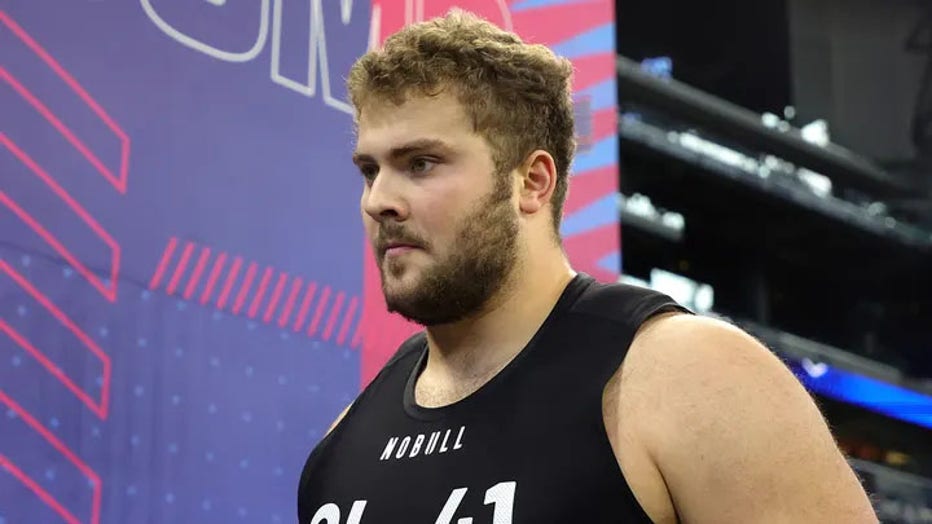 Peter Skoronski looks on during the NFL Combine at Lucas Oil Stadium on March 5, 2023 in Indianapolis. (Stacy Revere/Getty Images)
Versatility will always improve draft stock for prospects, and paired with Skoronski's consistency, which is something he said he prides himself on, a first-round talent could very well hear his name called on Day One.
Thus, his journey in the NFL will begin, and he knows it is a dream he and his grandfather share together. 
"That's everyone's goal when you start college football, to be drafted that high in the NFL," he said of being a first-round pick. "That would be realty, really special for me, but not necessarily worried about the position. Just happy to have the opportunity to play in the NFL."
Read updates to this story at FOXNews.com.