MSOE's Hanewell relishes opportunity to play for Team USA
MILWAUKEE - College hockey and college life are winding down for MSOE senior Matt Hanewell.
"It's definitely hit me harder now than it did in the beginning of the season," Hanewell said.
While there are years of memories from his time as a Raider, those created from two weeks away from the team will stand out for other reasons.
"Oh, it's unlike anything," said Hanewell. "I can't really explain it. It's something I've always dreamed of doing and never thought I'd get the opportunity to do."
Hanewell put on a different jersey during that time, a Team USA jersey, for the World University Games in Lake Placid, New York.
"It truly was a dream come true," Hanewell said. "Like everybody dreams of it. My brother and I, we would put on the Team USA jersey, or I would put on the Team USA jersey, and he would put on Team Canada jersey, and we'd duke it out in street hockey. And for that to come to real life, that was just something you could only dream about. You really can. It was 100% the most incredible experience I ever had."
The team was an underdog in the 12-team field, much like another team there.
"You can't go to Lake Placid without thinking about the 1980 Olympic team," he said.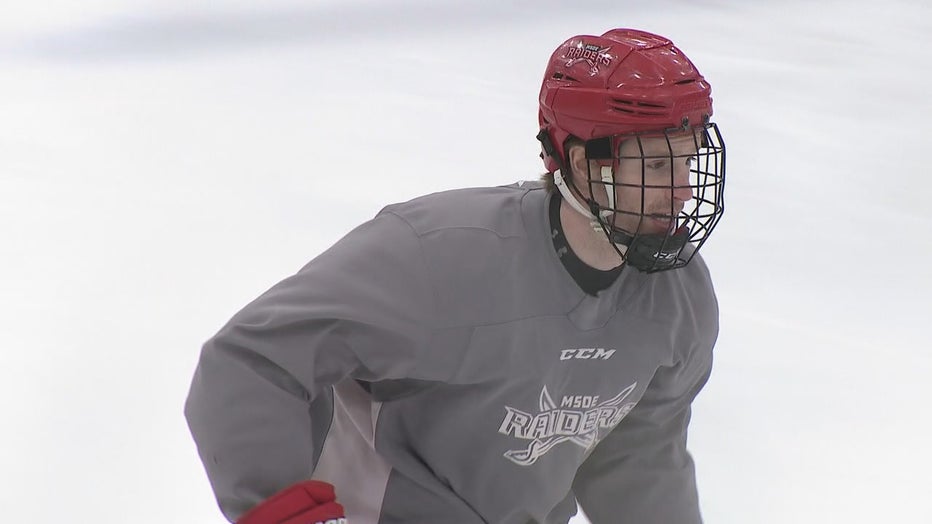 RELATED: Check out the new and improved FOX Sports app
Even though he wasn't even born when that team captured gold, he knows the story very well.
"Obviously, I've watched "Miracle" probably a hundred times," said Hanewell. "Probably more than that. But I didn't really know it to the full extent. We walked through a museum in Lake Placid that told us a little more about it. So, that was definitely cool to see."
Like that team, Hanewell's did something historic, becoming the first American team to reach the gold medal game in the World University Games.
"Obviously, the fans knew how great Canada was," Hanewell said. "And so, they were constantly comparing it to the 1980 Olympics US vs. USSR. But for us, it was Team USA vs Canada."
In that game, Hanewell had an assist and nearly had a goal. But Team USA fell, 7-2, earning the silver medal.
"I can't wait for, you know, down the line when I have kids to bring them to that spot, too," he said. "You know, tell them I won a silver medal in that rink. The history behind it is incredible. So, it's special that I was able to share that."
But he might not be sharing the medal itself.
"It's somewhere locked away, safe," said Hanewell. "Nobody's ever seeing that thing."
One thing that is visible are the friendships he built in the locker room of Team USA.
"It's stuff that you can never, you will never be able to break that bond because it's something you'll never be able to do with anybody else ever again," Hanewell said. "So, it's sort of a sacred bond that you, that you have with each other."
And it's given Hanewell a new perspective.
"I think it sparked a new love for the game for me," he said. "That's something I haven't experienced, ever. It was an incredible experience, and it's something I want to experience again. So, it almost makes me want to keep on playing until I can't play anymore."
Hanewell played in Lake Placid as a teen, but missed the championship game with an injury. So this experience more than made up for it.
Currently, his MSOE team is the 5th seed in the playoffs which starts Friday.
Afterward, he's contemplating trying to play at the professional level.