Milwaukee Bucks officially introduce Mike Budenholzer as new head coach; 'I think Giannis is excited'


MILWAUKEE -- The Milwaukee Bucks on Monday, May 21 introduced new head coach Mike Budenholzer at a press conference inside the new Bucks' arena.

Bucks' General Manager Jon Horst and Budenholzer offered remarks on the concourse of the new arena before answering questions from the media. Budenholzer will have the opportunity to show his player development skill set and it begins with the superstar of this Bucks team, Giannis Antetokounmpo.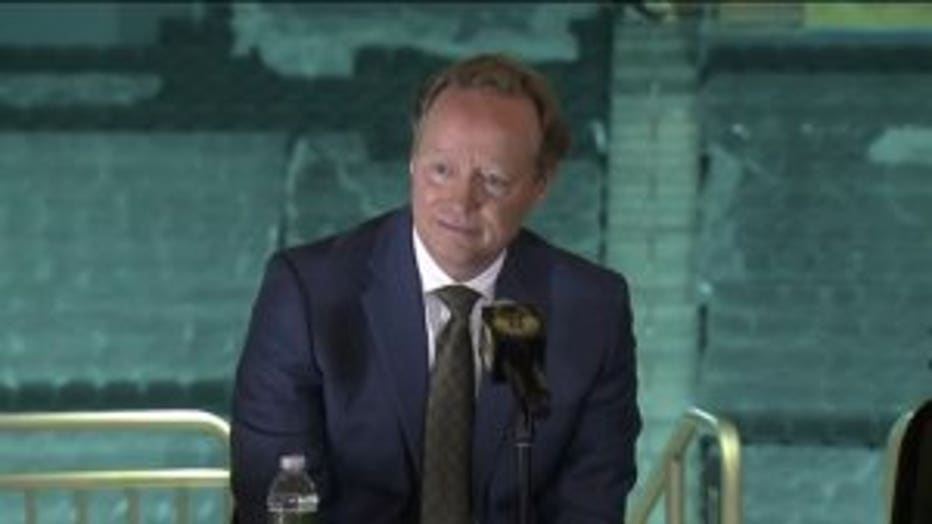 "Well, luckily I think Giannis is excited and thinks there is so much more that he feels that he can give and so many areas that he can improve," said Budenholzer. "That's the biggest part of player development and growth -- being open to it. He works so hard -- and so I think with myself and assistant coaches, Giannis is just going to get better and better. He is special and he is unique but it is because he wants to be great."

The Milwaukee Bucks on May 17 named Budenholzer as the team's new head coach.

"We are thrilled to welcome Mike Budenholzer as the head coach of the Milwaukee Bucks," said Horst in a news release. "Mike has played a key role in building successful teams throughout his career. He's widely respected and has shown a special ability to teach and develop players. His leadership, basketball intellect, championship-level experience and communication skills make him the right fit to take our team to the next level."

According to the release, Budenholzer, 48, most recently served as head coach of the Atlanta Hawks where he guided the team to a 213-197 (.520) record over the last five seasons, including four playoff appearances and a franchise best 60-22 record in 2014-15. He was named NBA Coach of the Year following the 2014-15 campaign that saw the Hawks reach the Eastern Conference Finals.