Milwaukee Bucks' new Nike jerseys pay tribute to Cream City
MILWAUKEE -- The Milwaukee Bucks are paying tribute to the city and state they've called home for 50 years with a brand new "Cream City" City Edition uniform. The new Nike jerseys were unveiled Wednesday, December 27th.

According to a news release from the Bucks, the colors of the uniforms draw inspiration from the full color palette from the city and surrounding areas.

"The west coast of Lake Michigan...provides the bricks that have given Milwaukee its Cream City moniker," the release says. "The cream color comes from the clay found in the Menomonee River Valley and has come to define the architecture of the greater Milwaukee area."




The jerseys proudly display the Bucks logo on the chest of the uniform, the state of Wisconsin on a small belt buckle graphic, and has a Cream City rainbow pattern on the forefront. The Bucks say the pattern, "brings to the forefront the blending of the urban landscape with green of Wisconsin's lush landscapes and blue that pays tribute to Milwaukee's etymological designation as a 'gathering place by the water.'"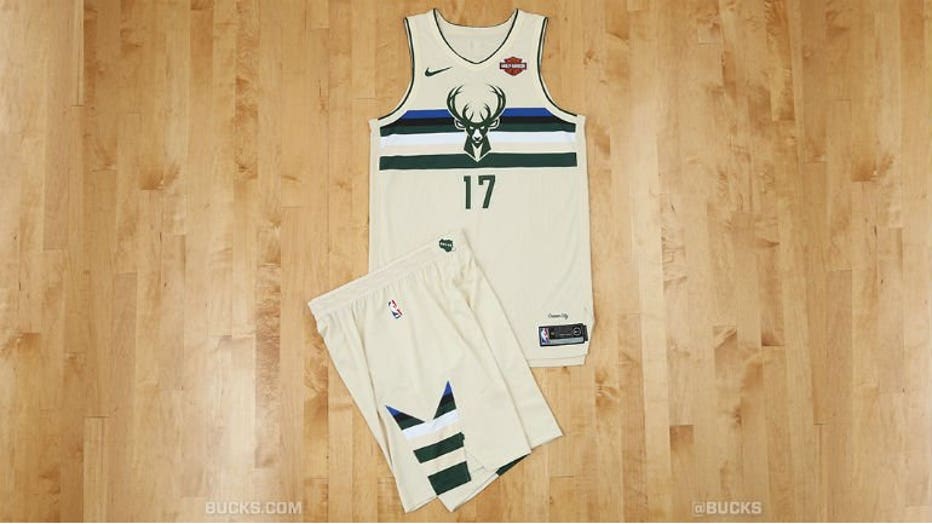 The Bucks will wear the Cream City uniforms 13 times this season; six times at home and seven times on the road -- making their debut at home on January 29th vs. Philadelphia.

Here's a closer look at the games you'll see the Bucks sporting the new jerseys at home:


And on the road:


Fans can pick up the Cream City City Edition jerseys and other items at the Bucks Pro Shop locations starting December 28th. CLICK HERE for more.