Deer District Bucks watch party, weather no concern: 'We come out'
MILWAUKEE - While the Bucks were in Miami for their playoff series against the Heat, fans cheered on the team in Milwaukee.
Saturday's Game 3 was the first away game from for the playoffs, which meant the first Deer District watch party. The weather was a little chilly, but it didn't stop fans from showing up.
"I still had my big winter coat out luckily," said Marcia Zalenski. "With the weather being a little shady, I figured it wouldn't be too crowded here."
SIGN UP TODAY: Get daily headlines, breaking news emails from FOX6 News
"The weather is kind of iffy, but like, Milwaukee, we come out and support our teams," Marty Gonzalez said.
It's definitely not Miami, but fans believed the Bucks would bring the Heat. Head inside The Mecca, and fans were heating up, too.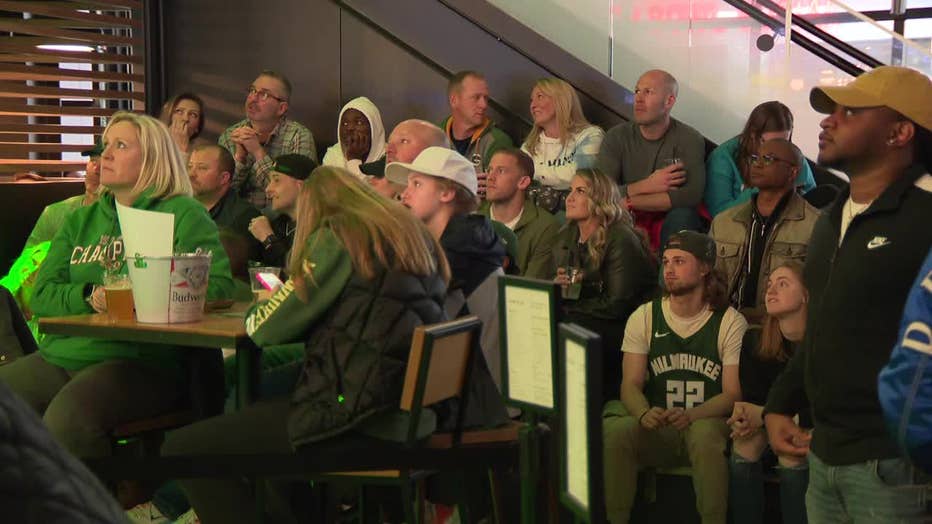 Watch party at The Mecca for the Milwaukee Bucks playoff game against the Miami Heat
"Go Bucks!" said Craig Schanning. "This is a great place to be. This is where champions are made!"
"Oh man, it's electric," said Gonzalez. "It's exciting, you can just feel it internally – I got goosebumps."
Bucks fans said they were still riding the Game 2 win, but weren't sure what to expect with Giannis Antetokounmpo out for Game 3. 
"I know Giannis isn't playing, but I feel we got our feet under us now, we got a couple games in, and we understand what we need to do," Zalenski said.
Wherever Bucks fans watch, there's one opponent that never stops them: Mother Nature. And despite Saturday's loss, fans are hopeful – because Game 5 will be played in Milwaukee either way.
"We just need to support them and cheer them on," Gonzalez said.