Milwaukee Brewers take part in workout after arriving in LA for Game 3 of NLCS
LOS ANGELES -- The Milwaukee Brewers got a change in scenery as they flew into Los Angeles on Sunday, Oct. 14 ahead of Game 3 of the NLCS on Monday vs. the Dodgers -- with the series tied 1-1.



FOX6's Ted Perry and Kaitlin Sharkey also flew into LA on Sunday -- and with the chance for a wintry mix in southeast Wisconsin overnight, FOX6's Ted Perry reported a nighttime temperature of 65 degrees, and noted the roof will be open for Game 3 -- because Dodger Stadium has no roof. It's an open air stadium where the Dodgers have played since 1962, when they moved to the stadium from the Los Angeles Memorial Coliseum.




FOX6's Ted Perry stopped by The Short Stop, the premiere Dodgers bar in the area, within walking distance of Dodger Stadium. We wanted to know, with LeBron now in LA, and the Rams doing well, where do the Dodgers fit in?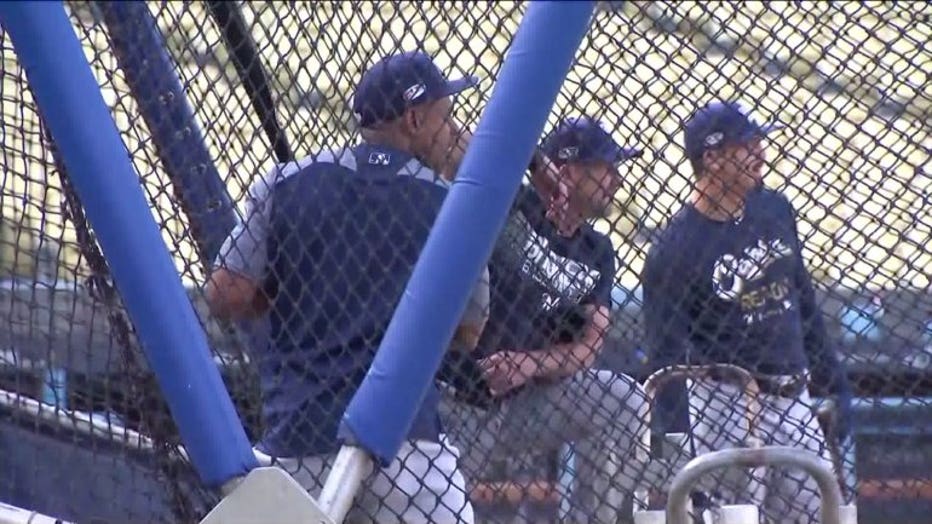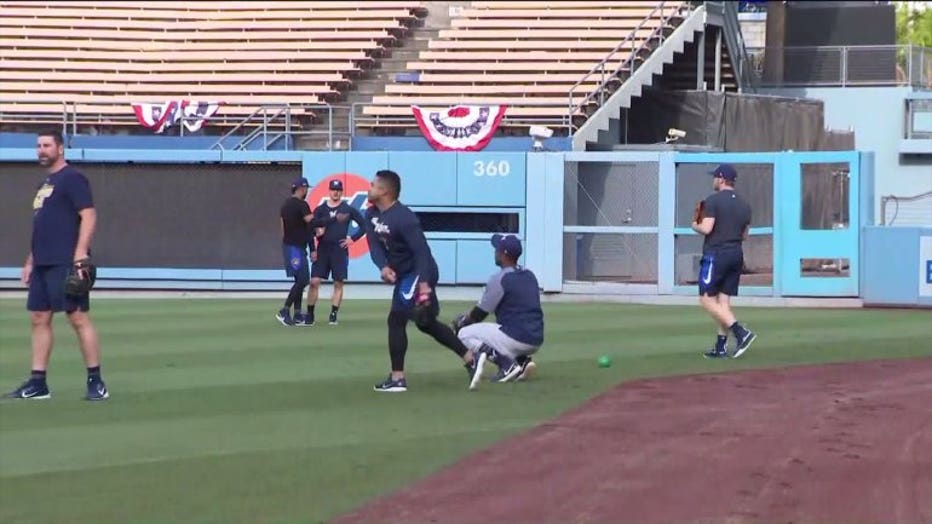 "There's other things happening, of course, but the city kinda comes together in the same way, and they all kinda rally behind our team and there's a whole excitement behind it, which is nice," said Angela Long of Los Angeles.




Upon their arrival in LA, the Brewers went right to Dodger Stadium Sunday for afternoon workouts -- and Craig Counsell commented on Jesus Aguilar's antics during Game 2 on Saturday.

"Our reaction on the mound was, I was not looking at Corbin Burnes coming in the game. All five of us or six of us on the mound were saying 'look at Agui, man. Isn't that just like Agui?' We were laughing at Agui. We were all watching him. I think when Corbin got to the mound, I had to turn around and hand him the ball because we were watching Agui ham it up as he is really good at doing," said Counsell.


FOX6's Ted Perry caught up with Hiccup the clown, a Los Angeles Dodgers' superfan who does a lot of work with the homeless and children who are in the hospital. While those of us in the Midwest might think fans of the Dodgers arrive late and leave early -- that they're not really into it, Hiccup set the record straight.

"That's not true. That's not true at all. You have loyal fans that follow the Dodgers -- real fans that don't miss a beat of what's going on with the Dodgers. Fans that wear blue all year round," said Hiccup.

Game 3 starts at 6:39 p.m. Monday.