In 2nd Brewers stint, Harrison feels 'weight off his shoulders'
PHOENIX - Sometimes, it's not where you began, but where you are. For Monte Harrison, this season, it's both.
"It feels amazing," said Harrison. "I feel blessed. In a way, there's a lot of weight off my shoulders."
That relief comes with an opportunity for Harrison to compete for a spot in the Brewers' outfield this spring.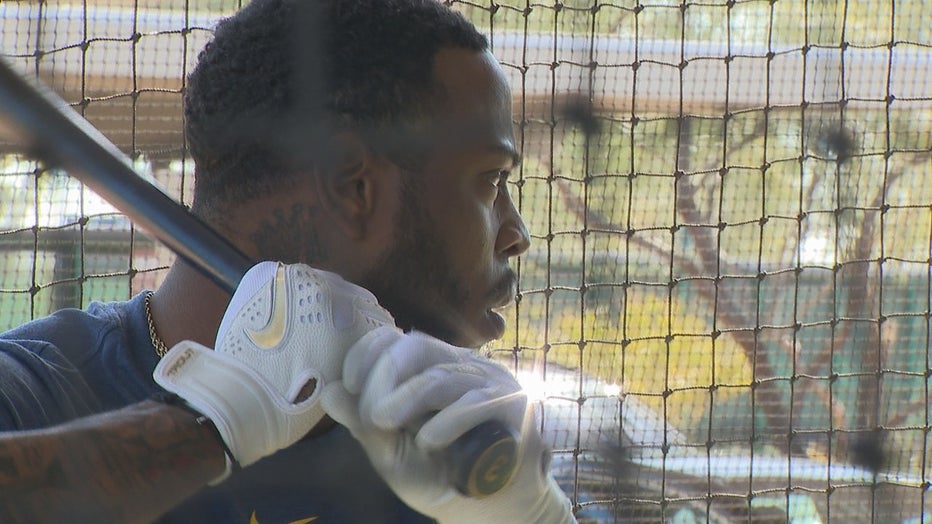 Brewers outfielder Monte Harrison taking batting practice during Spring Training in Arizona. (FOX6 News Milwaukee)
"If you're really working hard, and you're doing what you're supposed to do, at the end of the day, it's never going to go unnoticed, and it's going to be shown eventually," Harrison said.
This is his 10th season in professional baseball. His first was back in 2014 after being drafted right out of high school by Milwaukee. He was taken 50th overall in the second round and became a FOX6 High School Hot Shot.
"I would say the media part is kind of a blur," he said. "Me, personally, I don't try to block out the media, but then again, I try to because you got to deal with a lot of stuff that's already on the field, so a lot of stuff that happens on the field or in workouts, that's a lot I remember."
What he does remember are many of the faces now around him in the clubhouse and guys he played with in the Brewers' farm system.
"Just to know the guys that are here, and the guys that keep moving forward, it's a blessing," said Harrison. "That's a testament to them knowing that they never give up. I know a lot of dudes in this locker room that went through some hard years, one hard year, two hard years, but they're making a name, and they're making some money, too, at the exact same time."
RELATED: Check out the new and improved FOX Sports app
One person he'll forever be linked to is just a few lockers away, Christian Yelich. He was part of the 2018 trade with Miami that brought Yelich to the Brewers.
"You go through a lot of trials and tribulations," Harrison said. "You learn, and you grow, and just be yourself at the end of the day. I know a lot of people try to put you in a box, but once you start thinking outside the box and also, taking those things in the box, you just stick to yourself, and you'll be yourself at the end of the day, and you see yourself blossom."
In 2020, Harrison made his major league debut with the Marlins, but two years later, he was released and picked up by the Angels before opting for free agency at the end of the season.
"In these nine years, I've just grown up a lot," said Harrison. "I mean, been through a lot of situations. Done a lot of things. Seen a lot of things, so at the end of the day, it's all about how you grow as a man, not just the game, but off the field, too."
So at 27, he's trying to make his first baseball home, home again.
SIGN UP TODAY: Get daily headlines, breaking news emails from FOX6 News
"So that's what, going through my years in the minors and the big leagues and stuff like that, there's going to come a day when my time's going to shine, and I really believe my time is now," he said.
Harrison was signed in the offseason to a minor league deal with an invitation to major league camp.
This past weekend, he was sent back to the minor league camp.