Brewers adjusting to MLB's new pitch clock
PHOENIX - Over its history, baseball has always been a sport of leisure. They play it in a park. Innings measure the distance. However, this season, they're being put on the clock.
"I wouldn't say it's exciting," said Hoby Milner, Milwaukee Brewers pitcher. "It's something else you have to worry about."
Hanging on the backstops around the back fields at American Family Fields of Phoenix are bright blue boxes with a bright red clock counting down.
They're at the forefront of every hitter and pitcher's mind in the game.
"I'm looking forward to quicker games," Milner said. "I think it'll definitely be quicker."
In an effort to speed up games, Major League Baseball is introducing a pitch clock in the 2023 season.
SIGN UP TODAY: Get daily headlines, breaking news emails from FOX6 News
Pitchers have 30 seconds to throw a pitch at the start of an at-bat, 20 seconds with runners on base and 15 seconds if the bases are empty.
If they don't get the pitch off, a ball will be called.
"The challenge is getting on the same page with your catcher and just being able to call the right pitch in that amount of time, basically, is going to be the issue for me," said Milner.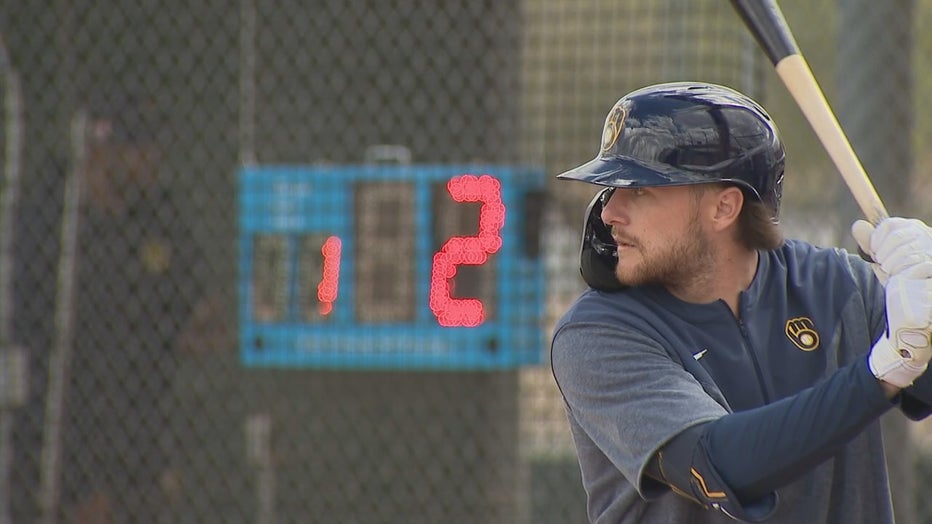 That's why in every workout, the clocks will be running.
"The point of this is to make players a little uncomfortable," said Brewers Manager Craig Counsell. "That's the whole point of this."
RELATED: Check out the new and improved FOX Sports app
"We have all these practice opportunities, and we just go about it the best you can," Milner said. "You know, a problem arises, like when there's a runner on second base. I've run out of time on the pitch clock four times in 30 pitches. Like, obviously, we need to do something different about that. Then we'll just look at options."
More than just a faster-paced game, pitchers like Adrian Houser are seeing positives with the addition of the pitch clock.
"With the time restriction, you have to be in the box and be ready to go on the mound at a certain time," said Houser. "So I think that'll help a lot of us pitchers be able to get in a groove and kind of stay that way and get on a roll."
The clock is also affecting the hitters.
"You've got to get that out of the way right now," said outfielder Tyler Naquin.
They have to be engaged and ready to go with eight seconds on the clock or a strike is called, and they're limited to just one timeout per at-bat.
"The rule for the hitters is really straightforward," Counsell said. "There's not as much wiggle, it's really straightforward. You've got to be in the box. Got to be alert. One time out, that's it."
"Right now, in the games, practice, just step out with one foot, get back in," Naquin said. "Get ready to hit, so you don't have to deal with that or having to go back and forth with an umpire or somebody during the regular season. You know, take the focus off of what you're doing and just get in there and hit."
The rule has already been in place in Triple-A where Brice Turang first experienced it.
"I was fine with it," said Turang. "I'm usually a fast-paced guy anyway, so less time to think about things. Like I said, we'll see how it goes this year."
Time is counting down until the clock actually matters, and the Brewers aren't wasting any time getting ready for it.
"I think that's exciting for me, just having a two-and-a-half, three-hour game would be ideal," said Milner.