Ashby 'rolling with the punches' on road to recovery
PHOENIX - In January, Aaron Ashby was champing at the bit to get to spring training.
Well, now, his anticipation has changed as he's just champing at the bit to get on the field because he's dealing with a shoulder injury throughout all of spring training.
"I wish I was out there playing catch with the guys every day," said Ashby.
Normally, this is the time of year when a player is living out his hopes and dreams.
SIGN UP TODAY: Get daily headlines, breaking news emails from FOX6 News
However, this spring, Ashby's hopes and dreams have changed.
"Just kind of rolling with the punches and knowing that there's a plan ahead, and it's going to be what it is," Ashby said.
In January, Ashby was looking forward to going to Phoenix to build off of last season.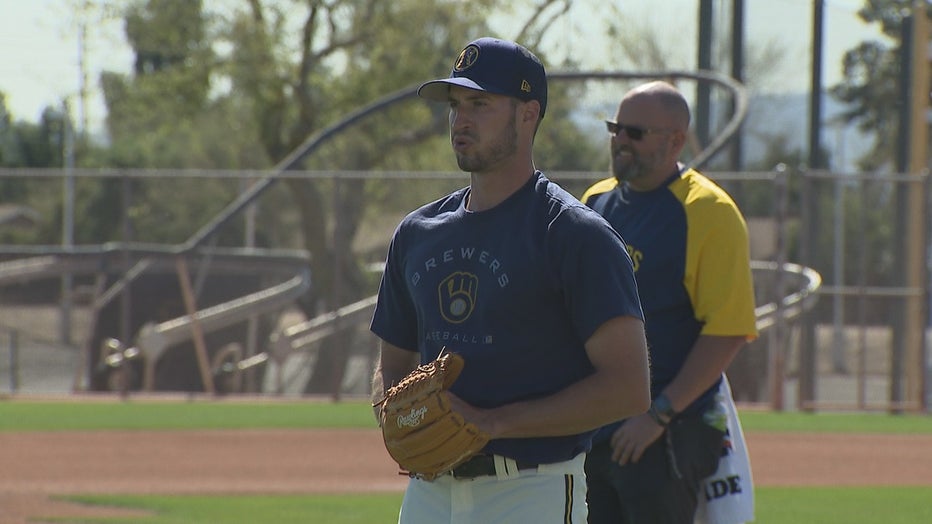 "It's been good to have an offseason and get stronger and become more bullet-proof for next season," he said.
However, soon after reporting to camp, Ashby was sidelined with shoulder soreness, keeping him out of action for the entire spring and most likely, the first month of the regular season.
"It's unfortunate," said Ashby. "I hate it."
He's had to adjust the goals he had initially set for himself.
"As long as we learn something from this and can be better from this, I think we can turn it into a positive," Ashby said. "So trying to learn routines off of this and learn my body more and carry that with me throughout my career so that this doesn't happen again, so we don't run into this again. I think we can turn this into a positive."
RELATED: Check out the new and improved FOX Sports app
That's where the degree of difficulty can vary as he goes through the rehabilitation process.
"Being where your feet are, and it's hard, honestly," he said. "Like I said, playing catch is one of my favorite things to do on a daily basis, so to not be able to do that and knowing that's a bit painful right now, it's tough, so not every day can be positive. I think we got to have negative days to know what the positive ones feel like and be thankful for them."
That's where the camaraderie in the clubhouse makes a big difference for Ashby.
"I think it's just being friends with all these guys in here," said Ashby. "It's not really leaning on one guy in particular. We've got a good group of support in here, and it's just a combination of a lot of the starting pitchers here and just the daily motivation from them, Hooky. Hooky's been great. I just have a super supportive group, so it's been, everyone's had a bit of a hand in it."
If he needs something more, there's always professional help from within the organization.
"We have access to people like that all the time," Ashby said. "It's great. You can talk to them, kind of make sense of what you're feeling and kind of what you're going through, like that. They make it really easy for you."
The ups and downs this spring have created a different ride than the one he was expecting to get on when he arrived.
But his hopes and dreams are still about contributing to the team on the field as soon as possible.
"Just got to take this time and get back healthy and get back stronger," he said.
Ashby started playing catch on a limited basis in mid-March.
The team is hoping to see him back with the club sometime in May.