Milwaukee Admirals introduce hockey to 1st-time skaters
MILWAUKEE - Hockey can be a tough sport to just jump into, especially for an 8-year-old like Evan Bates, who has never laced up a pair of skates.
"It was fun," said Bates. "I got wet. I was falling a lot, too. A fun day. I thought today was going to be a real fun day for me or all the people that had this experience."
Bates, along with other kids from the Boys & Girls Clubs of Greater Milwaukee, got a chance to give hockey a try at UW-Milwaukee Panther Arena.
The Admirals and Owner Harris Turer invited the organization to introduce the sport to some new fans.
"We want to reach out to the community who, quite honestly, may never think of playing the game," said Turer. "I think it's super important that more kids are exposed to the game of hockey, to skating, and that was one of the reasons we did it."
The kids were treated like the Admirals themselves, arriving in the locker room to find their own name plates and jerseys.
"It makes them feel like they're part of the team," Turer said. "That's what our players have above their locker. When they walk in, they have their spot, their name, their number, and we did that for all the kids."
After sharing their locker room, the actual players were ready to help out.
"Some of them were pretty good out there," said Spencer Stastney. "They might take my job."
A local kid himself, Stastney could not have been more excited to inspire the eager group of first-time skaters.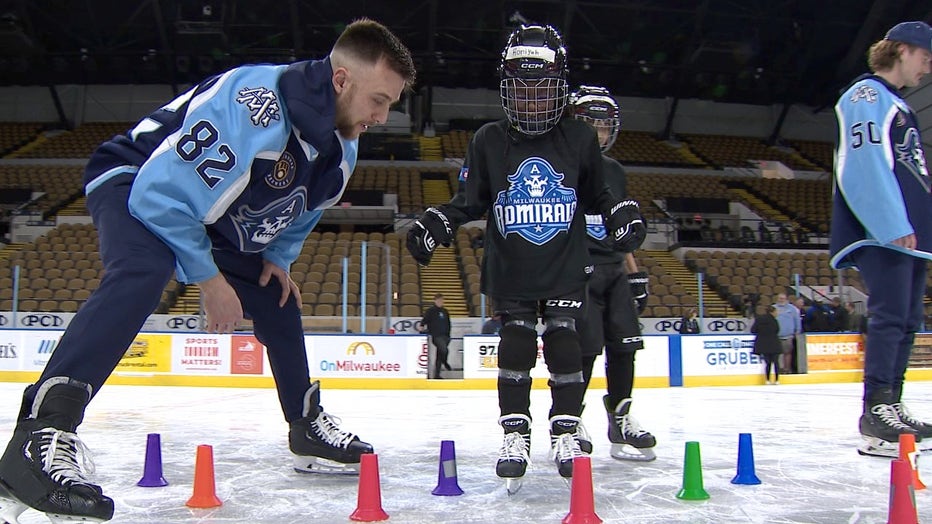 RELATED: Check out the new and improved FOX Sports app
"I think it's my first year pro and just realizing that this platform can do a lot of good for a lot of people and, especially, a wide range of people," Stastney said. "It's been meaningful, and it was just a lot of fun."
The meaning was not lost on anyone.
Boys and Girls Clubs Vice President of Camp and Club Operations Deonte Lewis knows from firsthand experience.
"It was a foreign land," said Lewis. "We didn't hear about hockey and things of that sort in the neighborhood in which I grew up, so just seeing the young people enjoying and being present in this moment and being free, being kids, like, it means a lot."
It was very obvious to all the adults on the ice that this event affected the kids positively.
"We saw a young person that was just standing still," Lewis said. "He didn't want to get on there at all, and the moment he got the smile on his face, and it may have been him not falling, but it was the smile, his face that is lit up. Many of the adults that were around just to be able to see that."
"I watched kids get on the ice who look like they were scared to death, and within no time, they were on the ice with confidence, with huge smiles," said Turer. "And I mean, if you didn't see that, then you were missing something."
No doubt fun was had, but now, the question is if these kids play hockey again.
"Maybe," said Bates. "If I do, I'm going to do all of the things I did today."