Menomonee Falls fifth-graders remember special classmate at Miller Park: "You can never forget a best friend"
MILWAUKEE (WITI) -- It was an exciting day for the fifth-grade graduates of Valley View Elementary School in Menomonee Falls. Earlier this month, they got to attend the Brewers/Dodgers game at Miller Park! It was also an opportunity to remember a very special classmate.

"You can never forget a best friend. It's always in your heart. Some days I get emotional, but I just try my hardest to keep my head up," 11-year-old Devyn Orr said.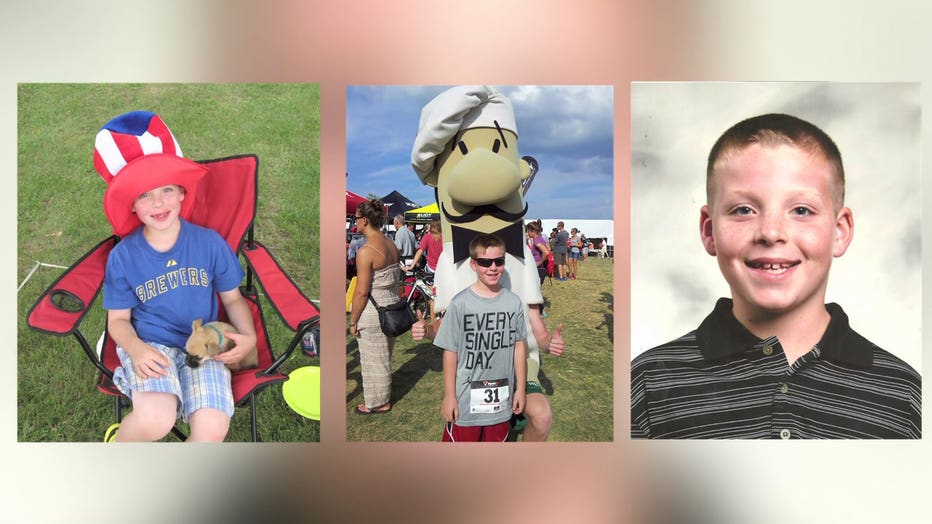 Kaden Diehl should have been at Miller Park with Orr and his other friends and classmates, but last July, the young man who loved baseball got sick and died as a result of a heart ailment. He was 10 years old.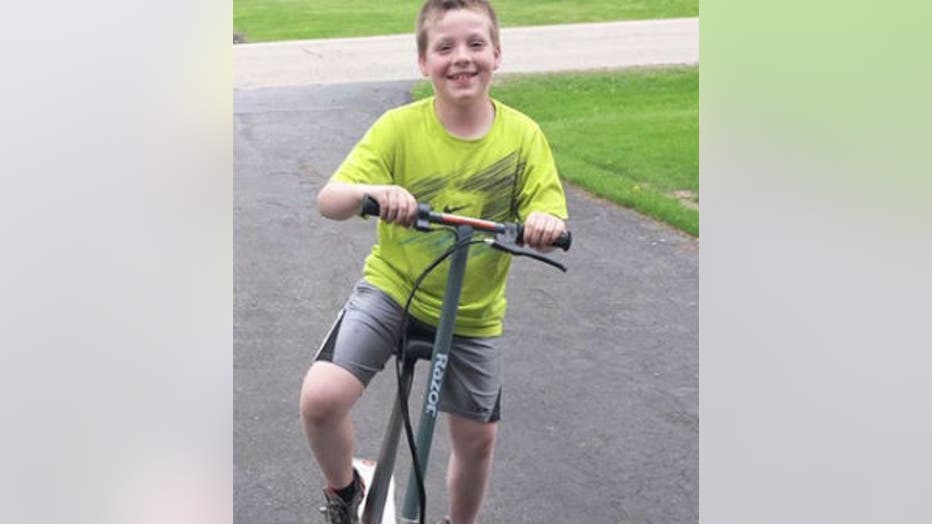 "Kaden was such a special little boy and to see his little face -- bright, sparkling eyes, freckles, have the kids remember who he was -- we're going to keep doing what we're doing, turn a negative into a positive, or at least a memory of him," Katie Thompson, the mother of one of Kaden's classmates and a close family friend said.

Thompson wrote a letter to the Milwaukee Brewers that helped to make this day happen for Kaden's friends and family -- including his parents Michelle and Josh.

"After this game's over, we're going home with our fifth-graders, and they don't get to do that. I wouldn't want to walk that journey alone, and we're going to let them know that they're not alone in this," Thompson said.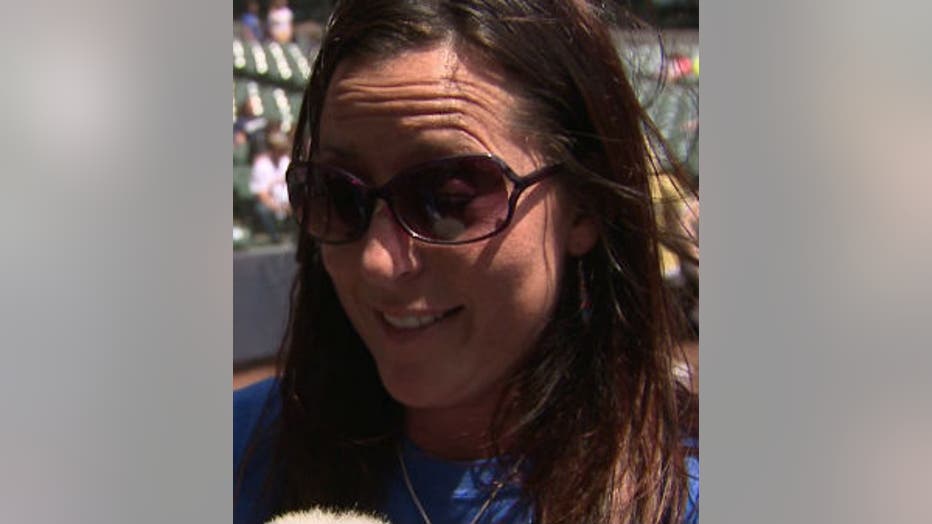 "It's been amazing. We had no idea. When something like this happens, you think 'it's only our family,' but it's crazy to see how many he actually affected. The support that they've given us, there's no words for it," Michelle Diehl said.

"It's difficult. We definitely don't want to be here, but it's definitely appreciated -- what people have done to show how they love us, how they loved Kaden. It's impressive to see what our 10-year-old boy, the impact that he had on so many people," Josh Diehl said.

While Kaden Diehl lived a short life, he lived a full one. He touched anyone who was blessed to know him.

Molly Janssen turned 11 on April 11th. For her golden birthday, everyone at Valley View Elementary School helped raise money for Kaden's memorial.

"He was always so nice to me and he would always share his snack with me at snack time if I didn't have a snack. He would always cheer me up when I was depressed," Molly Janssen said.

"How kind he was to everyone. He would always try to cheer people up if they're having a bad day," Brayden Rosenow said.

"He was a really great kid. He never ever got in trouble. He was always listening to the teacher. He always did what was best," Nolan Thompson said.

"He was a really good friend. He would make us all laugh. He was just always there for us," Gaige LaBott said.

"To give and to be nice to everybody -- that's what he did. He didn't want to be in the spotlight. He didn't want to be recognized. He just didn't. We found out a lot more things that he did -- that we just didn't have any idea the impact that he had," Michelle Diehl said.

"He gave us so much in the 10 years that we had him. Every day I learn something as we think about him, as we remember him. I think he gave us so much. He gave all these people so many things. It's so impressive and we're so lucky to be his parents," Josh Diehl said.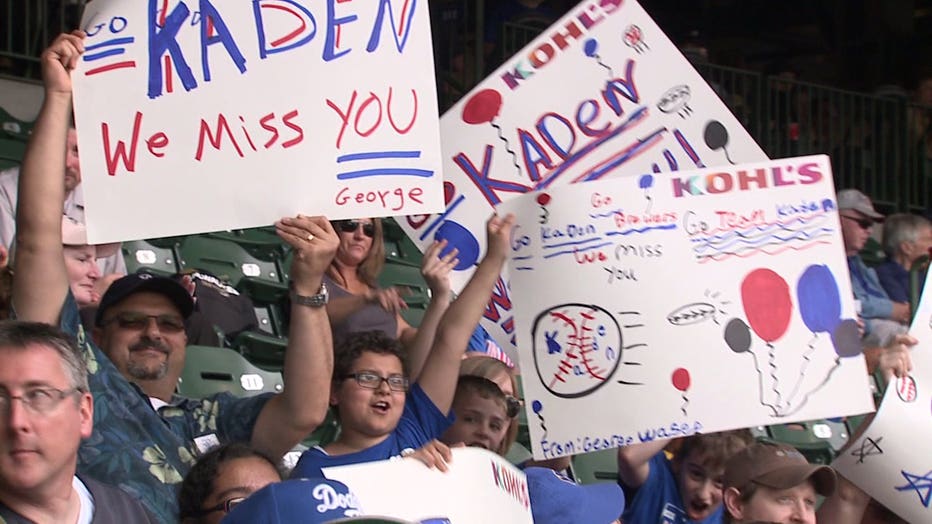 There is something else you should know about Kaden Diehl.

"He loved baseball!" Brooke Robinson, Kaden's friend and classmate said.

In fact, Kaden was a pitcher for the Dodgers. Fitting then, that the Dodgers were in town to play the Brewers.

Catcher A.J. Ellis presented Michelle and Josh Diehl with a signed T-shirt and Josh Diehl threw out the first pitch.

"I thought about throwing left-handed because Kaden was left-handed, but I want to get it in. I'm just gonna stick with a nice, right-handed throw," Josh Diehl said.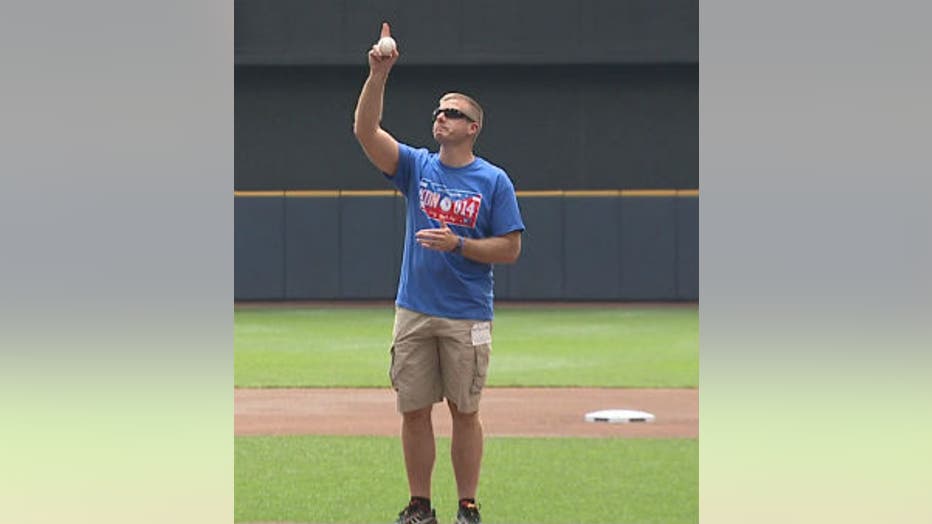 Josh Diehl throwing out first pitch


On this day at Miller Park, as Kaden Diehl was honored, the roof was open for the first time all year. Those who know Kaden Diehl will tell you that's no coincidence.

"I really meant it. I think the sun is shining because of him and all his friends and he knows how loved he is, and always will be. He hasn't been forgotten. We are celebrating him still to this day because he was such an awesome kid -- such an amazing individual that none of us will ever forget," Kaden's fourth-grade teacher Amy Gersmeyer said.

"He's smiling. His eyes are shining. I'm sure he's watching. He's happy, that's for sure. He's happy," Michelle Diehl said.