Kipchoge falls 26 seconds short of 1st sub 2-hour marathon


MONZA, Italy — Eliud Kipchoge was 26 seconds from making history on Saturday but the Olympic champion finished just short of becoming the first person to run a marathon in less than two hours.

Kipchoge ran the 26.2 miles (42.2 kilometers) in an impressive 2 hours, 25 seconds, smashing Dennis Kimetto's world mark of 2:02:57 by 2 1/2 minutes and raising hopes that one of world sport's most famous barriers can be broken.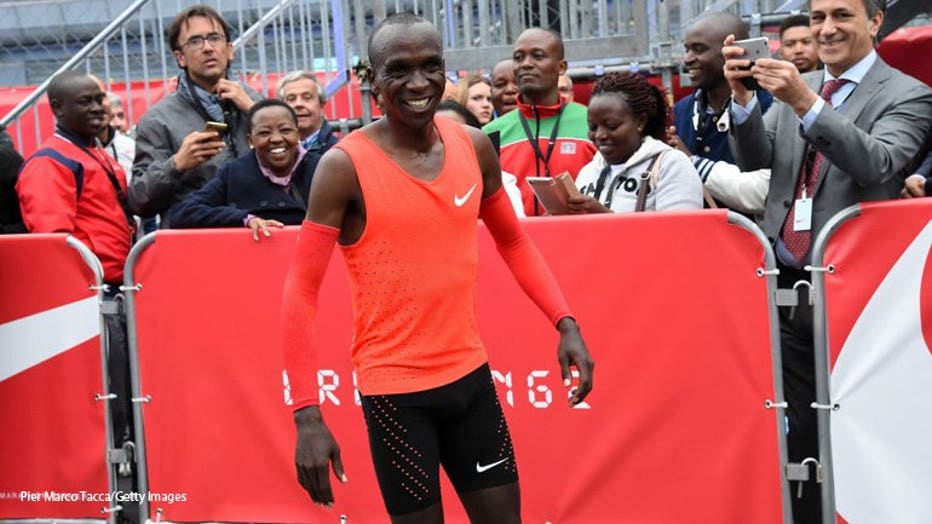 "We are human," Kipchoge said. "I am happy that I've reduced by 2 1/2 minutes the world record."

The Kenyan added: "We are going up the tree ... I have lifted a branch and I am going onto the next one. This is not the end of the attempt of runners on two hours."

Kipchoge did break his personal best time of 2:03:05, which was set at the London Marathon last year.

Organizers first listed his time as a second faster, then changed it to 25 seconds off the 2-hour mark.

"I rank this as the highest-ever performance in my life," Kipchoge said. "The aim of 'Breaking2' was to pass the message that running less than two-hour marathon is possible. That message is really special to me."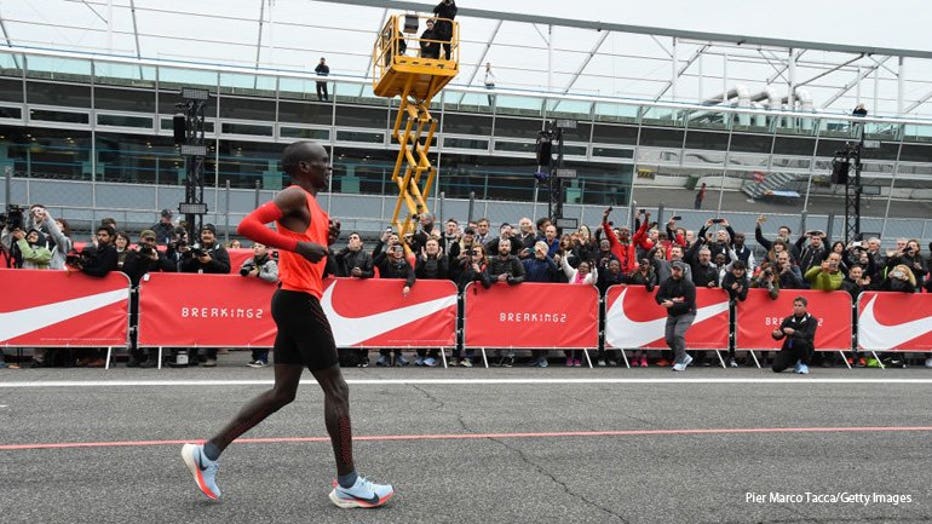 MONZA, ITALY - MAY 06: Eliud Kipchoge reacts at the end of the Nike Breaking2: Sub-Two Marathon Attempt at Autodromo di Monza on May 6, 2017 in Monza, Italy. (Photo by Pier Marco Tacca/Getty Images)


The attempt at Monza's Formula One race course did not go down as an official world record, sanctioned by the IAAF, due to variables like pacers entering mid-race and drinks being given to runners via mopeds.

And, after three years of planning, Nike's audacious attempt at breaking the two-hour barrier remained just that, despite the aid of a shoe that designers say will make runners four percent more efficient.

"I've been part of many races over my career at Nike. I've seen the magic of gold shoes and swift suits. I've seen iconic athletes leave it all on the track," Nike CEO Mark Parker said. "But I've never seen anything like what we saw today.

"Today, millions of people around the world watched as running history was written. At Breaking2, Eliud Kipchoge ran 26.2 miles faster than any human ever ... This achievement represents more than a race. It's a moment of global inspiration that will encourage every athlete, in every community, to push the limits of their potential."

Two-time Boston Marathon winner Lelisa Desisa, from Ethiopia, and Eritrean half-marathon world-record holder Zersenay Tadese were also part of the Breaking2 project, which started at 5:45 a.m. local time, but finished well off the pace.

Desisa was dropped after 50 minutes, with Tadese falling back shortly afterwards. The duo still completed the 17.5 laps of the 1.5-mile Monza track with Tadese shaving nearly four minutes off his personal best with a time of 2:06:51. Desisa finished in 2:14:10.

That left just Kipchoge chasing the landmark time.

The 32-year-old continued in his trademark relaxed style and passed the halfway mark in 59:54, but his average pace of 4:36 per mile was just not enough, despite his final sprint to the tape.

Kipchoge would have needed an average of less than 4:35 per mile — an improvement of about seven seconds per mile on Kimetto's record, or around 2.5 percent.

"I tried to maintain the pace," he said. "As a human you are not a machine so you cannot go 2.50 exactly, and those micro-seconds really have an effect."