Joe Thomas living out 'wildest dream' of being a Hall of Famer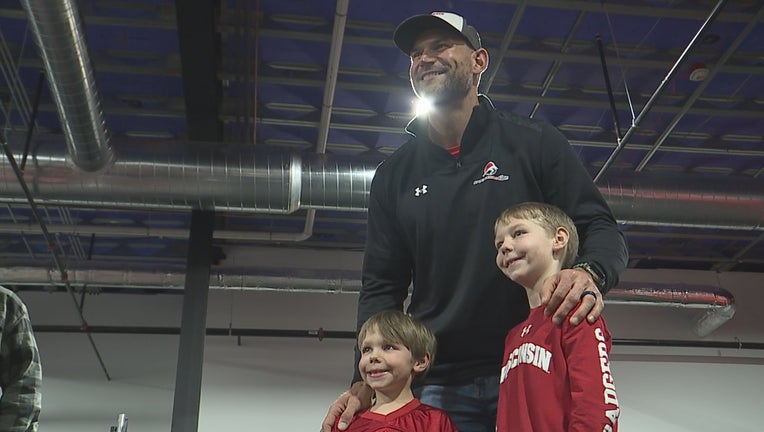 article
OCONOMOWOC, Wis. - "The Hall of Fame is just so far out there beyond anybody's wildest dream."
As a kid, Joe Thomas had some wild dreams of making it to the NFL and winning a Super Bowl.
But the Pro Football Hall of Fame?
Joe's mom did not want to hear any of it.
"I remember when I was 11 or 12, I had a Brett Favre poster on my wall," said Thomas. "I think I told my mom one day that I wanted to play in the NFL, and she was like, "Stop thinking like that. You need to go back to studying because almost nobody makes it to the NFL." So that's pretty much where my dreams ended."
More than a quarter-century later, after years of hard work and dedication at Brookfield Central, Wisconsin, and the Browns, he's headed for Canton.
One of his childhood idols, Walter Jones, broke the news.
"It was one of those surreal moments where it was almost out of body," Thomas said. "We couldn't believe it was happening. He didn't know what to do with your hands. You're like, I'm not sure what to do. And thankfully, he gave me a big hug and said, "Welcome home." And that's when I started to cry a little bit."
While the tears poured, this was still not a surprise to the 11-year NFL veteran.
"I felt pretty confident in my resume when I did retire, setting the NFL record for consecutive plays 10,363 making 10 Pro Bowls," said Thomas. "You know, you look at other guys that are in the Hall of Fame at your position. You try to stack up what your resume is with theirs. And I felt like I had a pretty good case."
RELATED: Check out the new and improved FOX Sports app
Even in football retirement, that resume continues to grow.
Now one of the owners of Sport AdvantEdge, Thomas is trying to give back to the next generation of NFL dreamers.
"One of the things that's been really important to me is giving back to the athletes where I grew up, around greater Metro Milwaukee area, Oconomowoc, the Madison area," Thomas said. "And give some of that knowledge that I got from training at the collegiate and professional level for 15 years to the young athletes that are in these communities. And I've got a real passion for training, for training athletes. And I think what we're doing here at Sports AdvantEdge is really cool and really special."
One of the main reasons Thomas wants to give back in this way is because it worked so well for him.
Joe Panos, an NFL vet and Brookfield native, coached Thomas when he was a senior with the Lancers.
"He was a big role model for me," said Thomas. "He was somebody that I learned a lot from when he was my coach. And so that's one of the things I want to do. I want to be able to share some of that knowledge that I had gained from college in the NFL with kids just like I got from Joe Panos when I was a high school kid."
As for Thomas' mom, Sally, who wisely told her son to tackle the task at hand, she is feeling like any mother would.
"She's like, 'I'm so proud of you, Joseph, my baby boy.' I'm like, I'm 38, mom. I'm not a baby boy anymore. I don't think."
Thomas will be officially inducted into the Pro Football Hall of Fame August 5 in Canton.