"It's an honor; a great experience:" Special Olympics athletes play flag football game on Lambeau Field's turf!


GREEN BAY -- At the Green Bay Packers annual Family Night extravaganza, there were so many special moments. This year, there was one in particular that stood out, well before the Packers practice began, and before the fireworks lit up the sky.

"I was just trying to tell everybody -- take it in," Danny Kraus said.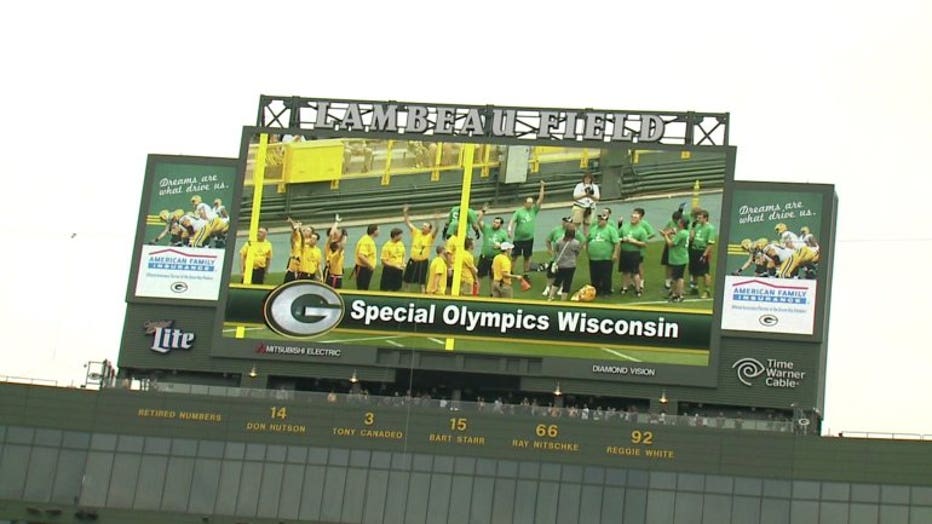 Special Olympics athletes play at Lambeau Field


The moment had been building, and finally, after a wait that probably felt longer than it was, the time arrived for Danny Kraus and his teammates.

"It was a little nerve wracking," Kraus said.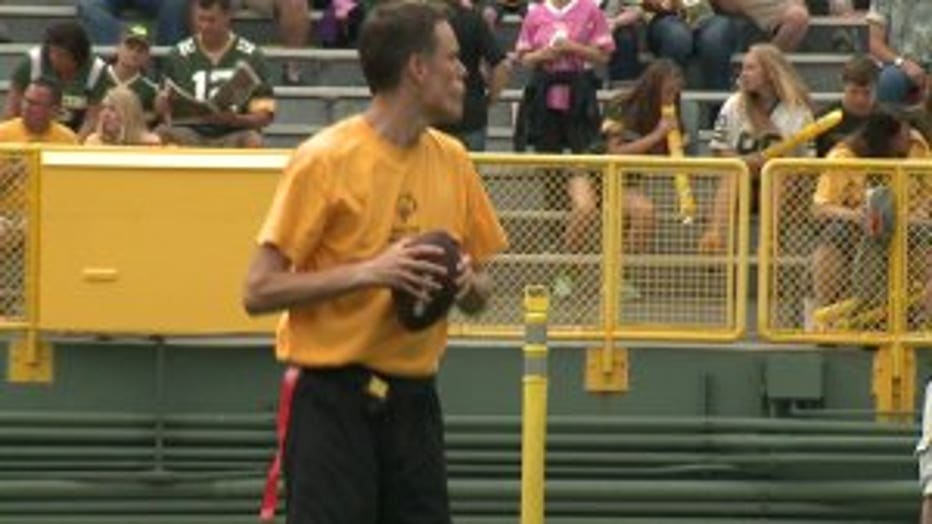 Special Olympics athletes play at Lambeau Field


Nervousness as they emerged from the famous tunnel underneath the stands onto Lambeau Field, where so much history has been made.

"It's an honor to be able to walk on to the field with all of those great players that are already playing on the field. It's just, it's a great experience," Kraus said.

Kraus is a quarterback on a Special Olympics football team from Sheboygan. His team is one of four area Special Olympics teams able to show their skills on the same field their favorite team, the Green Bay Packers calls home.

"Just being on Lambeau Field, throwing the ball to my teammates -- I'm a quarterback. Just out there having fun," Kraus said.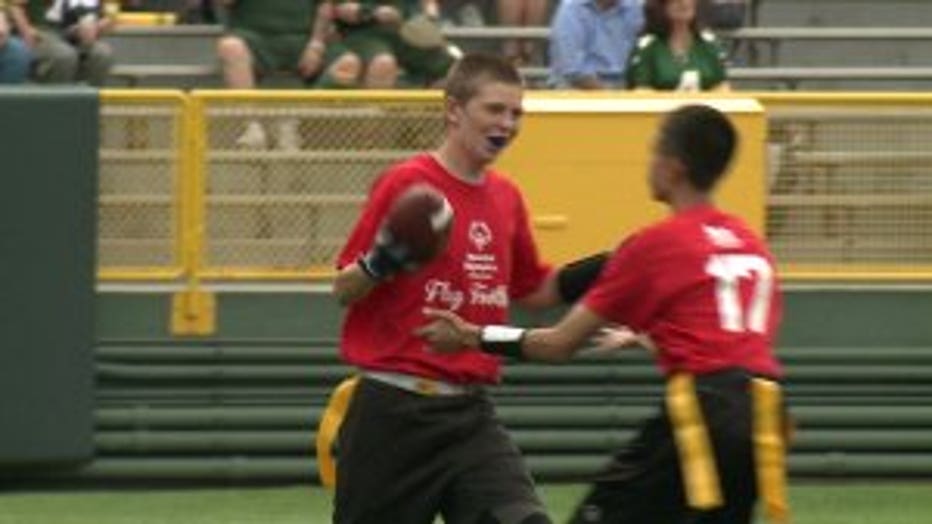 Special Olympics athletes play at Lambeau Field


The fun started even before the first whistle, as the actual turf was something that had many players reaching down and running their hands through it.

"The grass is so green. I had to feel it. It was just so, I wanted to take a nap on it actually. Looks so nice," Kraus said.

"Just the looks on their faces -- I think everybody saw it and felt it that was on the field. And really just knowing that they got to experience something like this," Matt Harper said.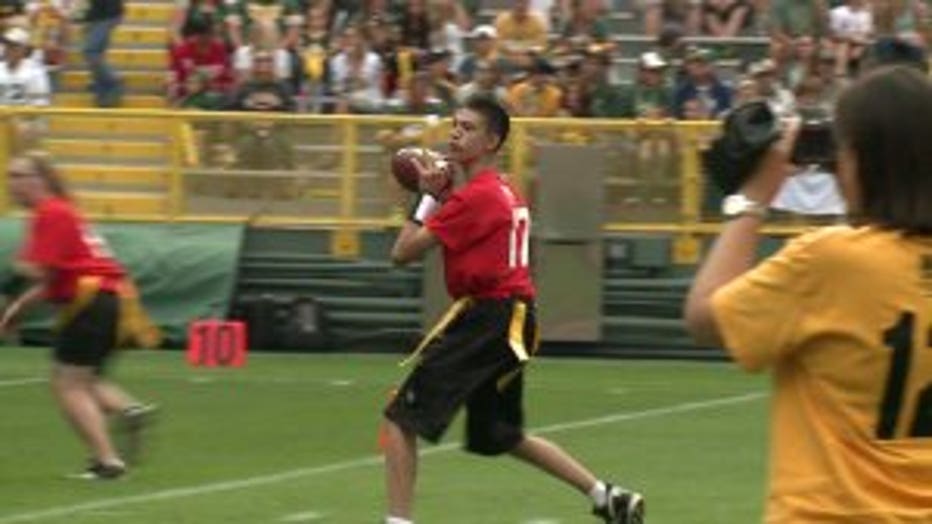 Special Olympics athletes play at Lambeau Field


Harper is the regional director of development for the Special Olympics, and worked with the Packers to give these players this rare opportunity.

"I just hope they got a chance to enjoy it because that's really what it was for them. But also that they take the opportunity to realize they can achieve anything. They're capable of anything. And really that's what we try to teach at Special Olympics is that you're not limited," Harper said.

Once the games were underway, the nerves were gone, and it was back to what these athletes were there for -- a football game. Although, it was much different from what Dan Neuenfeldt is used to with his team from Manitowoc.

"I've never played in front of a crowd like that before. But it was pretty awesome to play in front of a big crowd," Neuenfeldt said. "There's a whole bigger crowd out here. The crowds aren't so big when we play at home in Manitowoc."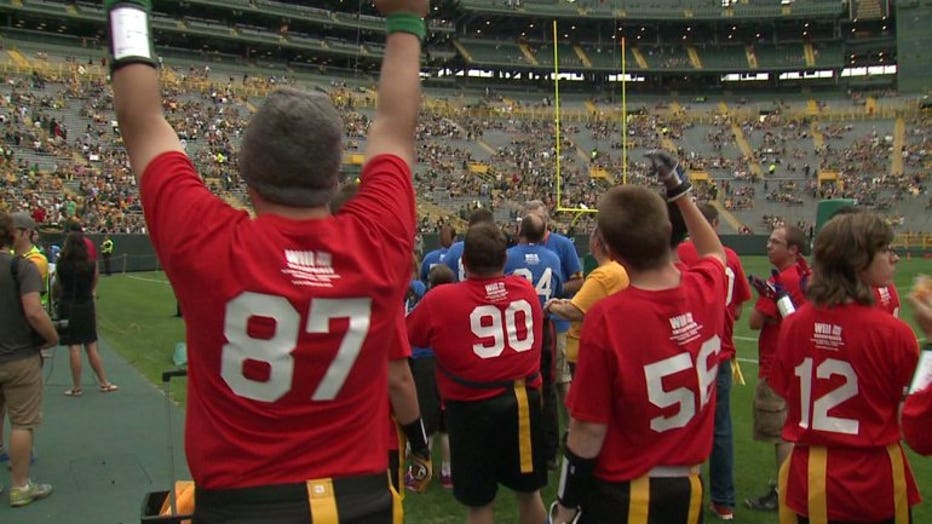 Special Olympics athletes play at Lambeau Field


"They played amazing. I was down on the one end and just got to watch them. Just the way they were calling the plays out and a couple of touchdowns were scored. And they kept it exciting and that's really what this was all about is teaching them and teaching teamwork. But also, playing a game just like the Packers are," Harper said.

On this night, these athletes were the ones who came out as the winners with a lifetime worth of memories.

"I had a good experience playing on Lambeau Field. It was an awesome experience and I enjoyed it.
Yes, I would do it again," Neuenfeldt said.

"This whole experience with my teammates -- I just had so much fun. I mean, it was awesome!" Kraus said.

Some of the players on the field that night were members of the gold medal team from the 2014 Special Olympics USA games.

Flag football is one of 17 Olympic-type sports for individuals with intellectual disabilities who are eight years or older.

They train in their sport, compete at the regional level, and they may progress to the state level of competition.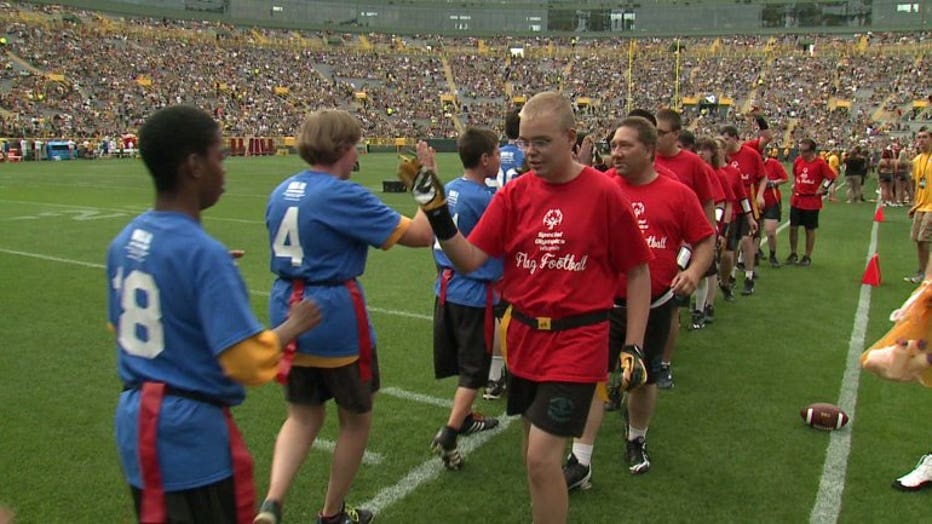 Special Olympics athletes play at Lambeau Field