"I'm very honored:" Brewers catcher Jonathan Lucroy recipient of "Bob Feller Act of Valor Awards"
MILWAUKEE -- Milwaukee Brewers catcher Jonathan Lucroy has been announced as a recipient of the 2015 "Bob Feller Act of Valor Awards."

Lucroy and former MLB player George Brett are set to be joined by Navy and Marine Corps honorees on November 4th in Washington, D.C.




Brett is a retired baseball third baseman and designated hitter who played 21 years for the Kansas City Royals.

Lucroy and Brett are two of six Bob Feller Act of Valor Awards recipients. The recipients include one baseball Hall of Famer (Brett), one current professional baseball player (Lucroy), one U.S. Navy Chief Petty Officer, two Peer-to-Peer Mentoring Awards (one for an Afloat Command, one for a Shore Command) and the United States Marine Corps (USMC) Jerry Coleman Award.

This year, the honorees are:


Each possesses the values, integrity, and dedication to serving our country that Bob Feller himself displayed.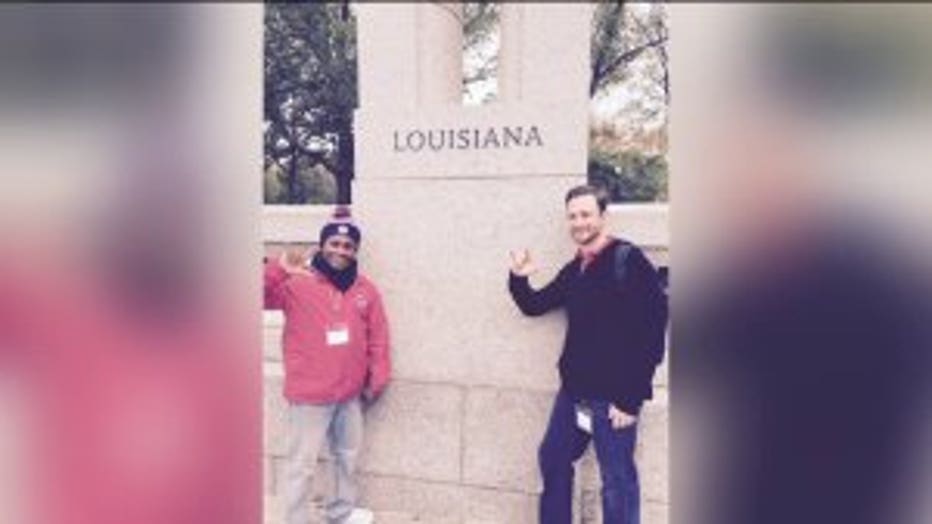 Jonathan Lucroy and John Coker on Honor Flight


"Wow, what an honor" said legendary third baseman and baseball ambassador George Brett regarding the award. "I am constantly amazed at the work service men and women do for our country. To be recognized in the name of Bob Feller and to meet some outstanding members of the Navy is truly special."

Brett regularly shows support for the men and women who serve our country through participation in the "Military Day" of the Royals Caravan, visiting service members at bases and Veteran hospitals throughout Missouri and Kansas. On the trips, Brett meets and signs autographs for active duty military members, as well as participates in ceremonies welcoming home deployed troops at Fort Riley and Fort Leavenworth Army Bases in Kansas and Whiteman Air Force Base in Missouri. In addition, he has shown support for Veterans undergoing treatment through visits to the Kansas City VA Medical Center and joined the Royals and MLB to announce renovations at the hospital's Honor Annex as part of the 2012 MLB All-Star Game Legacy projects.

Jonathan Lucroy of the Milwaukee Brewers has supported our troops for many years. From his work with Fisher House Wisconsin, inviting wounded heroes to home games each month as his guest, to giving more than $20,000 in scholarships to military families, his unwavering support of the men and women in the uniform is commendable.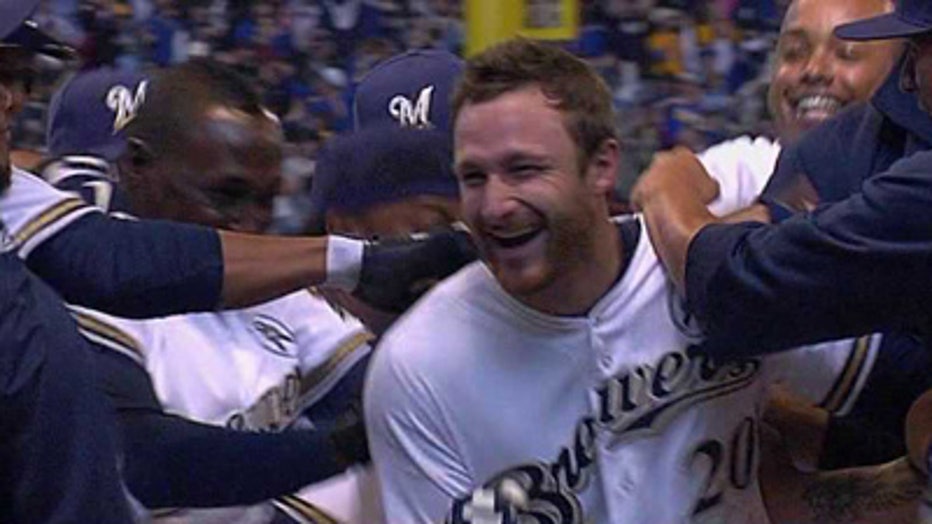 "I'm very grateful, honored and humbled to be recognized for my support. I appreciate the men and women who sacrifice their lives for our country," said Lucroy.

During the 2014 off-season, Lucroy joined veterans on the Honor Flight, traveling with 41 WWII and Korean War Veterans to Washington D.C.

Chief Petty Officer Genell Cody enlisted in the Navy in December 2000 and her service has been truly admirable. She has served multiple combat deployments and provided lifesaving emergency medical treatment all around the world, in and out of combat, excelling in every mission. Cody selflessly served wounded warriors and disabled veterans, helped to memorialize victims of 9/11, volunteered at USO Afghanistan to boost morale of other active duty service members, supported competitive athletes, celebrated diversity, increased women's health awareness, and supported religious and social community service initiatives.

Staff Sergeant Rene Segura is the recipient of the new Jerry Coleman Award, which honors a Marine Noncommissioned Officer who possesses outstanding leadership and unyielding support for the Marine Corps and the United States of America.

"We were fortunate to have Jerry Coleman as part of the San Diego community and the Padres organization for more than four decades," said San Diego Padres Executive Chairman, Ron Fowler. "Though he enjoyed success both on the baseball field and in the broadcast booth, nothing made Jerry more proud than his service to his country. It could not be more fitting that the award bearing his name goes to someone who is a Marine above all else."

Segura enlisted in the Marine Corps in May 2003 and has excelled ever since. He has demonstrated an outstanding ability to lead U.S. Marines, serve the local community, and achieve the highest standards of success in high operations tempo environments. Segura's many activities include feeding Okinawan homeless, visiting Okinawan senior citizens and repairing their facilities, volunteering with the Marine Corps Community Services youth Sports Programs, and numerous beach and park cleanups.

George Brett, Jonathan Lucroy, Chief Petty Officer Genell Cody of the U.S. Navy, and Staff Sergeant Rene Segura of the U.S. Marines, are scheduled to attend the awards ceremony at the U.S. Navy Memorial in Washington, D.C. on November 4th, 2015.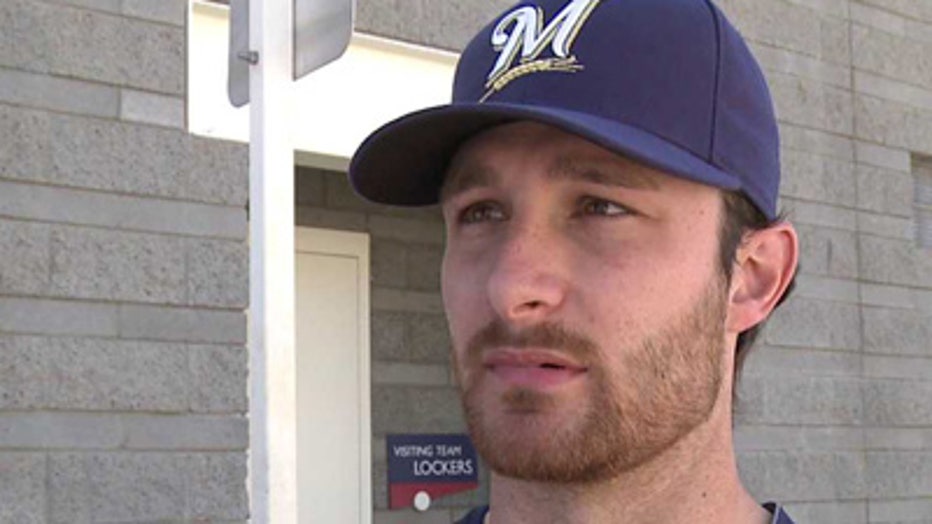 The ceremony will feature a unique gathering of baseball luminaries and Navy leadership, as Master Chief Petty Officer of the Navy, Mike Stevens, and Sergeant Major of the Marine Corps, Ronald Green, are scheduled to participate in the honoring of the award winners.

The Peer-to-Peer Mentoring Award will honor groups of junior Sailors that have excelled in encouraging other Sailors to embody the Navy's core values of honor, courage, and commitment, and have worked together to promote peer-to-peer mentorship and reduce destructive personal decision-making and behaviors. This year's recipients in the Afloat and Ashore categories are USS Carl Vinson's (CVN-70) Coalition of Sailors Against Destructive Decisions (CSADD) Chapter and HOPPER Information Services Center's CSADD Chapter, respectively.

While many know Bob Feller as one of the greatest pitchers to ever grace the baseball diamond, few remember that he also served our country when he made the selfless decision to enlist just days after the attack on Pearl Harbor in 1941. Feller served on missions in both the Pacific and the North Atlantic, and earned the rank of Chief Petty Officer along with six campaign ribbons and eight battle stars. When asked about the most important victory he had won, Feller famously replied without hesitation, "World War II."

Including Jonathan Lucroy, other Major League Baseball players named finalists for the 2015 Bob Feller Act of Valor Award were Darren O'Day, Baltimore Orioles; Ian Kennedy, San Diego Padres; Brian Dozier, Minnesota Twins; Wade Davis, Kansas City Royals; Steve Cishek, St. Louis Cardinals; Trevor Bauer, Cleveland Indians; Curtis Granderson, New York Mets; Jay Bruce, Cincinnati Reds; Sean Doolittle, Oakland A's; Adam LaRoche, Chicago White Sox; Craig Stammen, Washington Nationals; Charlie Morton, Pittsburgh Pirates; Dustin Pedroia, Boston Red Sox, and Brad Ziegler, Arizona Diamondbacks. Several finalists and nominees were honored with on-field ceremonies.

Peter Fertig created The Bob Feller Act of Valor Award with the support of the U.S. Navy, U.S. Marine Corps, the USS Alabama Battleship Memorial, the Cleveland Indians, the Baseball Hall of Fame, the Major League Baseball Players Alumni Association, and the gracious consent of Mrs. Anne Feller, the San Diego Padres, and the family of Jerry Coleman.

"It is truly inspiring to watch these players within major league baseball honor our U.S. Military and those who serve proudly today," said Fertig. "Bob Feller led his generation onto the field of battle and away from the baseball diamond for a more significant reason. The legacy of Bob Feller and the greatest generation are embodied throughout these players and their respective clubs for honoring those who serve this great nation, and for this we are forever grateful." Continued Fertig, "As the Foundation moves forward with its educational mission, we look forward to setting a new standard for social responsibility, by educating the youngest generation of the virtues of Citizenship, Service, Sacrifice and Legacy. And through these efforts, we can provide a powerful example that will inspire and excite today's generation, and acknowledge the heroes of past and present generations."

Last year, Hall of Famer Tommy Lasorda; the Atlanta Braves' Nick Swisher, and Senior Chief Petty Officer Carl Thompson were all honored with the award.

The winners of the inaugural 2013 Bob Feller Act of Valor Award were former New York Yankees great and Hall of Famer, Yogi Berra, Justin Verlander of the Detroit Tigers, and U.S. Navy Chief Hospital Corpsman Garth Sinclair.