"I was so happy:" Bucks Draft pick Rashad Vaughn excited to get familiar with team, settle down in Brew City
MILWAUKEE -- It was a dream come true last Thursday night, June 25th. 18-year-old Rashad Vaughn from Minnesota heard his name called in the NBA Draft. Vaughn was picked at #17 by the Milwaukee Bucks.

"I don't know what I was thinking. I was so happy. I was yelling and just hugging my family. It was very emotional. It was just crazy. It was a surreal feeling," Vaughn said.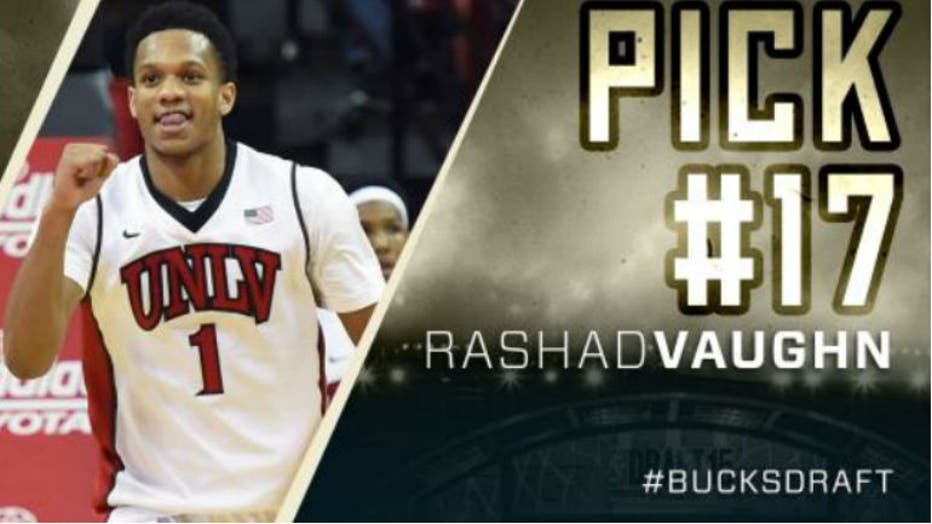 Vaughn, a 6-foot-6-inch guard out of UNLV, was named the Mountain West Conference's Freshman of the Year, Honorable Mention All-League and Second Team NABC All-District 17 in 2014-15 after averaging a team-high 17.8 points, along with 4.8 rebounds and 1.6 assists per game.

He started all 23 games in which he played for the Rebels before suffering a season-ending knee injury, and at the time of the injury, his scoring average ranked second in the MWC and third in the nation among freshmen. Vaughn scored in double figures in 21 of his 23 games, including in each of his last 19 contests. He registered 20 or more points nine times and 30 or more two times. He scored a season-high 31 points vs. Utah State on January 24th, 2015, which tied the league's freshman class single-game record for most points scored against a conference opponent.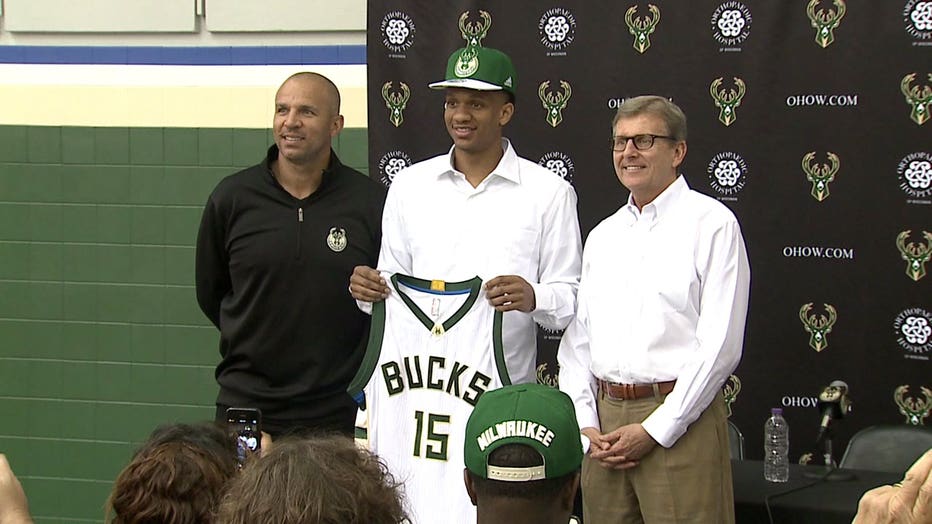 Rashad Vaughn with Coach Kidd and John Hammond


The party was inevitable on Draft night for Vaughn and his family, but they didn't know when it would start. Even though he had worked out for the Bucks three days prior, there was no indication the team would pick him at #17.

"It's like everybody got poker faces -- so you never know if somebody likes you or if they're going to take you," Vaughn said.

But Bucks General Manager John Hammond had an idea right when he and the rest of his staff saw Vaughn shoot the ball at a workout held by his agent.

"He was very impressive in that workout. Got our attention. I think got a lot of people's attention around the league with once again, the ability to shoot the basketball. Then when he came for his workout here, just a few days ago, he had a great workout. And we even got more excited about him," Vaughn said.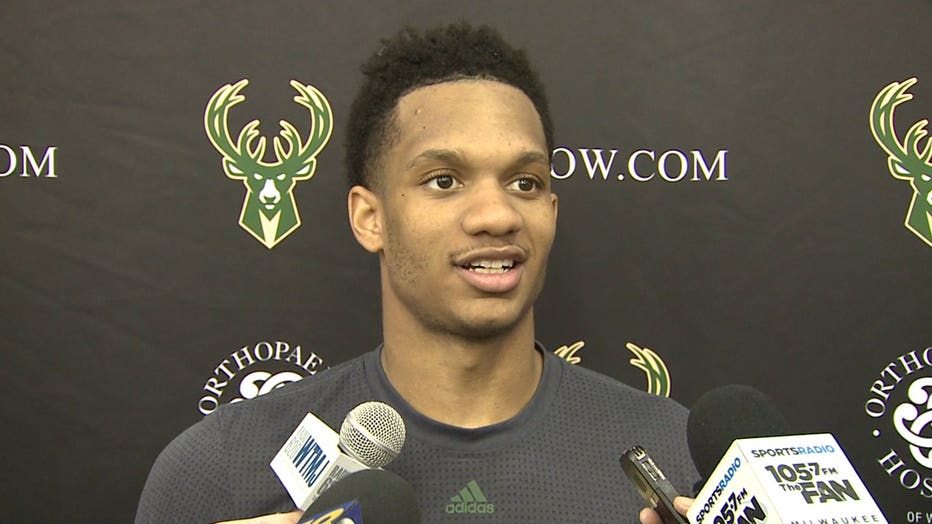 Like a number of the players on the Bucks roster, Vaughn is young, very young. He was 18 on Draft night, and he won't turn 19 until August.

"This isn't our first young guy that we've taken. So when you look at Jabari (Parker) only being 19 last year, you look at Giannis (Antetokounmpo), you know, being 18 here -- Milwaukee's been through it. I think when we've had guys like that who've been through it. It will help with the process," Bucks Head Coach Jason Kidd said.

"You can go to an NBA team and everybody's got wives and kids and you're not going to have nobody to hang out with, you know, just communicate with. So for me to be coming here and everybody's young, I think that's a blessing too, you know? And we can all hang out and stuff because we all young. We got the same hobbies and like doing the same things," Vaughn said.

Vaughn is from Minnesota originally, and one of his biggest joys in life outside of basketball is fishing, which means maybe he and veteran John Henson, who is now 24, could become fast friends.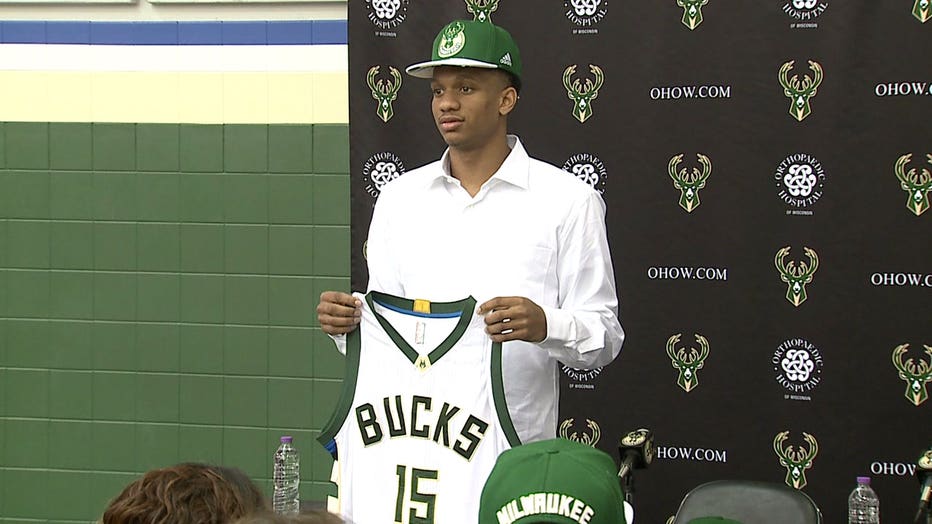 "I heard when I came on Monday he was a big fisher, so I'm going to try and get out there with him and get on a boat, catch some fish," Vaughn said.

Once he moves to Milwaukee, he has other plans as well.

"I just love animals, any type of animals. I done have them all. Snakes, iguanas, dogs, cats, fish -- I done have them all. So I just love animals. I'm going to get a dog when I get here. I'm just going to try and get a dog," Vaughn said.

"If that helps his comfort. But also with a dog comes responsibility of making sure when you're on the road someone's watching it. But if that's something he can handle, I think he should do it," Coach Kidd said.

Before he gets a dog, basketball will be his responsibility, and with Kidd as a coach and teacher, he is excited to take it on.

"Just to be able to come play for a coach, you know, that's done so much in the NBA is a blessing. I know I can learn so much from him. And he can teach me a lot. So I'm going to come here and be a sponge and try to learn, you know, everything I possibly can," Vaughn said.

Vaughn will play for the Bucks "summer league" team before Bucks Training Camp gets underway.

In the meantime, he will try to figure out where he wants to live and maybe find the perfect dog.