"I just didn't know it'd go that far!" Sun Prairie mom shocked photo of her twins has gone viral


SUN PRAIRIE (WITI) -- The game was great -- but two days after the Packers pounded the rival Bears at Soldier Field, many Packers fans remain focused on a couple of adorable Packers fans! It's a picture that went viral on Sunday, and continues to be shared online.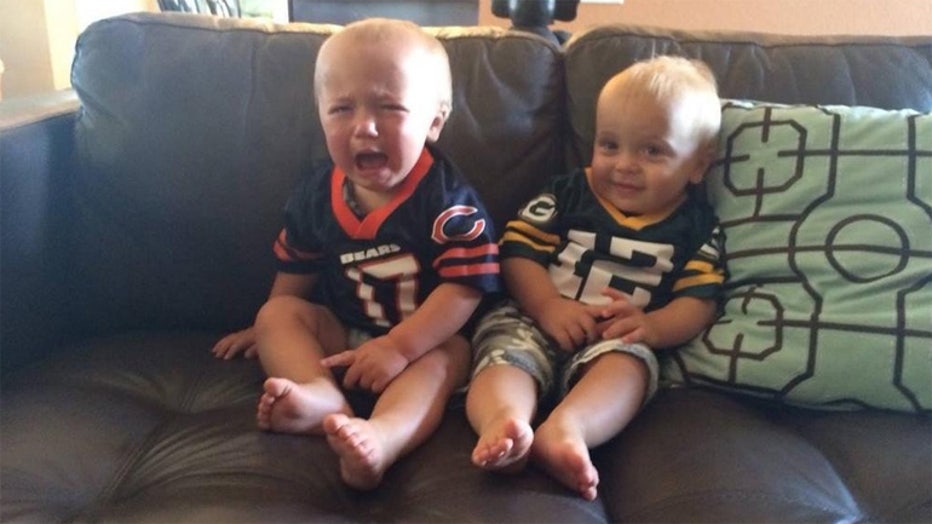 Courtesy Bonnie from Twin Lakes


It's not a family feud, but Carrie Corteen says there are a couple friendly family rivalries in her Sun Prairie household, including Packers vs. Bears.

"I'm a Bears fan, and he's a Packers fan," Corteen says of she and her husband.

It's something of a sibling rivalry between the twins featured in that viral photo.

"Kyler is the Packer, and Kellan the Bear," Corteen said.

On Sunday, Corteen had her twin sons wearing the teams' jerseys, which they got from Grandma.

"Because the Bears were playing the Packers, she kept calling me, saying, 'send me pictures with the babies in their jerseys,'" Corteen said.

So who would wear the green and gold? Corteen says she had a sly strategy.

"Kyler was a little crabby. Me being a Bears fan, I put the Packers jersey on him -- thinking he might be pouty or something for the picture, and it didn't turn out that way because Kellan, who was happy before I put the Bears jersey on, got very mad," Corteen said.

Even as the boys' attitudes ran a reverse, Corteen snapped a picture -- and that picture has exploded online.

"I knew it was gonna be a good picture, I just didn't know it'd go that far," Corteen said.

Online, the photo caught the attention of football fans everywhere, with more than 27,000 "likes" on Facebook, a ridiculous amount of retweets on Twitter and plenty of press.

"Sports Illustrated, USA Today, Bleacher Report, and countless others. I've heard of things going viral, but never experienced it," Corteen said.

Now, the family is already discussing appropriate attire for the Bears-Packers rematch on November 9th.

"I say we keep them the same. It worked the first time," Corteen said.

Either way -- the whole family wins!

The twins' mother says she wants folks to know the picture is authentic, and no one did anything to prompt the boys' behavior.