"How satisfied are you?" Packers' weekly survey asks new questions after 3 straight losses
GREEN BAY -- After three straight losses, a survey sent weekly to Green Bay Packers' season ticket holders is asking some new questions.

Usually, in the weekly survey, season ticket holders are asked questions about their gameday experience.

Below are the questions being asked after the Packers' 30-17 loss to the Detroit Lions Monday night, November 6th at Lambeau Field: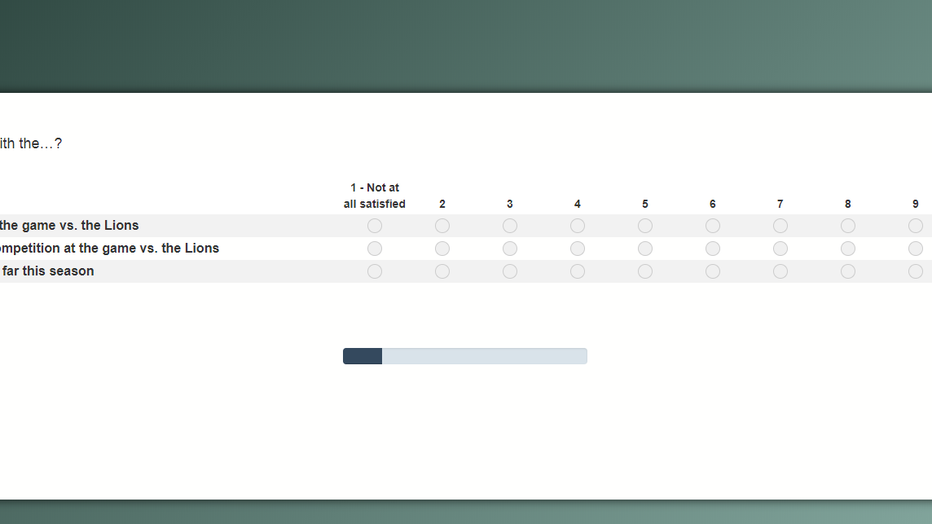 Packers' weekly survey for season ticket holders
Packers' weekly survey for season ticket holders
Packers' weekly survey for season ticket holders


Packers' Head Coach Mike McCarthy addressed the media Wednesday, November 8th after the loss to the Lions:




According to Packers.com, McCarthy had this to say after the loss, and Aaron Rodgers' collarbone injury:

"We all need to do better. We had an injury to Aaron Rodgers and nobody has stepped up. No group has stepped up yet," McCarthy said. "We've had two games that have been very similar in nature, New Orleans and Detroit, and we've acknowledged, planned, changed our course as far as how we playing, tilting the identity in a  sense. We need to get more production from this new path, and it hasn't happened yet."

Matthew Stafford put on a quarterback clinic for the Detroit Lions at Lambeau Field -- and Aaron Rodgers could only watch from the sideline.

Stafford passed for 361 yards and two touchdowns to Marvin Jones, and the Lions snapped a three-game losing streak with a 30-17 win on Monday night over the offensively challenged Green Bay Packers.

"Matt (made) some great throws ... I just did what I love to do — go out there and get them," Jones said.

Stafford was 26 of 33, including 12 of 14 in the first half with a 25-yard touchdown pass to Jones. Ameer Abdullah added a 4-yard touchdown run for Detroit (4-4).

Green Bay (4-4) finally got in the end zone on Brett Hundley's one-yard quarterback sneak with 9:52 left.

The Lions answered with Stafford's 11-yard touchdown pass to Jones with 8:06 remaining, putting the game out of reach with a 17-point lead. Jones had seven catches for 107 yards.

The Packers have lost three straight games. Their once-potent offense has struggled since Rodgers broke his right collarbone on Oct. 15 at Minnesota.

Hundley finished 26 of 38 for 245 yards. Cornerback Darius Slay blanketed Jordy Nelson when the Packers did try to throw long while the game was still competitive.

"With this one obviously it doesn't get a whole lot better than this. We played well," Lions coach Jim Caldwell said.

Abdullah fumbled the ball away in the third quarter, but the Packers went three-and-out on the ensuing drive. Familiar problems in the red zone popped up for the Lions when they were stopped on three plays at the Packers 1, forced to settle for a field goal for a 17-point lead with 12:25 left.

But without Rodgers, the Packers couldn't keep up with the accurate, rocket-armed Stafford.

"I believe in Brett, that's not just a press conference statement," coach Mike McCarthy said about Hundley.