"Game is dangerous enough:" Packers' Adams fired up over hit to helmet; Panthers' Davis suspended
GREEN BAY -- Carolina Panthers linebacker Thomas Davis has been suspended for two games by the NFL following his helmet-to-helmet hit on Green Bay Packers wide receiver Davante Adams.

The league announced the decision Monday:




Adams left Sunday's 31-24 loss to Carolina in the third quarter with a concussion after being blindsided by Davis following a Carolina interception. Davis was penalized 15 yards, but not ejected.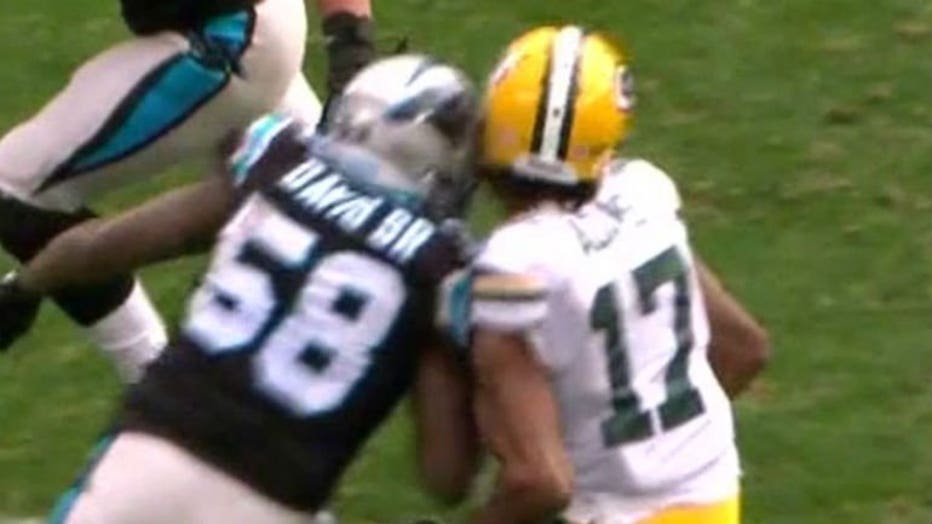 Adams added in subsequent tweets:

"Look it's football but no room for (expletive) like that. We supposed to be in this together n look out for one another not mess with a mans livelihood and hand out unnecessary concussions. We all got mouths to feed what if I did that to him and his kids cant eat."

"Not the type to rant but when u go through this (expletive) twice in a year it takes a lil toll on u so excuse me."

Davis has since tweeted an apology for the hit:




Davis, the 2015 NFL Walter Payton Man of the Year, was visibly upset on the sideline after the play.

Adams has suffered two concussions this season.

Davis has three days to appeal. The 34-year-old is a repeat offender in the league's eyes. He was fined $48,620 for a hit earlier this year on Tampa Bay wide receiver Adam Humphries.

Davis can return to the Panthers on Jan. 1 should the team qualify for the postseason. Carolina (10-4) can clinch a playoff spot on Sunday with a win against Tampa Bay (4-9).

Panthers coach Ron Rivera said he didn't believe the hit was intentional.