Johnson honored by Lombardi Foundation, high on Bucks title hopes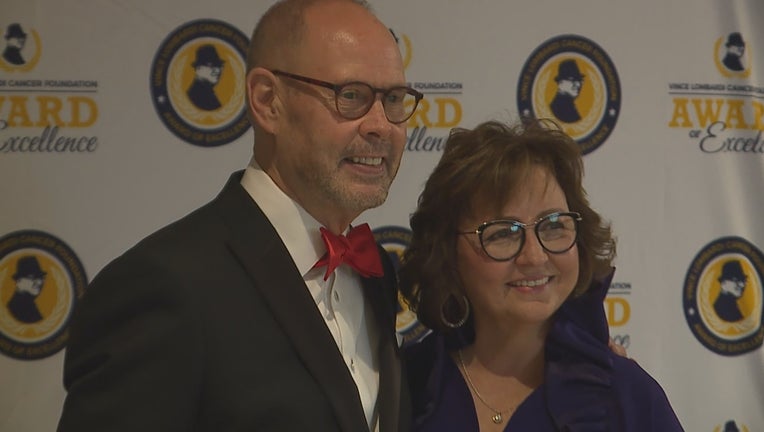 article
MILWAUKEE - "I was a little staggered when I got the word, to tell you the truth. And I was like really? Vince Lombardi?"
For Ernie Johnson, it's difficult to comprehend being associated with the great Packers coach.
But for anyone around him, it comes as no surprise to see him given this year's Vince Lombardi Cancer Foundation Award of Excellence.
"I just thought to come back to my hometown and get an honor that has his name, and I looked at all of the folks who have won this before, and I was like, I don't deserve to be in that group, but I'll take it," said Johnson. "That's for sure."
The foundation made Johnson this year's honoree for his efforts in raising cancer awareness.
Johnson acknowledges the advances made in cancer research, but he said there is still a lot of work to be done.
"You still go to the parking lot at the oncologist often, and it's still full," Johnson said. "I just I wish there were a time when we wouldn't have to raise funds for it. But we continue to."
The "Inside the NBA" host was diagnosed with non-Hodgkin's Lymphoma back in 2003 and is also a prostate cancer survivor.
He admitted that getting a diagnosis like that is life altering, and not only for him.
"You're confronted right then with this is a life and death situation," said Johnson. "Until you find out more about, you know, where you are in it. But, you know, I think the worst thing about it for me was always the uncertainty. It doesn't just alter the person who was diagnosed it, it attacks the whole family. And that's one of the things that's really difficult to deal with."
Family means a lot.
RELATED: Check out the new and improved FOX Sports app
Johnson's father, Ernie Johnson Sr., pitched for the Milwaukee Braves on their World Series winning team in 1957.
Ernie Jr. spent the first eight years of his life in this city, and he will never forget it.
"Favorite memory were those days when the snow was up to here when you were a kid," he said. "And going to Old County Stadium and watching the Braves when I was a kid, you know, those are some of the great memories. A more recent memory is when we were here, when the Bucks were in the playoffs a few years ago, and we had a cookout back at my old house on North 68th Street. I'll never forget nights like that."
The Bucks, who were founded three years after Johnson left Milwaukee, are his pick to make it back to the NBA Finals.
But it all hinges on one lingering factor.
"These guys could win the championship," said Johnson. "And it sounds cliché, but it's all about health. If the Bucks had Khris Middleton last year start to finish instead of losing him during the postseason, they might have been the champs. I think they're that good. But also basketball is one of those games where you lose somebody who fills a specific role, it can alter things, and I think it did for them. But I mean, you look at the group they put together right now, I wouldn't be surprised to see a banner up there."
Johnson is always fielding questions on his charismatic co-hosts on TNT, and he says it's all a part of the job that he loves.
"I'm more like the dad who's on a cross-country trip with these three guys in the back seat," Johnson said. "And I'm seeing if I hear one more peep, I'm turning this thing around. I think that's more my role."
Johnson is the 32nd recipient of the Award of Excellence.
He says another one of his favorite memories is ice skating at Enderis Park, which is in the neighborhood where he grew up.