Dell Curry reminisces about time with Bucks, sons growing up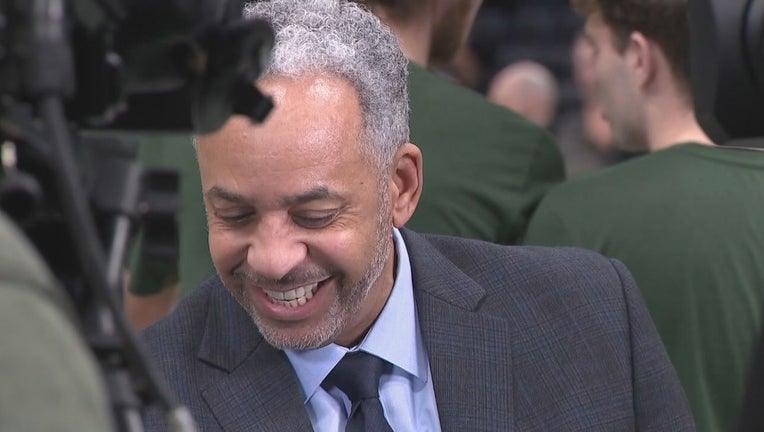 article
MILWAUKEE - A recent visit by the Charlotte Hornets brought team broadcaster Dell Curry back to Milwaukee.
"Your blood thinned back out now, you're not living here anymore," asked FOX6's Tim Van Vooren.
"It has," said Curry. "I did not leave my hotel in the two days we've been here."
The Bucks now play their games inside Fiserv Forum, which provides a great working environment for Curry.
But he did his thing at the Bradley Center as a Buck during the 1999 season, which was shortened to 50 games due to a labor dispute.
He averaged more than 10 points per game under George Karl.
"With Ray Allen, Big Dog Robinson, Sam Cassell for a short period of time, Vinny Del Negro, a lot of my friends to this day," Curry said. "We had a good mix of young and old, and we were well coached, so it was a fun year."
RELATED: Check out the new and improved FOX Sports app
Curry's family remained back in North Carolina while he played in Milwaukee, but sons Steph and Seth would come up to visit and go to practice with their dad.
"Oh absolutely," said Curry. "George used to let them hang around at shootaround, compete with Vinny and me in the shootaround games. I don't think we ever lost, with Vinny and I. They'd been growing up in charlotte and seeing me play with the hornets. I think it was a good experience to see their dad play for another team and in another setting, another organization, so it was a good life experience for them." 
Yes that's right, Steph Curry and Seth Curry used to hoop in Milwaukee.
"They were ahead of the curve in terms of how they'd conduct themselves if they ever got to this league, and they continue to be," Curry said. "I'm proud of how they are as human beings and as men. They're great basketball players but the life that they lead off the floor will last longer than the NBA. But it makes me so proud of the young men that they are and the families they have. We're a basketball family. The NBA's been great to us, and it continues to provide but hopefully, we've given back to the game as well, so that's what makes me happy."
Curry is happy about once being a Buck, as well and about no longer living in a northern locale.