Bucks unveil new court at BMO Harris Bradley Center, latest milestone in team's rebranding


MILWAUKEE -- The busy Milwaukee Bucks offseason continued Wednesday, June 24th with the unveiling of the team's new court at the BMO Harris Bradley Center.

The new floor design is the latest milestone in the rebranding of the Bucks, which began on April 13th when the team unveiled a new set of logos and continued earlier this month when the team hosted over 10,000 fans at the first-ever Bucks Summer Block Party where the new uniforms were on display.

The new Bucks court is consistent with the team's new brand identity – honoring the franchise's rich history while looking ahead to an exciting new era of Bucks basketball.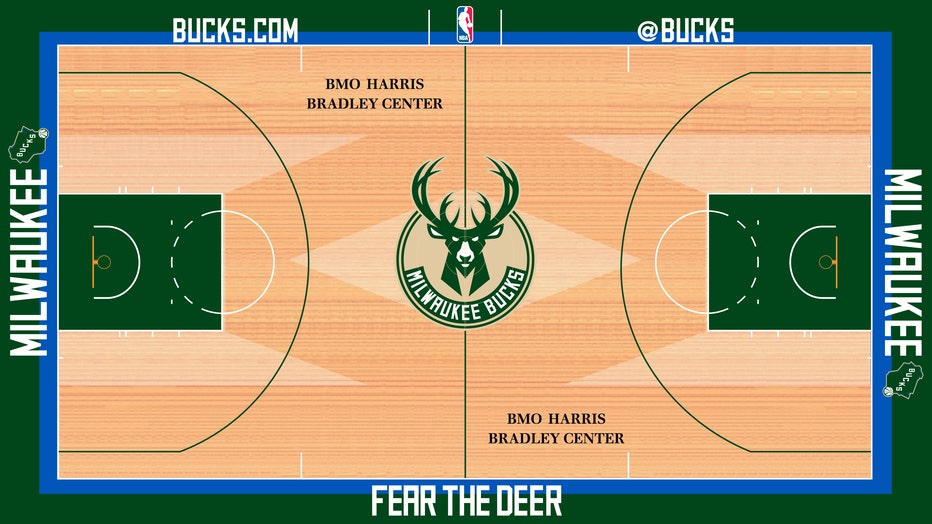 Milwaukee Bucks new court at BMO Harris Bradley Center


Milwaukee's new primary logo will take center stage on the new floor, with the imposing, 12-point buck figuratively representing the beginning of a new era of Bucks basketball and literally marking the starting point for each game played at the BMO Harris Bradley Center.

The familiar "Mecca M's" that returned to the Bucks floor in 2013 as an homage to the Robert Indiana "Floor That Made Milwaukee Famous" are again represented, this time with subtler wood tones that link the court to the past while helping to maintain the crisp aesthetic style consistent with the new brand. The new floor also includes a Great Lake Blue border, another link to the historic Mecca floor, and features the new Bucks tertiary logo – an adaptation of the state of Wisconsin – along with the MILWAUKEE wordmark along each baseline to reinforce that the Bucks are Wisconsin's NBA team and proudly put both our home city and state on display for a global audience.

Finally, the new floor features the words "Fear the Deer" along the near-court sideline to serve as a rallying cry for fans and players alike.

Fans are invited to be among the first to set foot on the new floor at tomorrow's 2015 Bucks Open House. The event gives fans the opportunity to secure the best seats in the house for the 2015-16 season while watching the Bucks select the newest member of the team during tomorrow night's NBA Draft. The exclusive event begins at 4:00 p.m. Wednesday and is open to the public, though RSVPs are required.

Log on to www.bucks.com/openhouse for more information.