Bronson Koenig has big shoes to fill as he replaces Badgers' Ben Brust
MADISON (WITI) -- Believe it or not, one college basketball bracketologist has the Wisconsin Badgers as the number one seed in the Midwest for next year's NCAA Tournament! In fact, just one Badgers starter is leaving -- and the young man replacing him doesn't figure to miss a beat.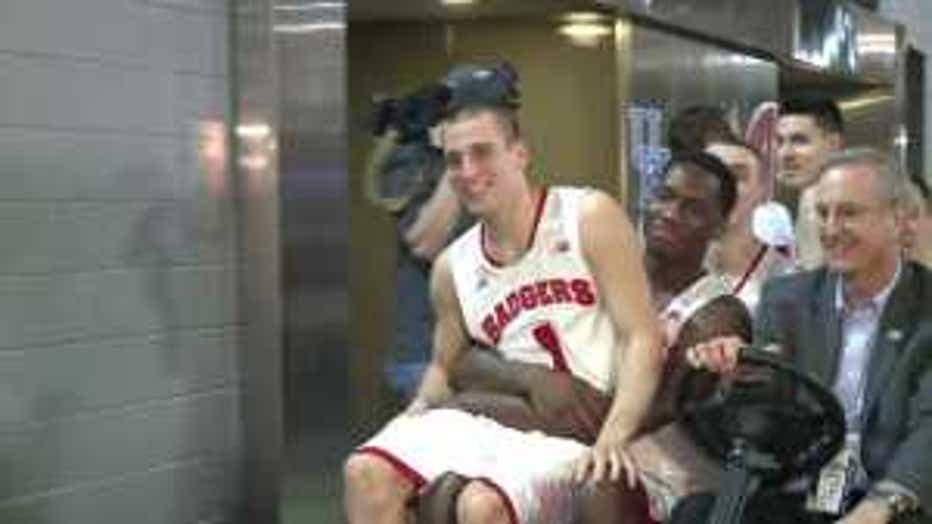 During their memorable run to the Final Four, Badgers senior guard Ben Brust became the Badgers all-time leading three-point shooter -- both in the regular season and in the NCAA Tournament.

As a senior, he played his last game when the Badgers lost to Kentucky in the Final Four.

Enter Bronson Koenig -- the 6'3" freshman guard who came off Coach Bo Ryan's bench to provide a spark all season -- especially during the first half of that Final Four loss to the Wildcats.

The future looks bright for the LaCrosse native, but his focus in North Dallas was what might have been for Wisconsin in North Texas.

"I can't really explain it. It just sucks that it was ours to take, and I thought, you know, we deserved to win it. It was just a tough shot -- and that's just basketball. I was just happy to do whatever I could to help our team win -- and unfortunately, it didn't go our way. It has been a great experience for me. We've had our highs and lows and everything like that, you know, I have especially. It was a great experience, you know, getting to the Final Four and just knowing what it takes to get here, all the resilience and everything like that. Yeah -- it's -- I'll use that experience for the rest of my career. I know my goal ever since I committed was to win a National Championship -- and that was also our team's primary goal from the start of the season. You know, we were close, but unfortunately it didn't turn out. We had a great season, and we had a great run and everything like that, and I was glad, you know, we got back to a Final Four -- especially for the seniors and Coach Ryan," Koenig said.

Koenig, who was scouted by the likes of Duke and North Carolina before deciding to stay close to home with the Badgers became one of the few Native Americans to play in an NCAA Final Four.

Koenig is a proud tribal citizen of the Ho Chunk Nation in Black Falls, Wisconsin.

Koenig came into the Final Four game against Kentucky averaging just 3.3 points per game. On the big stage, Koenig scored 11 points in 16 minutes -- which earned him praise on a national level.