Brewers prospects issue a 'no-fly zone' in the outfield
PHOENIX - It's really common to see planes flying over American Family Fields of Phoenix on a regular basis. In fact, they're on their way to Sky Harbor Airport. However, they might be the only thing landing around here soon.
"We call it our 'no-fly zone,'" said Garrett Mitchell.
"Yeah, Garrett invented that last year," said Sal Frelick.
That would be what Mitchell, Frelick and Joey Wiemer call the outfield when the three are playing together out there in the Brewers organization.
"There's a lot of highlight plays I feel like we all made last year just being able to, we take pride in not allowing the ball to drop in the outfield, obviously," Mitchell said.
Last year, Mitchell, Frelick and Wiemer were patrolling the outfield in Triple-A for the Nashville Sounds.
"Obviously, you're not going to make every single play," said Mitchell. "But when we're all three out there, we have really good communication with each other and know kind of where we are on the field, so there's a lot of not thinking – just kind of go out there and playing."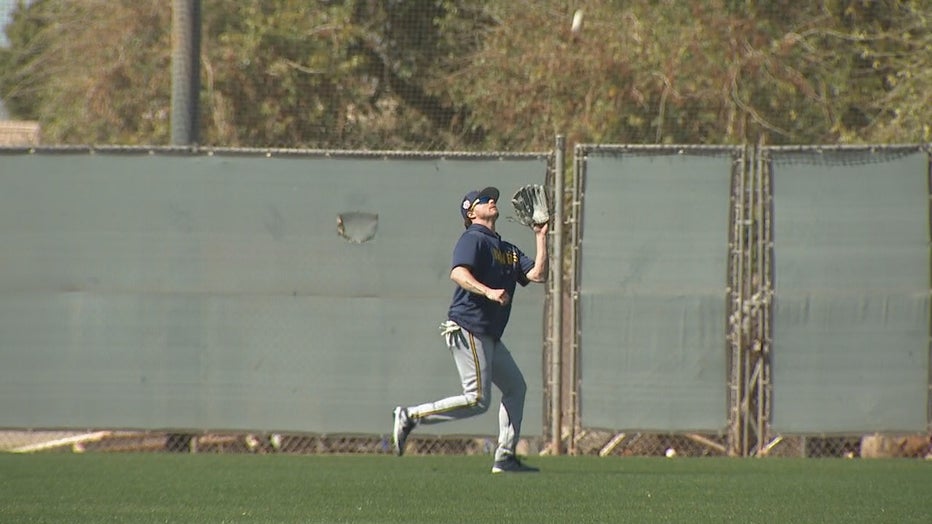 "You look at Joey and Garrett, you know, two of the best outfielders, definitely, in this organization," Frelick said. "It's just really fun knowing the guy next to you is going to pick you up if you mess up."
This spring, all three are in the major league camp competing for the opportunity to earn a spot in the Brewers outfield, something Mitchell accomplished late in 2022.
RELATED: Check out the new and improved FOX Sports app
"It was great," said Frelick. "I mean, no one deserved it more. It was great watching him succeed up there, too. We were all rooting for him down there."
There are many skill sets the trio shares, but one stands out for Sounds teammate Brice Turang.
"Fast, it's all fast," said Turang. "When everybody was in there, we were stealing bags left and right. Balls were getting caught in the outfield. Runners were always in scoring position. It was fun watching those guys play, and off the field, they're good dudes, so it's even better."
Being friends and teammates is making their experience in baseball and the Brewers organization that much more exciting.
"I think it's just really fun because we kind of all are coming up together," Frelick said. "We're going through it together, really built these relationships."
"You can see how much fun we have together, whether it's on the field playing or whether it's in the clubhouse," Mitchell said. "Wherever we are, you'll notice that, too. We just have a lot of fun together. We're all really close and try to spend as much time as we can together."
SIGN UP TODAY: Get daily headlines, breaking news emails from FOX6 News
So sooner or later, the Brewers could be implementing the "no-fly zone" not only at American Family Fields of Phoenix but at American Family Field in Milwaukee.
"Whatever year it is, it's going to be a great year," said Frelick. "But again, I can't control that. I definitely want to live in the present. You know, I want to have that tunnel vision. Obviously, that's going to motivate me, and it's going to be in the back of my head, but for now, I just want to make sure I am, you know, where I'm standing."
"When we're all together in the same outfield, that's when you start to see a lot of fun things start to happen," said Mitchell.
With Tyrone Taylor expected to miss at least the first month of the season, a spot is available for these players to compete for.