Brewers, Aurora Health Care make dream come true for kids
PHOENIX - Every spring training begins with the dreams of winning the World Series.
This spring, some very special dreams have already come true at American Family Fields of Phoenix.
"It's a way different experience because Phoenix has all these different baseball fields out there," said Nolan Rosenthal.
Baseball has never looked as amazing as it did on this day for 13-year-old Rosenthal of Lannon.
"It's just that I've played baseball since I was 5, and it's just that my dream, become a baseball player," Rosenthal said. "These are all baseball players, and I'm just excited."
"He is absolutely living a dream," said Rosenthal's mother, Wendy.
Rosenthal was one of three kids who are patients with Aurora Health Care who were surprised with a VIP trip to Brewers spring training with their families.
"Owen [Miller] and I greeted them at the hotel last night," said Aaron Ashby, Brewers pitcher. "So they're awesome. Great kids. Great families.
"I was just surprised that they were right there, and I just got their autograph because I was so excited and overwhelmed," said Rosenthal.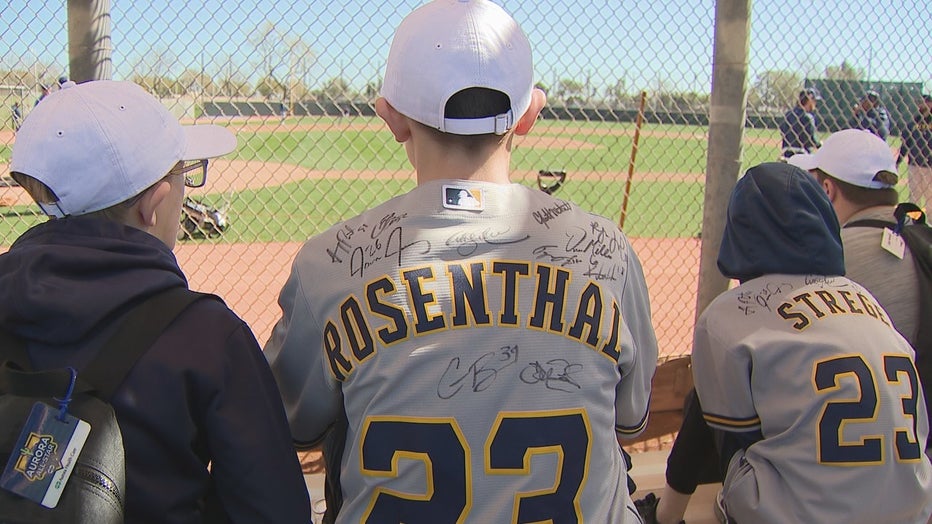 After meeting Ashby and Owen Miller the night they arrived, they were greeted by manager Craig Counsell the next morning.
Soon, they were off to the batting cages, where Garrett Mitchell was waiting.
"Being able to give them that experience, there's nothing you could ask for," said Mitchell. "I feel like being a kid and being in a situation where, being able to talk to big leaguers, just have fun and get to play catch, get some signed autographs and stuff like that, I think was really cool."
RELATED: Check out the new and improved FOX Sports app
The biggest surprise came when Rosenthal got to play catch with his favorite player, Willy Adames.
"Because in the COVID pandemic and he was in the World Series, since I play shortstop on my select baseball team, I'm like, why don't I just cheer for him?" Rosenthal said. "Then the next year, he's on the Brewers, and I got really excited."
"It truly was emotional to see him and even to see him meet Willy," said Wendy. "I was crying over there, but it's OK."
Nolan Rosenthal was diagnosed with an inherited genetic condition called "soft bone disease," where his bones don't mineralize calcium and break easily.
SIGN UP TODAY: Get daily headlines, breaking news emails from FOX6 News
"This year, he has been over some, jumped over some hurdles, and his physicians with Aurora have been absolutely amazing, and so he's gotten over that hurdle, and so now, it's the day-to-day things that we have to manage with him," said Wendy.
As a diabetic, it's something Mitchell can relate to.
"Even for someone like me who likes to share my story, like I said, there's days where you wake up, and it's a little bit harder," Mitchell said. "There's things that are challenging, so like I said, the goal in situations like that is to get their mind off it and just have fun."
That is exactly what Rosenthal and the others did, making it quite emotional for his mom.
"It brings tears to my eyes to see him so happy," she said.
"All I can tell you is just the most amazing feeling for a parent," said Mitchell. "So especially, knowing how my mom is with situations like that, I know what she's feeling, so like I said, being able to help these kids out today and be here and just have fun was the goal, and I'm glad they had a good time."
The memories will last a lifetime.
"All of my autographs on my jersey and my baseballs and just the overall, all the experience, the whole experience," said Rosenthal.
His dreams are even bigger.
"I hope Nolan understands that all things are possible," said Wendy. "He can do anything he wants to in this world."
Rosenthal even got to throw out the first pitch at the Brewers' first Cactus League game.
This was a trip where the kids got to try and put their challenges and struggles aside for a little while.
Plus, this was all paid for by the Brewers and Aurora to allow the families the opportunity to just enjoy all of it.