Brewers coming together thanks to the power of cheese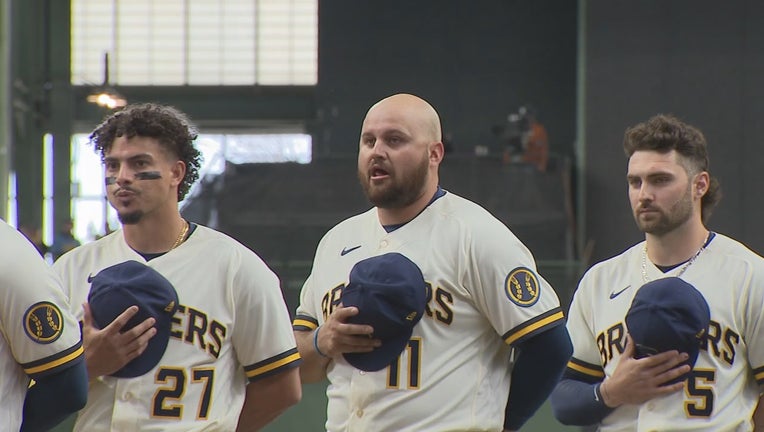 article
MILWAUKEE - Cheeseheads are a staple of every Packers game.
But now fans cannot go to a Brewers game without seeing one.
"If you hit a homer, you want to wear that," said shortstop Willy Adames. "I want to wear that cheesehead every time! Everybody wants that."
The home runs have been flying out of American Family Field, and to celebrate each dingier, the foam hat is being paraded around the dugout.
Adames is being credited with the idea.
"[Jason] Shawger, me, [Victor] Caratini, all the guys we were trying to figure out what to do, and then we came up with that idea," Adames said. "I think it's been really good. It's been really fun."
The fun has even found its way to one Brewer much to the surprise of manager Craig Counsell.
"I'm all for it," said Counsell. "It's a good idea. It was a great idea by Willy getting Yelly to wear the cheesehead. He's normally a little reserved about that stuff, so I was happy that he put it on."
"He's a part of the team," said Adames. "He's one of us, so he has to do it. Everybody has to do it, and it's for a good cause."
"It was cool," said outfielder Christian Yelich. "It was my first time wearing a cheesehead, so hopefully there's more of those to come, and it's a good home run celebration."
RELATED: Check out the new and improved FOX Sports app
On the surface, the cheesehead is all about fun.
But when you look deeper, it's really about bringing this Brewers team, made up mostly of veterans and rookies, together.
"The more you've been on winning teams, the more you realize how important that is," Yelich said. "And when that gets away, it makes it tough when you're not together as a group. So we've made a really big effort since day one of spring training to do more of that, to come together as a team, build that chemistry and just get to know each other."
Garrett Mitchell is one of the newer guys who is trying to meld with the vets. The outfielder joined the club back in August.
He's already gotten to wear the cheesehead several times.
"It felt great," said Mitchell. "I like wearing the cheesehead, like I was saying yesterday, so I want to keep doing that."
Mitchell said he can definitely see that team chemistry growing, and every player has their teammates' backs.
"The energy as a team right now is really, really good," Mitchell said. "And we're pulling for each other. And we know that if one guy doesn't get it done, you know, the next guy has a good opportunity to do the same thing. So it's really nice. It's really refreshing too. Like I said, from rookies to veterans, we're all trusting each other just to go up there and do our part."
Adames said the connection and positive energy is there, and he hopes Milwaukee's sky-high confidence continues.
"We're not forcing it," Adames said. "We're just letting it happen. And I think we're just having fun right now, and hopefully we can continue to do that."
The origins of the cheesehead can actually be traced back to County Stadium where the first one was worn by Ralph Bruno back in 1987.