Brewers catcher Jonathan Lucroy blocks trade to Cleveland Indians
MILWAUKEE  — Milwaukee Brewers catcher Jonathan Lucroy has blocked his proposed trade to the Cleveland Indians.

Lucroy said Sunday, July 31st he wasn't going to go into the details behind his decision, but the long term is more important than the short term for him and his family.

"Well, I didn't go to bed until about four in the morning, obviously. Woke up at seven -- so I didn't sleep long but, you know, when you're dealing with life-changing decisions like this there are a lot of different factors that come into play. Mostly, it's family and the other half of that is your future in this game, your career. There's a lot of different things to take in and whenever those things don't line up, then decisions have to be made that might be tough -- but that's the way it's gotta be because in my eyes we have to look out for our best interests. I couldn't ask for a better environment to grow up in if something does happen. The fans here are awesome. They've always treated me great, and I'm very blessed to be able to grow up in front of fans like this. The fans have treated me really well. They have shown me nothing but love and respect -- and that's all you can ask out of your home fans. There are not a lot of home teams that can say that. We have fans here that love you no matter what. I can't even remember the last time we were booed here -- so it's pretty impressive with our fan base how positive and loving they are. I have a lot of memories here. My daughter was born here. There's a lot of things I have here to remember Milwaukee by -- good friends. Guys I consider family. We'll see what happens. It's one of those things that's out of your control at this point in time. I'm probably gonna be here the rest of the year. If nothing happens, I will be at the game (Monday) in San Diego," Lucroy said.

The teams had reached a preliminary agreement on a deal to send Lucroy, a two-time All-Star, to the Indians.

But Lucroy has a no trade clause in his contract, which means he can veto a trade if it isn't something he wants.

So Sunday, after his representatives tried to change his contract to make him a free agent after this season and the Indians denied that request, he vetoed the trade.

Also, Cleveland reportedly wouldn't guarantee Lucroy the starting catcher's role if he did stay next season.

Milwaukee general manager David Stearns says the Brewers will move on after Lucroy refused to waive the no-trade provision in his contract. He says there's no chance of re-working a deal with Cleveland.

Cleveland, which leads the AL Central, has been looking for a catcher since Yan Gomes separated his shoulder earlier in July.

Lucroy turned down the trade to Cleveland -- but other teams want the All-Star catcher before Monday's deal deadline, and he has a limited no-trade clause.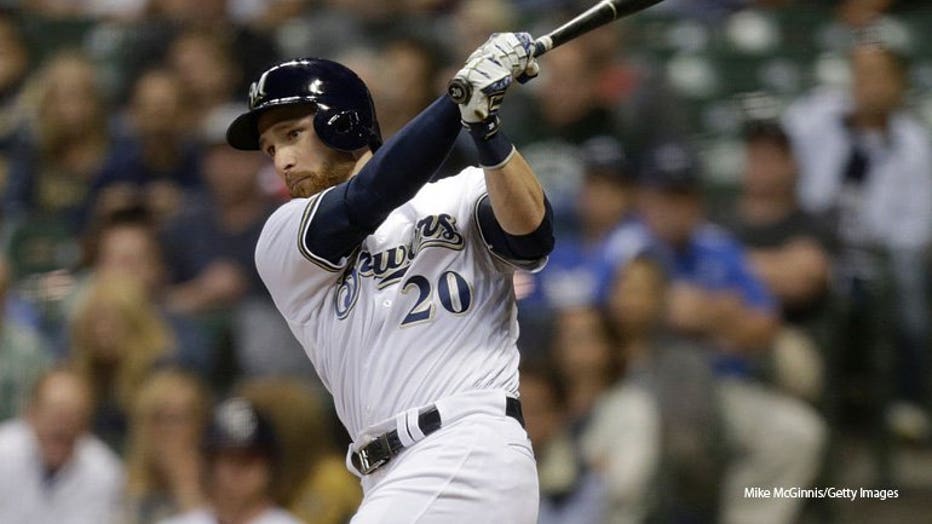 MILWAUKEE, WI - JUNE 28: Jonathan Lucroy #20 of the Milwaukee Brewers hits a 2 RBI double during the eighth inning against the Los Angeles Dodgers at Miller Park on June 28, 2016 in Milwaukee, Wisconsin. (Photo by Mike McGinnis/Getty Images)