Brewers adjust to new shift rules, 'pizza boxes' on field
PHOENIX - In 2023, Milwaukee Brewers games might look a little different.
That's because Major League Baseball is delivering some new things.
"At first you're like, 'Oh my gosh. These are like, pizza boxes,'" said infielder Brice Turang.
To the dismay of many, there is no pizza being delivered to the big leaguers, but pitcher Adrian Houser could be helping out the Brewers sales team with his suggestion.
"I wouldn't be surprised if there's some pizza advertisements on them before long," said Houser.
The bases, still white, are now three square inches bigger, growing from 15 inches on each side to 18 inches.
"I haven't even seen one. I haven't seen one yet," said outfielder Tyler Naquin.
Just a few days into camp, Naquin was still waiting for his chance to see the change, although he might not be the biggest fan.
"I don't know," Naquin said. "Maybe sometime just leave the game alone to a certain extent. I don't know. Let's play some baseball."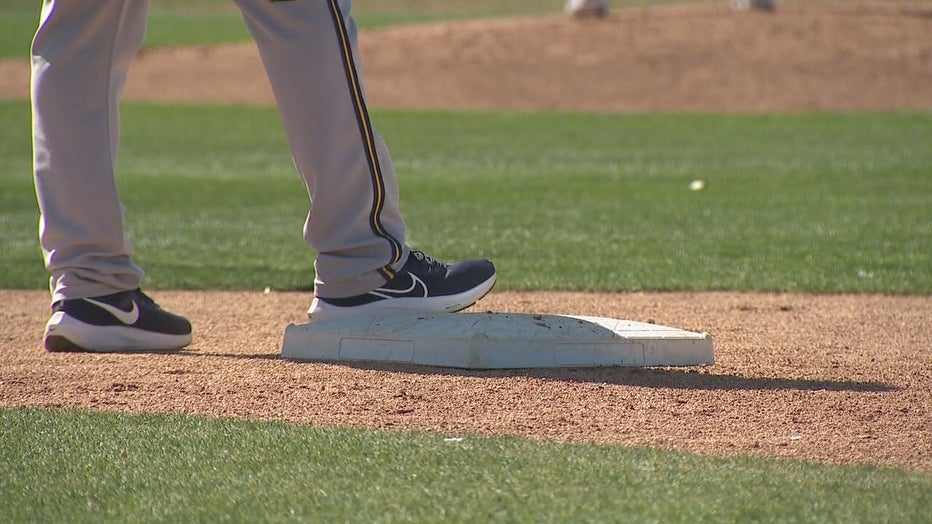 While the change was made to reduce injuries around the bases, it is creating other concerns for guys like outfielder Garrett Mitchell.
"I think the most challenging thing when it comes to the bases, for me, personally, is because they are pretty flat, it's pretty easy to slide over the top of them," said Mitchell. "So that's something I focus on when sliding or doing anything on the bases is making sure you get your foot sturdy into the ground and don't fly over it."
RELATED: Check out the new and improved FOX Sports app
"It kind of throws you off a little bit at first, but then once you get going, you don't really notice it," said Houser. "It's still a base, so you still got to step on it to get an out."
What might be more off base for the players is the defensive shift being drastically limited.
"I loved when they shifted me," said outfielder Sal Frelick. I think I'm like, the biggest pull hitter ever."
This season, two players have to be on each side of second base on defense, and all infielders have to be on the dirt, which seems to create more opportunities for Frelick.
"Now that they can't go over there, now it's like, maybe I can get the head out a little more, and those ground balls I do hit to the right side might get through," Frelick said.
However, infielder Rowdy Tellez won't be changing anything when he comes to the plate.
"I try not to think about that kind of stuff," said Tellez. "Where I hit the ball, once it leaves my bat is out of my control, so hopefully, there's not as many people over there this year, but I'm just trying to find the barrel as much as I can."
For some, like infielder Mike Brosseau, this will bring baseball back to the way it was when they first started playing.
SIGN UP TODAY: Get daily headlines, breaking news emails from FOX6 News
"It might be weird the first couple times you step in the box, and you realize there's not three people on the left side or the right side, if you're a lefty, so the field's going to look more complete, I guess. Yeah," said Brosseau. 
"I think it will turn the game a little bit more traditional," said Naquin. "But I'm sure at some point, somebody will find a way to shift to a certain extent but not to that drastic."
Spring training 2023 is all about adjusting to change.