Brew City Apparel creates T-shirts in honor of Brewers Hank
MILWAUKEE (WITI) -- Brew City Apparel has created T-shirts in honor of "Hank" the Brewers dog.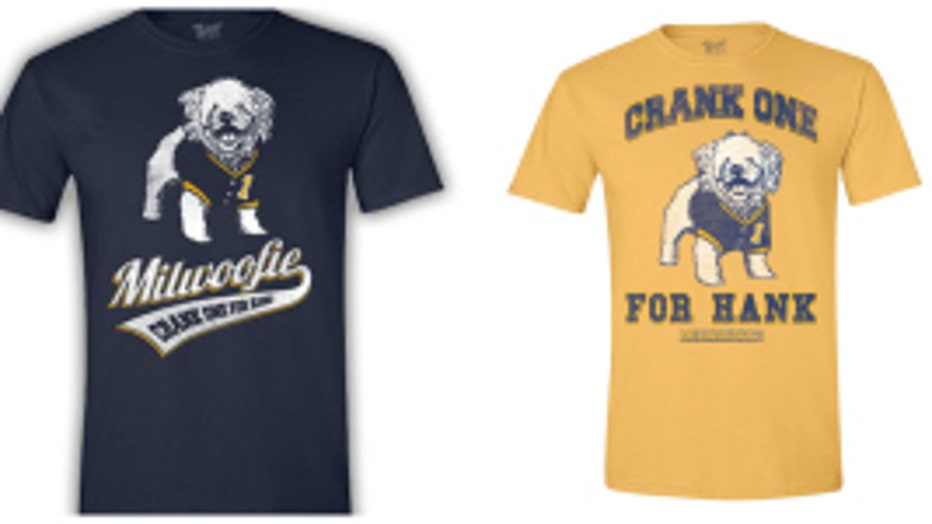 Hank is a stray dog who has been taken in by the Milwaukee Brewers camp after he showed up at Spring Training at Maryvale Baseball Park in Arizona.



Hank has become the Milwaukee Brewers' unofficial mascot.

Last week, Hank made his debut in the popular Brewers Sausage Race.



He even had his own Twitter page -- but this weekend, we learned the page @BrewersHank has been suspended.

It is unclear at this time whether the Brewers will bring Hank to Milwaukee -- but he's certainly gaining popularity among Brewers fans!

And, with his T-shirt sales, Hank and Brew City Apparel will be helping other animals.

"For every shirt we sell, we thought 'wouldn't it be great to give a dollar back to the Humane Society?' All our sales are computerized, so we know how many shirts we sell and we just thought it would be a great idea to give back and maybe help a couple more stray dogs in town find a home," Brew City Apparel Co-Owner Frank Keppler said.

Brew City Apparel is also working on "Hank" shirts for dogs! Those should be available soon.

Brew City Apparel has been in business since 1986, and prides itself on creating "extraordinary, innovative and rebellious products, creating an experience in which our customers can share fond memories with their friends and family."

Brew City has created other shirts based upon sports news -- most recently, a "Backup Quarterback" shirt -- taking advantage of the Green Bay Packers' quarterback conundrum of this past season -- when Aaron Rodgers became injured and fans didn't know who might be filling in for him from game-to-game.

They also created a shirt that read "Bad Call, That's All" after the game-ending call by replacement refs led to outrage in Packers nation following the loss to the Seahawks.

CLICK HERE to learn more about Brew City Apparel via a story seen on FOX6's Studio A with Brian Kramp.
CLICK HERE to visit Brew City Apparel's website.