Keselowski thriving with full plate ahead of Daytona 500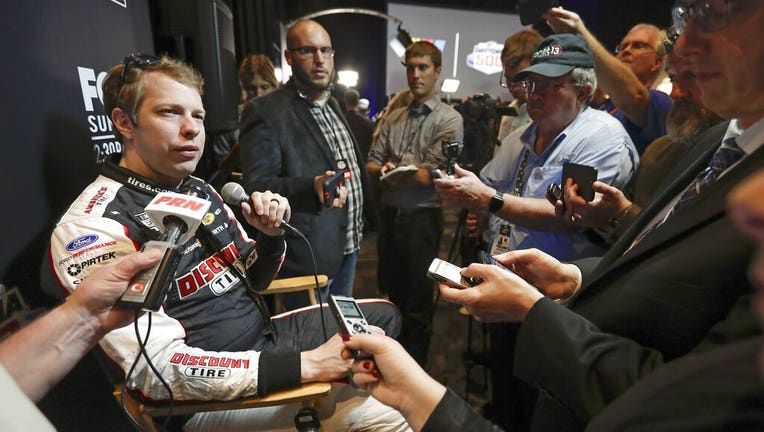 article
MILWAUKEE - Every driver in the Daytona 500 field is champing at the bit this time of year.
When you race for a living, you can't wait to race against the best.
A guy like Brad Keselowski has extra reason to be amped up. After all, he also owns his race team.
"Driving a race car is its own set of challenges. Owning a race team is its own set of challenges, and it's not like one plus one equals two. It's like one plus one equals five," said Keselowski. "With that said, I signed up for it, and I enjoy the challenge. The days where you have success, it means that much more to you, as well, but then the days where it doesn't go well, the burden is very significant."
When it comes to burdens, Keselowski and his wife run the Checkered Flag Foundation, which has raised more than $5 million to benefit primarily servicemen and women and first responders who can use a boost.
He was in our area on behalf of the Fisher House in 2022.
RELATED: Check out the new and improved FOX Sports app
When looking for a personal outlet, Keselowski is an avowed fan of his home state NFL team.
"So I'm standing there at Lambeau Field the last Sunday night of the NFL season, it's all right there for the Packers," said FOX6's Tim Van Vooren. "All they have to do is beat the Lions, and they're in the playoffs. But the Lions take it to them and continue to make statements for the future of this Lions football team. How excited are you for the Lions, and what do you see from them in the future?"
"My heavens, I don't know what you mean," Keselowski said. "No, the Lions have an upswing. Here's the thing. Green Bay has kicked our butts for so many years, so many years, and it's very nice of the whole state of Wisconsin to be so generous and forthcoming to allow us to be successful."
SIGN UP TODAY: Get daily headlines, breaking news emails from FOX6 News
Detroit has one playoff win since 1957. Needless to say, it's been a challenge to overcome that futility.
"As someone who runs an organization now, do you appreciate how difficult it is to change culture or build culture?" asked TVV.
"It's miserable," said Keselowski. "It's absolutely terrible. Trying to change the culture of any company is like trying to argue with a toddler to put their clothes on, and then when they've made their mind up, they don't want to put their clothes on, but instead of just one toddler, there's 20, 30, 40 of them. It's brutal."
Keselowski and the rest of the field will be racing in the Daytona 500 this Sunday on FOX6.