Adventurer completes 157-day, 1,791-mile swim around Britain
LONDON — A 33-year-old British endurance athlete stepped ashore on an English beach Sunday, becoming the first person to swim around the coast of Great Britain.

Ross Edgley spent 157 days in the water and covered 1,791 miles (2,883 kilometers). He swam in six-hour stints, sleeping in his support boat.

He was joined for the final mile by hundreds of fellow swimmers, coming ashore at Margate in southeast England — the spot where he began his journey on June 1.

Edgley, who had hoped to finish in 100 days, told family members who gathered on the beach to greet him: "Sorry I'm late."

He said his main feeling on walking up the beach was "relief. I was really worried that my legs would give way."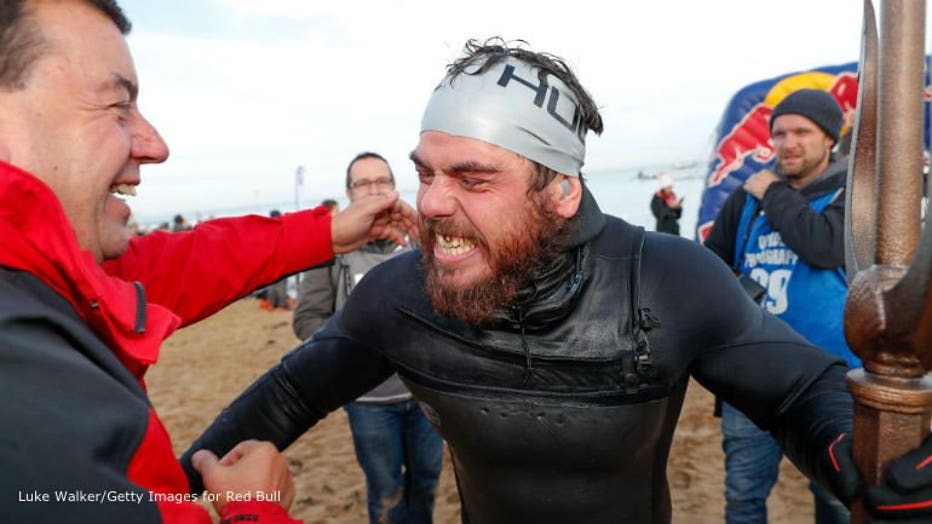 MARGATE, ENGLAND - NOVEMBER 04: Ross Edgley of England talks to friends and fans after finishing his 'Great British Swim', an historic 2,000 mile swim around Great Britain on November 4, 2018 in Margate, England. (Photo by Luke Walker/Getty Images fo


The World Open Water Swimming Association says Edgley endured spells of wild weather and was stung by jellyfish 37 times during his swim, which was sponsored by the energy drink Red Bull.

Organizers said Edgley also broke records for the longest staged sea swim - doubling the previous 73 days - and for the fastest swim between Britain's southernmost and northernmost points, Land's End and John O'Groats.

He covered the distance in 62 days.