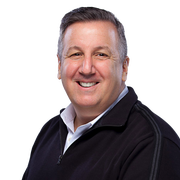 Gino Salomone
Hollywood Insider
Gino Salomone was born and raised in Milwaukee and loves living here.
Early on, TV was a major part of Gino's life. He was a loyal viewer of the local children's show Children's Fair on Channel 10, Pops and Lippy Lucy on Channel 12, and Kid's Club on Channel 4 and of course Cartoon Alley with Barbara Becker on Channel 6.
As he got older, Gino would sneak into the living room as a boy to watch Don Rickles on the Tonight Show. Another major TV must was the Dean Martin Variety Show where the family gathered and watched as Dean made Gino's Dad laugh, not an easy thing to do.
Gino had a love for all things radio, TV and movies. Gino worked at Channel 12 while in college and ended up taking over his Father's construction company. He would leave the job site and make calls to the Reitman and Mueller Show on WKTI Radio and became their producer in 1986.
August 1986 was Gino's first big event when he was the guiding force behind the Gilligan's Island Beach Party on Bradford Beach featuring Bob Denver and Alan Hale. As a result of that event, Gino began Rerun Reunions, a company through which Gino worked as a booking agent for actors from Gilligan, Leave it to Beaver, the Brady Bunch, MASH, the Munsters and many others.
Gino met his closest friend Julia Sweeney through one of his promotions and through Julia had a sketch idea of his used on Saturday Night Live. He began doing interviews with movie stars for Channel 4 in 1995 and which continue now on FOX6.
Gino was engaged to Sandra Bullock (a joke they both shared) and has had his birthday ruined by Tommy Lee Jones. His interviews have appeared on the E! Network and in several cities around the country. Gino has acted in 3 movies, one of which he was cut out of. He was a lab technician in Naked Gun 2 1/2, a Las Vegas pit boss in It's Pat. He was cut out of the movie America's Sweethearts where he had a line with Billy Crystal in a bar. Sadly the world was not to see his acting skills.
Gino dreams of having a farm and raising Highland Cattle. He visits the Zoo frequently to see their Highland Cow although a court order keeps him 50 feet away. He can be found walking the town square of Lake Mills or exploring Holy Hill.
Despite his advancing age, Gino still hopes to marry and have a family.
The latest from Gino Salomone