Zachariah Anderson trial; mistrial avoided after agreement
KENOSHA, Wis. - Attorneys in the trial of Zachariah Anderson came to an agreement Wednesday, March 1 – avoiding a possible mistrial – after proceedings were stalled the previous day.
Anderson is charged with killing Rosalio Gutierrez and hiding his body – which has never been found. At issue was an argument proposed by Anderson's defense during its opening statement Tuesday: That someone else could be responsible for Gutierrez's disappearance. Judge Bruce Schroeder heard legal arguments outside the presence of the jury. 
"We've come up with a joint proposed cautionary instruction," Kenosha County District Attorney Michael Graveley said.
SIGN UP TODAY: Get daily headlines, breaking news emails from FOX6 News
That instruction is for the jury to disregard something the defense said. The defense's theory is the police investigation was shoddy. 
"There was that mutual understanding that it could be seen both ways," Defense Attorney Nicole Muller said in regard to the situation.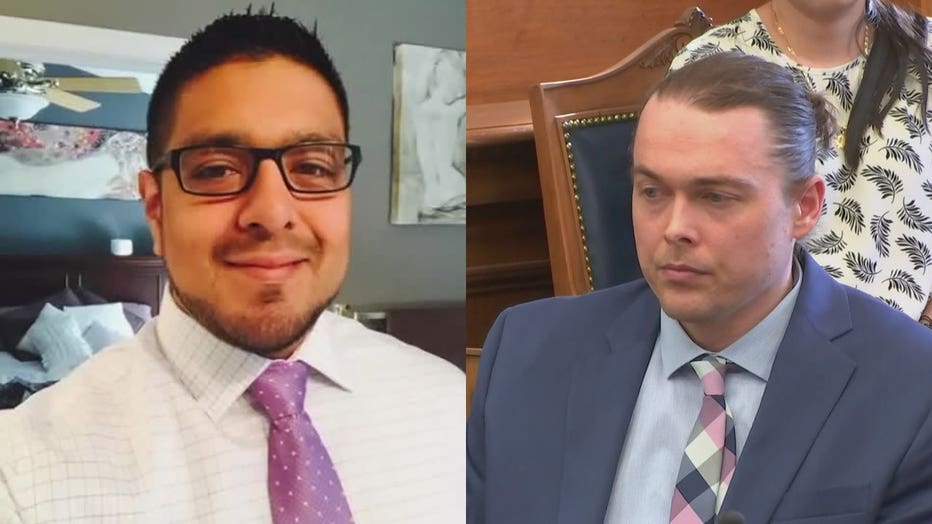 Rosalio Gutierrez, Zachariah Anderson
Anderson's ex-girlfriend was dating Gutierrez at the time he disappeared in 2020. During its opening statement Tuesday, the defense said police never looked at the ex-girlfriend as a possible suspect, pointing to a text sent by her friend days before Gutierrez disappeared.
The state wanted a mistrial, as a third-party defense theory falls under the "Denny Rule." That rule requires pretrial hearings to show motive, opportunity and direct connection to be allowed in.
"Just because it's a rule, doesn't mean that it's a good one," said Ion Meyn, associate professor at the University of Wisconsin Law School. "But the defense, in order to point the finger at a third party who might have done a murder has to show, that creates a bit of disconnect between this sense of right to present your defense, and these requirements you don't put on the state."
FREE DOWNLOAD: Get breaking news alerts in the FOX6 News app for iOS or Android.
Meyn called the move by prosecutors "strategic."
"Then the judge reinforcing that through the curative instruction. 'Just in case you missed it, jury, disregard this important thing – it's not important,'" Meyn said.
The defense will resume its opening statement Thursday morning. The state will also add a defense witness to its case as part of the agreement.