"You're robbin' folks blind!" New law cuts police out of private property towing process


MILWAUKEE (WITI) -- Be extra careful where you park your car!  A new state law makes it much easier for private property owners to have you towed. Tow truck drivers in Wisconsin are not required to be licensed or bonded, meaning just about anyone can tow cars. That includes convicted felons. And now, they can tow your car without even waiting for police to write a ticket.

Bob Caldwell was shopping at a Save-A-Lot grocery store at 76th and Mill Road in northwest Milwaukee back in December when  a tow truck hauled off the family minivan.

"You're full of it. You need to be stopped. The people need to know what you're doing is wrong," Caldwell said.

"I'm the driver," Oliver Castillo said.

Castillo works for Cars, Inc., which - until very recently - had a contract to patrol the parking lot at the Mill Road shopping center.

"People just come and park in the fire lanes, leave their car, go to the stores. Like, you blocking the traffic," Castillo said.

Castillo says Caldwell's van was parked in a handicapped space. Caldwell says that's not true.

"As you can see, there's no handicapped sign here. There's no illegal parking," Caldwell said.

Who's telling the truth?  That is hard to say.

"You can say something, I can say something," Castillo said.

If only someone had a picture.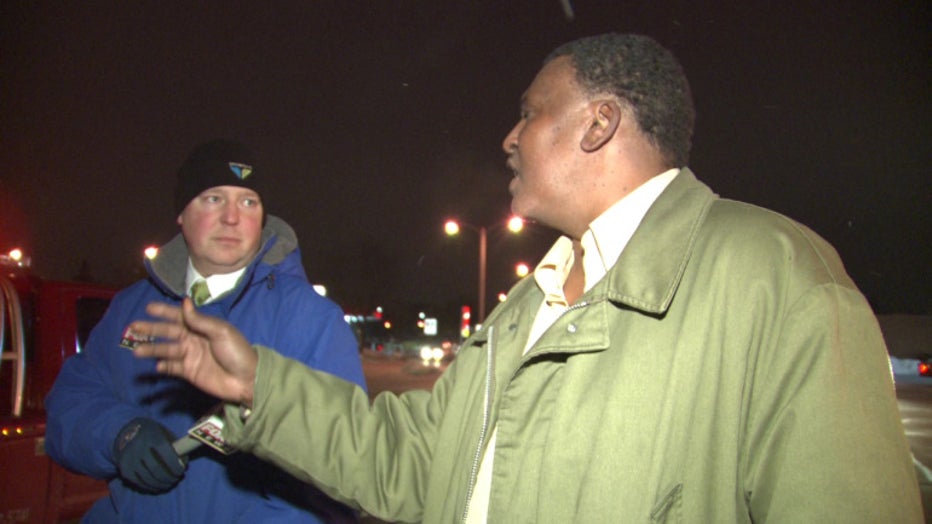 Bob Caldwell was shopping at the Save-a-Lot grocery store at 76th and Mill Road on December 9, 2014, when Cars Inc. towed his minivan. He says he was parked legally. Cars Inc. says he was in a handicapped space.


"I said, 'where's this photo of my vehicle being illegally parked?' He didn't have it," Caldwell said.

"He's lying. I mean, we got a picture for every car that we tow," Castillo said.

Castillo said FOX 6 could see the picture, but we'd have to get it from his boss. A few days later, we found his boss parked near 11th and Mitchell and approached him to ask questions.  52-year-old Shaun Brayden didn't stick around long enough to answer any questions.

"I didn't know who you were!" Brayden insists.

Brayden says he drove away because he was scared and didn't know who was at his window. But minutes later, the same flatbed tow truck was driving through the FOX 6 News parking lot.

"I admitted I was there by accident," Brayden said.

Turns out, after making a pass through the FOX 6 News parking lot, Brayden drove to the Brown Deer police station and tried to file a harassment complaint. A few days later, he called FOX6 and requested an on-camera interview.

"And apologized for being mean to you and hanging up the phone and stuff," Brayden said.

At first, Brayden told FOX6 News they only keep photos for 30 days.  Then he said Caldwell's picture got lost. Now...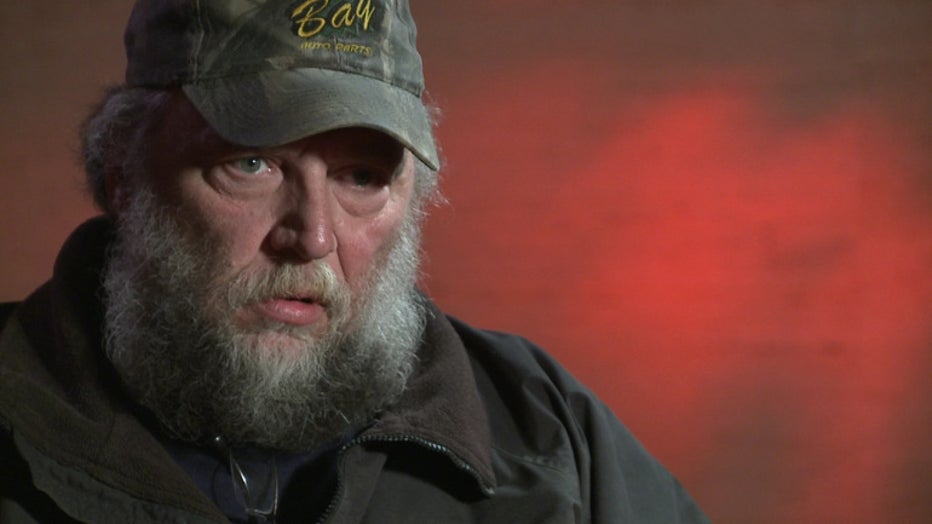 Shaun Brayden of Cars Inc. agreed to a sit down interview after reporting FOX6 News to police for "harassing" him and "jumping out" at him.
Bryan Polcyn / FOX6: "Where's the picture?"
Shaun Brayden / Cars Inc.: "Well, you ask the police officer what he did to the picture."
Polcyn: "So now police have the picture instead of you?"
Brayden: "They seen the picture."
Polcyn: "How did you give it to them? Do you guys have a printer at the scene?"
Brayden: "No, it's in the phone."

With every conversation, the story changes.

Brayden: "No I'm not changing the story."
Polcyn: "You've changed the story every time I've talked to you."
Brayden: "No I don't. No see, now you're just looking to belittle me and make me look stupid."

The night Caldwell's van was towed, he called police.

"He called the car in stolen!" Brayden said.

But officers told him there was nothing they could do. It was a "civil matter." If Caldwell wanted his van that night, he'd have to pony up what Cars, Inc., was demanding: $295.00 cash.

"What am I supposed to do?" Caldwell asks, rhetorically. "I mean, we rely on our vehicle for me to get my kids back and forth to school."

Quianna Brown can sympathize.

"I came out here and, my car was goin' down the street!" Brown said.

Brown says Cars, Inc., towed her SUV from the alley behind her garage. Not just once, but twice in four days. The first time, she paid to get it back.

"$311? That's not right!" Brown said.

The second time, she pleaded with her landlord, who asked Brayden to give the car back for free. But when she showed up to get it, Brayden argued.

"He got real rude and disrespectful," Brown said.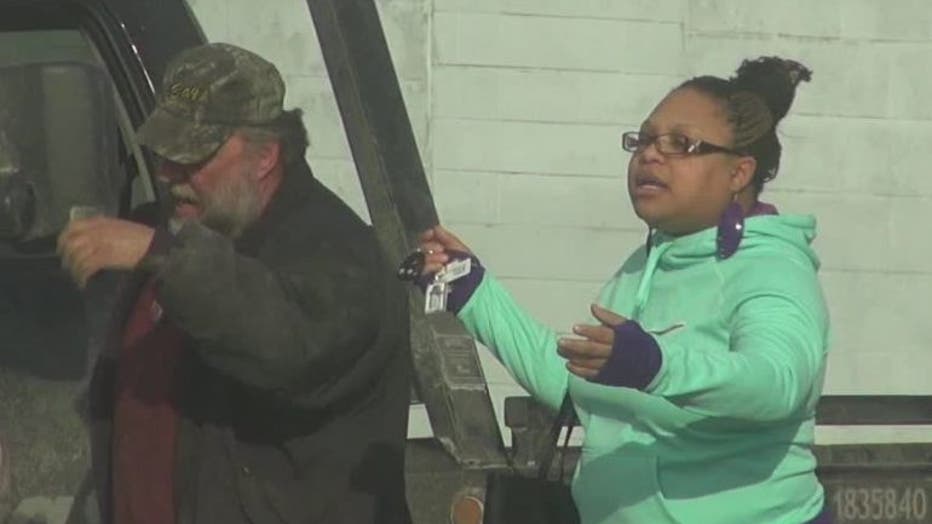 Quianna Brown says Cars Inc. towed her car twice in four day from directly behind her own garage. The first time she paid $311 to retrieve it. The second time, her landlord talked Cars Inc. into giving the vehicle back free of charge.


He eventually gave in. Once again, he doesn't have a picture to prove she was parked illegally.

Anders Zanichkowsky says that's the problem.

"Was the sign posted properly? Was the car really parked where they say it was?" Zanichkowsky said.

Zanichkowsky is Program Director for the Tenant Resource Center of Wisconsin. He says these disputes may be the tip of the iceberg thanks to a change in state law that took effect last summer.

"This bill allows landlords to tow vehicles without calling the police first," State Senator Jon Erpenbach (D-Middleton) said.

It used to be that police had to ticket a car before it could be towed from private property. Not anymore.

"I think that when you remove law enforcement from that process, there's no longer a neutral third party with no business stake in what happens," Zanichkowsky said.

Under the new law, the Wisconsin Department of Transportation (WISDOT) decides how much towing companies can charge. Under an emergency rule that took effect in October, the maximum charge is $105 for a regular tow plus $20 a day for each 24-hour period of storage. FOX6 News found Cars, Inc., routinely charges more than $300 for a tow, even when owners claim their vehicle the same day. Many of those owners have low incomes.

"That might be their grocery money for the month,"Zanichkowsky said.

And because police are no longer involved in writing tickets, a vehicle owner's only remedy may be Small Claims Court.

"It's a crack in the rules that allows a really great opportunity for a widespread small time racket," Zanichkowsky said.

"I think it just opened the door," Caldwell said.

And consider whom it opened the door to.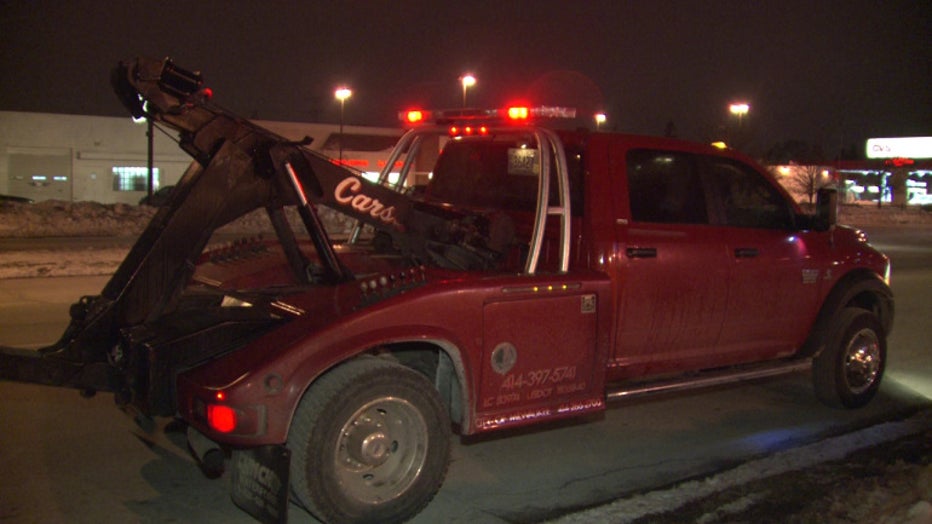 USDOT number on the side of the Cars Inc. truck is registered to a company called "Tom's Cars Inc," which is listed to a man convicted of attempted murder.


According to the USDOT number stamped on the side of the Cars, Inc., tow trucks, the vehicles are officially registered under the name "Tom's Cars Inc." Brayden initially stated that was the "same company." Now, he says otherwise.

"I don't know Tom's Cars Inc. I don't affililate with Tom's Cars Inc.," Brayden declared loudly, during a sit down interview with FOX6 News.

Tom's Cars Inc. is registered to a man named Jamie Blas, who was convicted of attempted murder in 1994. Blas is in jail again.

"I don't know anything about that," Brayden said.

Brayden says he just leases the company from a woman named Diana Blas.

Polcyn: "So you don't know Jamie Blas?"
Brayden: "No, I don't."
Polcyn: "Can you understand why that comes off as evasive?"
Brayden: "I don't know. You tell me."

Brayden is a felon himself with a history of questionable towing practices.

In 2010, West Milwaukee police say Brayden worked for Always Towing, when the company towed 15 cars from a bank parking lot without the bank's permission.

"I never ordered any cars towed. I was in the hospital, run over by car," Brayden said.

Brayden says he wasn't even there, but his name is all over the police report.

Brayden: "I didn't tell police nothing."
Polcyn: "Says right here."
Braydne: "No it doesn't."

Police were planning to seek criminal charges until Brayden's employer agreed to pay the victims back.

If you're wondering how a guy like Brayden got a license to run his own towing business, the answer is, he didn't have to. Milwaukee Alderman Joe Dudzik says neither the state of Wisconsin nor the city of Milwaukee requires tow truck operators to be licensed.

"Right now, you can basically get a pickup truck with a hook on it, and start towing cars," Dudzik said.

In other words, anyone can tow cars in the city. Even a convicted criminal with a nasty temper. Last year, county workers in Racine say Brayden harassed them with a series of vulgar and threatening calls related to a family court case. The calls were so out of line, Racine County filed a restraining order against him. And won.

He can't call county workers on their work or personal phones anymore. But he can haul away your personal property. That's why Bob Caldwell is making so much noise.

"You're robbin' folks blind! You're gonna get stopped. I'm suin' you. I already done told Shaun I'm suin' Shaun," Caldwell said.

He's not ready to let Cars Inc. off the hook.

The owners of the Mill Road shopping center tell FOX6 they are undergoing a sale of the property and have terminated their contract with Cars, Inc.  On February 18th, West Milwaukee police served Cars, Inc., with an order to stop doing business on their lot at 4000 W. Mitchell Street. Police Chief Dennis Nasci says Brayden had previously been warned that he does not have the required occupancy permit.

The city of Milwaukee recently convened a task force to study scrap metal thefts in Wisconsin. That task force is now recommending, among other things, that tow truck operations and their drivers be licensed. The regulatory framework they envision would include periodic inspection of tow trucks, as well as a requirement that they send police a digital photograph of every vehicle they tow, along with other information. Alderman Dudzik hopes to have legislation drafted by next month.

Always Towing says the 2010 incident in West Milwaukee occurred when Brayden was a subcontractor for the company. After that incident, a spokesman for Always Towing says they terminated their relationship with Brayden. Brayden says he quit.