Wisconsin Supreme Court debate; abortion, redistricting discussed
MILWAUKEE - Wisconsin Supreme Court candidates Janet Protasiewicz and Daniel Kelly met Tuesday for their only debate before the April 4 election.
Whoever wins the election will determine majority control of the court for at least the next two years, including leading up to the 2024 presidential election. Control of the court, which came within a vote of overturning Trump's 2020 defeat in the state, could be crucial, with abortion access, legislative redistricting, voting rights and other key issues at stake. 
"I am running against probably one of the most extreme partisan characters in the history of this state," Protasiewicz said.
SIGN UP TODAY: Get daily headlines, breaking news emails from FOX6 News
"She would forever afterwards be known as being bought and paid for by the Democratic Party of Wisconsin," said Kelly.
The contest has already broken national spending records for a Supreme Court race, with the two sides having spent at least $22 million to date. WisPolitics.com estimated that more than $30 million had been spent on the race as of last week, which would be roughly double the $15.2 million spent on a 2004 Illinois Supreme Court race that had held the mark as the most expensive.
Both campaigns said they won Tuesday's debate.
On abortion
Protasiewicz said she will recuse herself from cases involving state Democrats who donated to her campaign – but not on a challenge to the state's 1849 abortion law, despite receiving money from pro-choice groups like Planned Parenthood.
"My personal opinion is that should be a woman's right: to make a reproductive health decision. Period," she said. "If my opponent is elected, I can tell you with 100% certainty that (the) 1849 abortion ban will stay on the books."
Kelly is endorsed by pro-life groups, like Wisconsin Right to Life, and said he won't bring his politics to the bench. He defended his support from the state's three largest pro-life groups and said he made no pledge to them to uphold the ban, as Protasiewicz has alleged.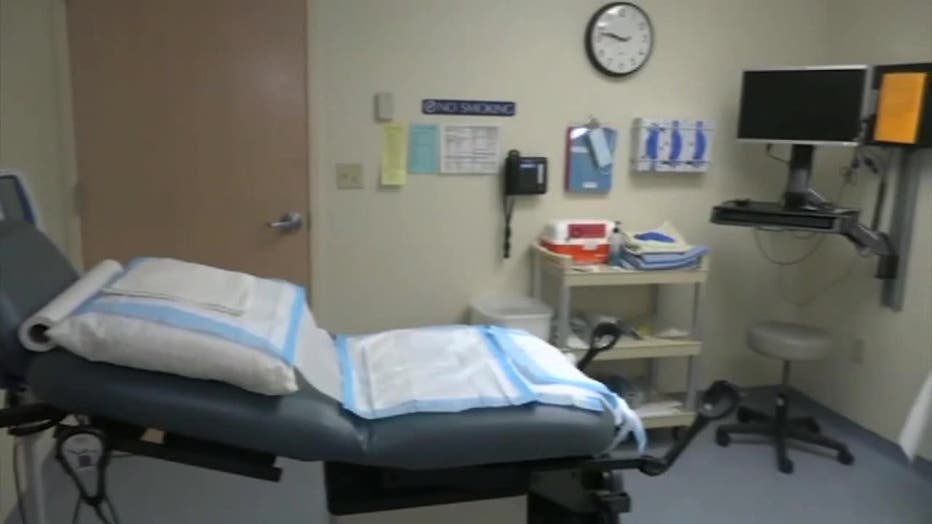 "This seems to be a pattern for you Janet, just tell a lie," Kelly said. "You don't know what I'm thinking about that abortion ban. You have no idea...I had no conversations with those organizations about how I would rule on any issue, including the abortion issue."
Kelly, who previously did work for Wisconsin Right to Life, has not said how he would rule on the challenge to the abortion ban should it reach the court. But he did write in a blog post years ago that everyone knows that abortion "takes the life of an unborn child."
"I don't talk about my politics. I understand what a court's supposed to do, and that's resolving legal questions," he said.
On redistricting
Protasiewicz was asked how she could fairly hear the case given that the Democratic Party has given her campaign $2.5 million. She said she would recuse herself from any case brought by the party, but challenges to the Republican-drawn maps are expected to come from others.
"The map issue is really kind of easy, actually," Protasiewicz said. "I don't think anybody thinks those maps are fair. Anybody."
FREE DOWNLOAD: Get breaking news alerts in the FOX6 News app for iOS or Android.
Protasiewicz said she agreed with the liberal dissenting justices in a case that challenged the Republican-drawn maps.
"There you have it," Kelly said in response. "She just told you how she would resolve the case."
Partisan ties
Kelly described himself as a "servant of the public" while downplaying criticism for receiving payments in exchange for advising state Republicans during the "fake electors" scheme that followed the 2020 election.
Protasiewicz called Kelly "a true threat to our democracy" for his role. Kelly repeatedly accused the Protasiewicz of lying about his role in the plan, his abortion stance and other issues, telling her: "You're willing to say anything to get what you want."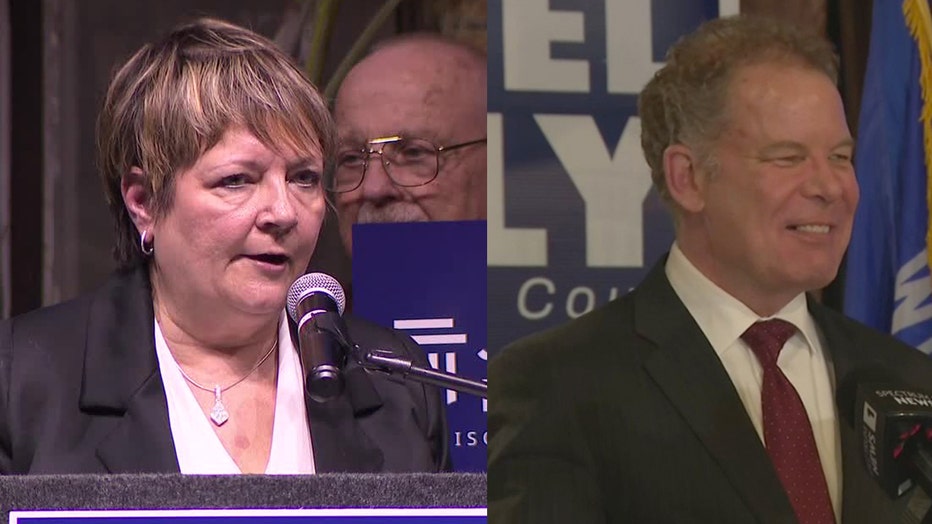 Janet Protasiewicz and Dan Kelly
Kelly, a former state Supreme Court justice, has long ties to the Republican Party, having previously worked for Republicans. Kelly was endorsed by Trump in 2020. This year, he has the backing of Scott Presler, a Virginia native who planned several "stop the steal" rallies and was on the U.S. Capitol grounds on Jan. 6, 2021. He was in Wisconsin in March helping to raise money and support for Kelly through personal appearances on conservative talk radio.
Protasiewicz's endorsements include Hillary Clinton, Planned Parenthood and EMILY's List, which works nationwide to elect Democratic abortion rights supporters.
The Associated Press contributed to this report.