Wisconsin Republicans in no rush to tackle campus carry, other controversial issues


MADISON -- Wisconsin's Legislature returned to Madison on Tuesday, January 3rd with Republicans having their strongest grip on power in decades, but GOP leaders in the Assembly and Senate could not name their top-priority legislation for the year.

Fifteen new members -- four senators and 11 representatives -- took the oath of office along with their veteran colleagues. Leaders said they had no plans to hold floor votes on bills for at least two more weeks.

Republican leaders said they wanted their members to decide which proposals would become priorities, and then work to build support for them. Assembly Speaker Robin Vos singled out a controversial plan to allow concealed carry permit holders to have guns on college campuses as an idea that needed more time.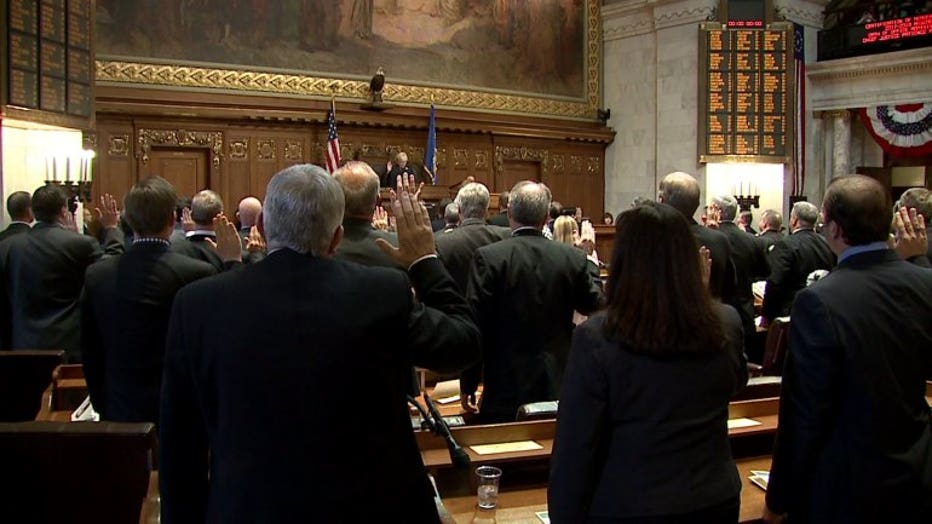 Wisconsin Legislature returns to Madison


"We actually need to work harder on some of these controversial topics to build public support to make sure, if we are doing it, we're reflecting what Wisconsinites actually want — not 20 people on Facebook who just message everybody acting like they're some big posse," Vos, R-Rochester, told reporters gathered in his state Capitol office.

Rep. Jesse Kremer, who pushed the campus carry legislation in 2015, said he had found supporters for his bill but acknowledged that it was difficult to get them to publicly testify in support of it.

Kremer said he would introduce the legislation again this year, although it wouldn't be his top priority.

"We need people who are passionate about these issues who think they are a real problem to come out and support these," said Kremer, R-Kewaskum. "That's a problem we had last session."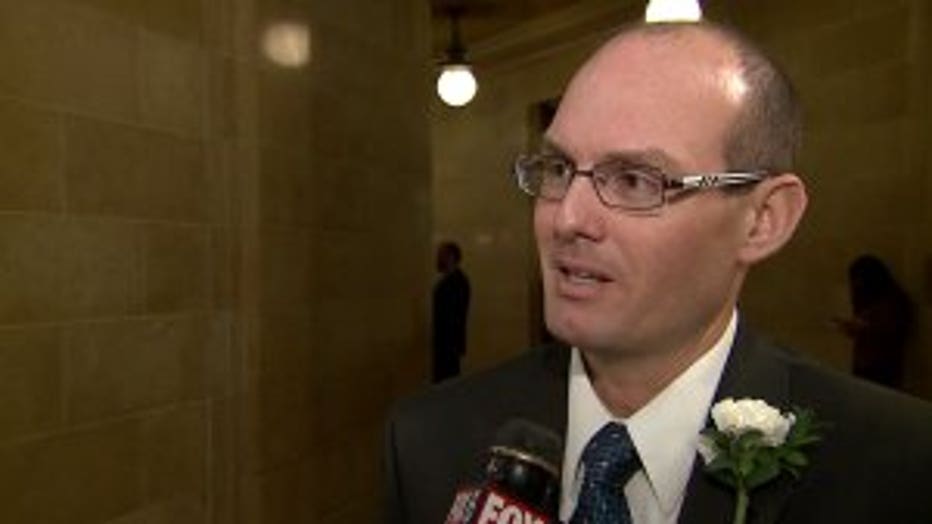 Republicans have a 64-35 majority in the Assembly, their largest since 1957. The GOP also controls the Senate, 20-13.

GOP legislative leaders and Gov. Scott Walker have expressed hope that President-elect Donald Trump and the Republican Congress would give states control of Medicaid and public benefit programs.

Walker has floated the idea of increasing premiums on Badgercare, the state's version of Medicaid, for childless adults who smoke. Walker and Vos want to be able to drug test adults who receive government benefits, which President Barack Obama's administration has blocked.

"We're hoping that a great part of the second half of the session is dealing with just those things," said Assembly Majority Leader Jim Steineke, R-Kaukauna.

Senate Majority Leader Scott Fitzgerald said his members would not return to the floor until Jan. 17. Vos said the Assembly wouldn't return until the first week or February. Neither man said they could name what Assembly Bill 1 or Senate Bill 1, typically assigned the highest importance, would be.

"I don't feel that way at all," Fitzgerald said, when asked if Republicans had run out of big ideas. "We react to what happens on the federal level, and we were fortunate enough to have expanded majorities."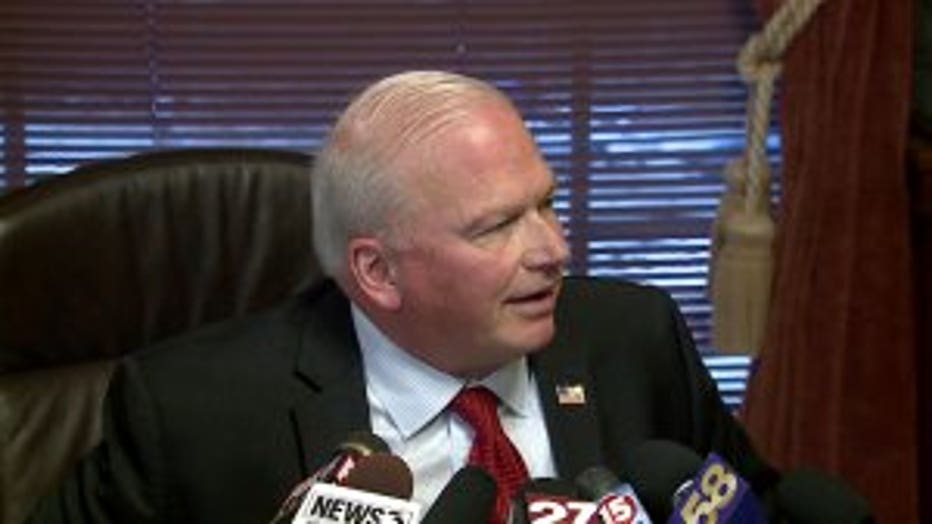 Road funding

After Walker unveils his budget in late January or early February, lawmakers will begin debate on likely the biggest issue they face this year -- how to deal with a $1 billion shortfall in the state's transportation fund.

Walker has said he will seek to borrow money and delay projects, but Assembly leaders want to consider a tax increase or tolling.

"I don`t think that saying 'We`re just not going to do southeast Wisconsin for the next 70 years' -- which is the plan under Gov Walker, that we won`t have the southeastern freeways re-done in any of our lifetimes -- that`s probably not a realistic scenario," Vos said.

But not all Assembly Republicans agree with the speaker's position.

"I think you`re going to find out in the next couple weeks how that goes," said Kremer, who added that the state is paying for "frills" in road projects right now. "I know there are a lot of us that are kind of biting our tongue right now."

Senate Republicans are split too, Fitzgerald said. The majority leader said he, like Vos, was open to the idea of tolling Wisconsin's interstates.

Democrats, whose ability to influence the vote on key issues has diminished because of election losses, are waiting for the road funding debate to start.

"I think everything needs to be on the table," said Sen. Lena Taylor, D-Milwaukee. "We`re facing extreme challenges because of not creating an independent funding revenue stream, and that`s what we need to do."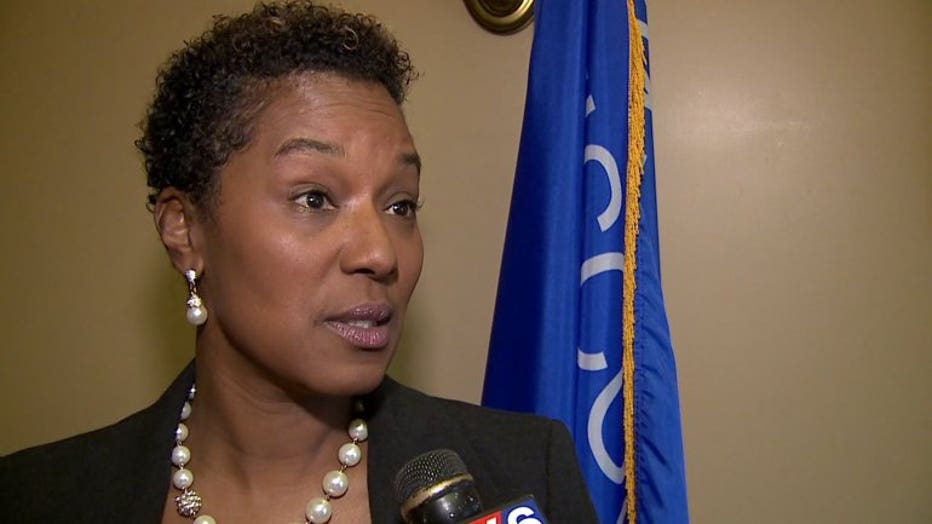 Wisconsin would need to seek a federal waiver to toll interstate highways, so Fitzgerald said tolls wouldn't be a short-term solution to the state's current transportation funding woes.

A study conducted for the state at a cost of $900,000 found that Wisconsin could take in hundreds of millions of dollars every year from tolling five interstates at a rate of four cents per mile.