Wisconsin governor's race: Campaign urges votes for dropout
MILWAUKEE - Ahead of the Nov. 8 midterm elections, a new campaign urges votes for a Wisconsin gubernatorial candidate who dropped out of the race in September.
The Nov. 2 Marquette University Law School Poll showed Tony Evers and Tim Michels tied. Two percent went to independent candidate Joan Ellis Beglinger.
Text messages, web ads and mailers target conservatives to vote for her.
"America has a long tradition of trickery in politics, and it's very possible that this is it," said Mordecai Lee, University of Wisconsin-Milwaukee professor.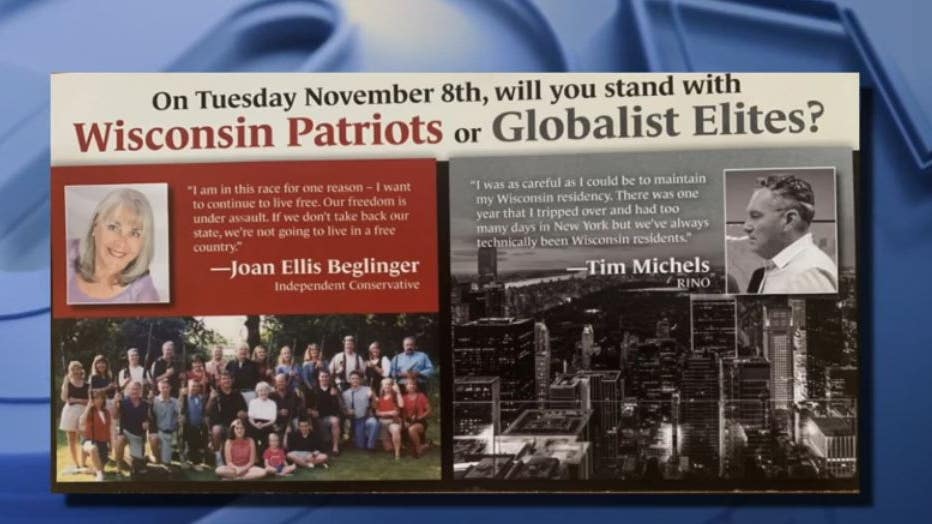 They take aim at Michels, accusing him of not being conservative enough. They urge people to vote for Joan Ellis Beglinger. 
Beglinger dropped out of the governor's race on Sept. 4. She endorsed Michels, but her name is still on the ballot. Once the Wisconsin Elections Commission certified her placement in June, her name was fixed on the general election ballot.
SIGN UP TODAY: Get daily headlines, breaking news emails from FOX6 News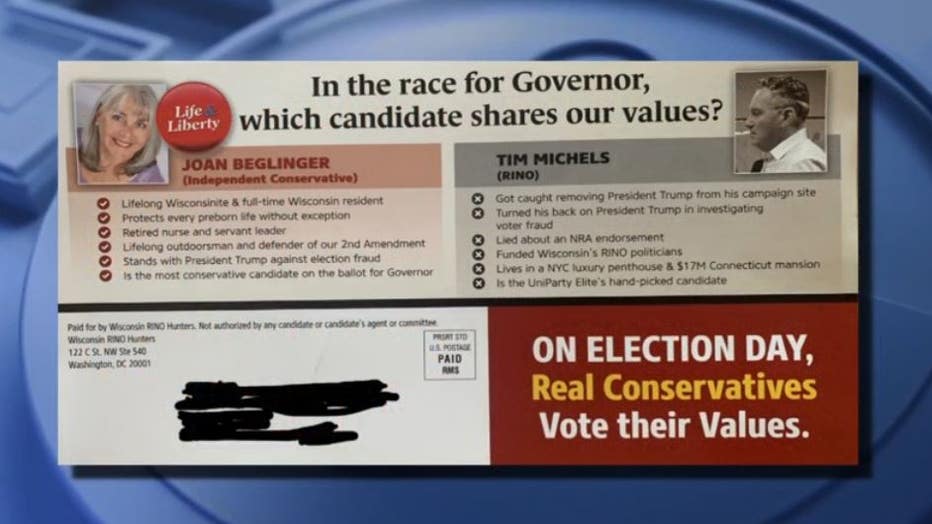 A website for the former candidate set up by outside group "Wisconsin RINO Hunters" claims: "The corporate, lamestream media wants you to believe you only have two choices for governor. Don't believe them. Vote Joan Beglinger for governor."
If you check out her real website, it makes clear she's asking her supporters to vote for Michels.
So who is behind this campaign targeting conservatives?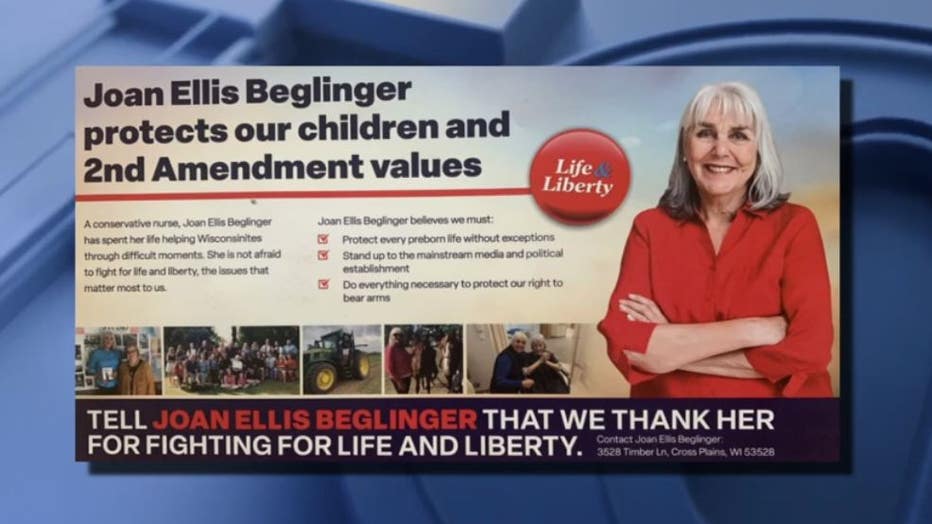 The advertisements and mailers list one of two groups: The Wisconsin RINO Hunters and the Liberty Group.
Wisconsin RINO Hunter's campaign disclosures reveal spending $624,000 against Michels, money they gave to the Liberty Group. The same filings reveal both groups have the same Washington, D.C. address and suite.
"We've seen other things like that: people with similar sounding names getting themselves on the ballot to try to confuse the voters and drain votes away from the authentic candidate, so there is something of a tradition of these kinds of tricks in Wisconsin and American politics," said Lee.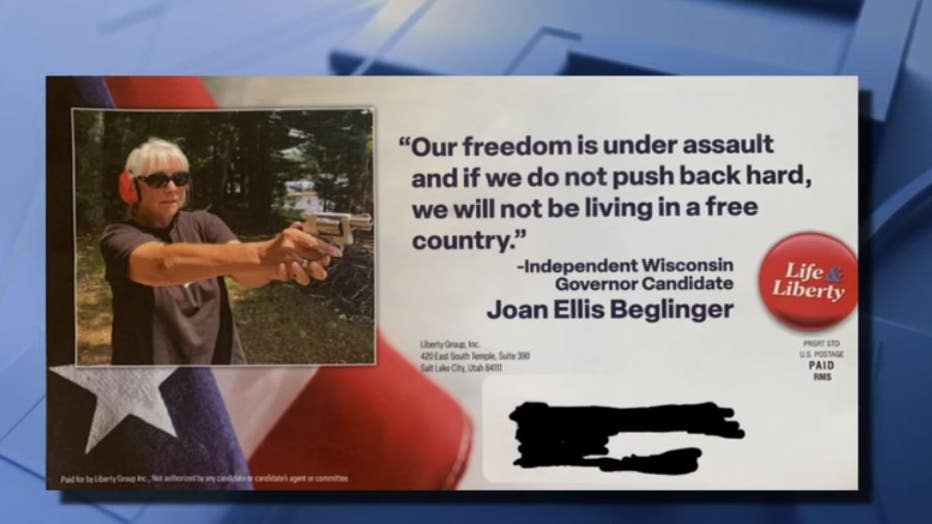 We called and e-mailed the group and the treasurer listed on the campaign registration form submitted with the state of Wisconsin. The treasurer is listed as Mike McCauley of McCauley and Associates, a firm that says it offers "accounting and compliance services for political campaigns, political organizations, small businesses, and corporations since 2005."
McCauley's bio states he worked for several state Republican parties, including Arizona, Colorado, New Mexico, Wyoming and Utah. It also reports he served as the treasurer of the Utah Republican Party for 13 years. He lists clients including the senatorial campaigns of Republicans Orrin Hatch and Mike Lee.
"If this is not trickery, then what this is its telling us the splintering of the Republican Party and there are sort of purists, ideological purists. They will say both parties, they compromise too much," said Lee. "In other words, hypothetically, let's say that Evers wins, because the third party candidate got just enough votes to defeat Michels, then think of what this group can say and their supporters. They can say, "We told you so, you can't win elections without us, without the purists."
However, looking at campaign fillings, a third group comes into focus, which has business relationships with Democratic companies. Patriots for Wisconsin's filings with the state of Wisconsin list their address as the same DC address as Liberty Group and the same treasurer as Liberty and Wisconsin RINO Hunters, Mike McCauley. Liberty Group, the group behind the Beglinger ads, gave Patriots for Wisconsin $70,000. 
Patriots for Wisconsin has business relationships with Democratic firms. Patriots for Wisconsin paid AL Media of Chicago, which helps Democratic candidates like Stacey Abrams and organizations like the Democratic National Committee and the progressive A Better Wisconsin Together. 
Patriots for Wisconsin's payment to AL Media was $11,581 and the purpose was radio ads running July 30, 2022 through August 9, 2022 against Republican Dale Oppermann, who was facing a primary competition against Republican Scott Lincoln Johnson, who considers himself a "center-leaning" Republican. Patriots also paid another company Great Lake Strategy for robo calls in support of moderate Republican Johnson.
Patriots for Wisconsin gave money to another firm called "Citizen Strong." That organization touts founding by alumni of Barack Obama's 2008 campaign. They say they have "helped tip the balance in over 400 elections across the country since our founding in 2018." The website lists their targets as "ultra-right and far-right politicians (and their enablers!) at the federal, state and local levels of government." Patriots for Wisconsin paid them $12,500 for consulting fees in late July, before the August primary.
We don't know the motivation of the new campaign, especially because McCauley did not return FOX6's messages.
With the polls suggesting a tie, every vote could make a difference in who wins Wisconsin.
Election forecaster Larry Zabato's Crystal Ball rates Wisconsin's governor's race as leaning Republican. Polling website FiveThirtyEight rates the competition between Evers and Michels a "dead heat."