Wisconsin bridges in poor condition; Several in Milwaukee County
MILWAUKEE - More than 14,000 bridges connect the Badger State. The Federal Highway Administration says 51% of them are in good condition, 42% fair and about 7% – that's 979 – are in poor condition.
President Joe Biden drove home that point when visiting La Crosse, Wisconsin, where he touted the bipartisan infrastructure plan on Tuesday, June 29. The plan would pump $109 billion into American roads and bridges.
"More than 1,000 bridges here in Wisconsin are rated structurally deficient by engineers," President Biden said.
That includes several bridges in Milwaukee County, like Interstate 43 over Hampton Avenue – which sees 108,000 crossings per day. Some of the other bridges, based on federal data compiled by trade group American Road and Transportation Builders Association based, include:
I-43 over Glendale Avenue
I-41 over W Mill Road
Loomis Road over I-41/43/894
Good Hope Road over Milwaukee River
W Hampton Road over Lincoln Creek
W Locust Street over I-43
Green Bay Road over Brown Deer Road
Milwaukee School of Engineering Professor Christopher Raebel, Ph.D. said the rating leads to prioritizing that bridge for repair. 
"It sounds scarier than it is," said Raebel, "In almost all cases, that doesn't mean the bridge is unsafe, it just means it's been scheduled for repair or inspection at a more rapid pace."
The civil engineer explains what could lead to a bridge being deemed "structurally deficient."
"A pothole might be a minor deficiency that needs to be repaired, and that would be considered a structural deficiency because it's part of the slab of the bridge. Some of the more major things might be more advanced fatigue, cracking in perhaps the concrete or steel supporting the bridge."
There can be serious problems. In 2000, some of the Hoan Bridge buckled. In Minneapolis on Aug. 1, 2007, the Interstate 35 bridge over the Mississippi River collapsed, injuring 145 and killing 13. 
In Milwaukee, bridge repair work can be spotted around the area. In 2015, FOX6 News investigated a rail bridge at S 1st Street & W Florida Street. Crews did some stabilization work on the bridge after FOX6's report. Still in 2021, a look at the bridge shows some pillars covered in corrosion, with small, rusty dislodged pieces found nearby.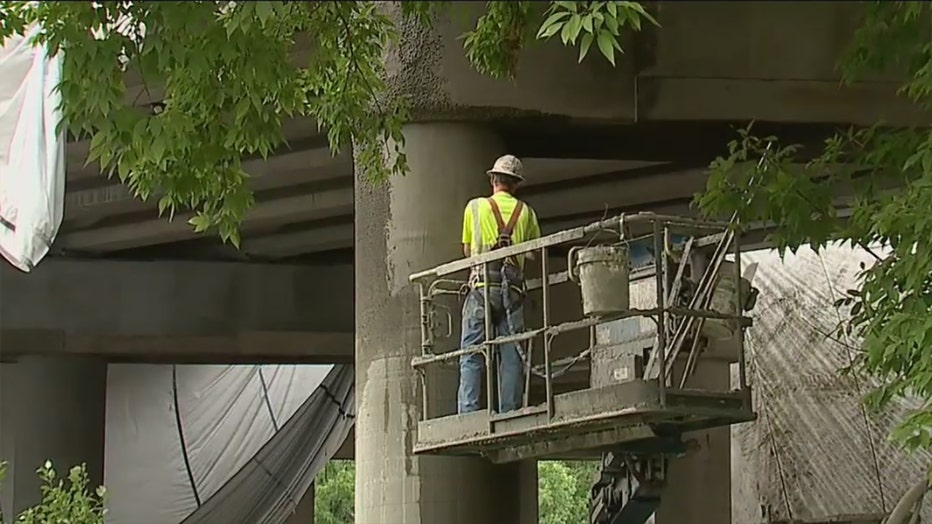 Crews work on repairs to State Highway 175 over State Street.
Today, construction crews are repairing another bridge, at State Highway 175 over State Street in Milwaukee.
"They are repairing the concrete. They are knocking off spalling concrete and they'll be able to repair that bridge, basically as good as new, and it will be serviced for decades to come, probably," said Raebel, the Chair of MSOE's Civil and Architectural Engineering and Construction Management Department.
FREE DOWNLOAD: Get breaking news alerts in the FOX6 News app for iOS or Android.
Engineers inspect Wisconsin and local bridges at least once every two years.
"They are not going to let a bridge that's unsafe be traveled upon," said Raebel.
The Wisconsin Section of the American Society of Civil Engineers shared this statement with FOX6 about the current state of Wisconsin bridges:
"The Wisconsin DOT has implemented an amazing program called Wisconsin Structures Asset Management System (WiSAMS) which analyzes bridge condition based on routine inspections and can predict future deterioration and necessary structure work, that helps us understand Wisconsin's bridge maintenance needs going forward.
"The great news about this is that Wisconsin is fully monitoring the condition and safety of the bridges for public use. However, the bad news is, of Wisconsin's 14,275 bridges, 7.4% are deemed structurally deficient and bridges in need of repair – 1,955 in total – will cost roughly $1.4 billion. The State and Federal government are not providing adequate funding for Wisconsin to continuously maintain safe bridges." 
Both Republicans and Democrats say they support investing in roads and bridges. Congressional controversy circles around whether to expand investment to other areas; as well, lawmakers debate exactly how to pay for an infrastructure package.