"Why are we putting any public money into this?" City leaders, public question details on Bucks arena funding plan


MILWAUKEE -- Common Council President Michael Murphy scheduled a special Steering and Rules Committee meeting for Friday afternoon, June 5th to allow council members and the public in Milwaukee to hear details on the proposed arena funding plan now in play. The meeting is set to take place at 1:30 p.m. in Room 301B of City Hall.

Gov. Scott Walker announced a deal on Thursday to pay for a new arena for the Milwaukee Bucks that relies on $250 million from taxpayers and at least $250 million from current and former team owners.

For more than two hours Friday afternoon, Milwaukee Mayor Tom Barrett sat front and center answering questions from the Common Council members.

"Did we talk about any revenue sharing that could come back to the city of Milwaukee to accelerate paying down the debt?" asked Milwaukee Alderman Joe Davis.

"The question comes up, what's the mechanism? How are we paying for the parking structure?" asked Milwaukee Alderman Terry Witkowski.

One by one, the questions continued to come.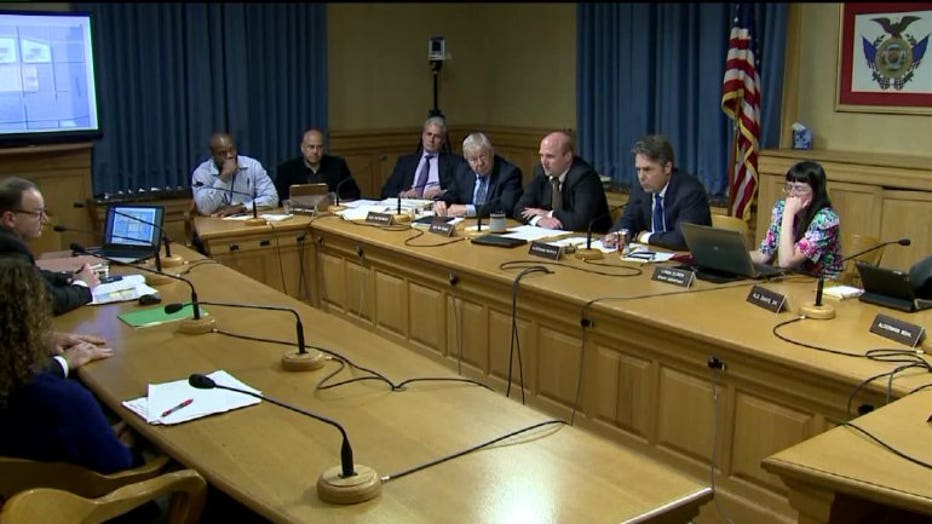 "Why is there any public subsidy at all? Why are we putting any public money into this project?" asked Milwaukee Alderman Bob Bauman.

Friday afternoon, members of the Milwaukee's Common Council's Steering and Rules Committee have their opportunity to make inquiries about the proposed deal to build a new Bucks arena in downtown Milwaukee.

"At the local level, I'll tell you this, am I interested in having a $500 million public works project paid half by private dollars? You bet I am," said Milwaukee Mayor Tom Barrett.

Following criticism that Milwaukee residents have not had access to the proposal planning, the mayor makes clear his intention to keep the council informed.

"I had no intention whatsoever of in any way, excluding the City Council from this conversation," said Barrett.

And council members respond by letting the mayor know they will be awaiting updates.

" There's a lot of interested parties who have a lot of concerns about what type of jobs are being created, and what the the income level they will generate," said Milwaukee Alderman Michael Murphy.

One even lets folks know his feelings on the state's statement -- "It's cheaper to keep them."

"The city and the county do not have any direct and arguably, not that much indirect benefit from the Bucks staying but yet the state's the one who said, "let`s make the city and the county pay." So to me, that has nothing to do with dollars and cents and everything to do with punishing taxpayers they don't like," said Milwaukee Alderman Nik Kovac.

Alderman Joe Davis asked a question which initially drew some chuckles, but then appeared to have people thinking down the road a bit. He asked whether profit sharing from the NBA's popular all-star week has been discussed.

The mayor says 'no' but says he supports the idea of inquiring about such a strategy.