"Where did our money go?" Parents accuse booster club president of conflicts, lack of proper accounting


KENOSHA -- It's supposed to be for the kids, but no one seems to know how much money a local football booster club has raised or what the club's longtime president did with it.

Tom Stone became President of the Bradford End Zone Club in 2007. For historical perspective, that's the same year Bradford's most prominent football player -- Melvin Gordon -- was a freshman. Gordon is not accused of any wrongdoing, but just as he launched the brightest period in the history of Red Devils football, Stone may have presided over the darkest period in the history of the school's booster club.

Nine years after he took over the booster club, Stone didn't want to talk with FOX6 News about the tens of thousands of dollars parents have donated since he's been in charge of the End Zone Club, a parent-driven organization that operates with the permission of Bradford High School.

A report produced by the Kenosha Unified School District says the club has historically raised $50,000-$70,000 a year, but the district can't say exactly what those funds have been spent on because the club operates outside of the school's accounting system.

Michele Vega joined the club when her son was a freshman in 2012.  She immediately started helping raise money for the team -- from pancake breakfasts and spaghetti dinners to golf outings and game day concessions.

"My question has never changed," Vega said. "Where did our money go?!"

Vega was so good at raising money, she and another Bradford parent -- Kim Aker -- were named fundraising co-chairs last year.  By then, Vega already had concerns about where the money was going, so she pressed Stone, the club's president, for information.

"'What did we do in sales last year?' He said, 'I don't know,'" Vega said. "I said, 'What's in our account?' He said, 'I don't know that either.'"

One month, Vega said Stone mentioned having $32,000 in the bank. The next month it was $22,000.

"'Where did it go? What did we do with $10-thousand dollars?' And there was no answer," she said.


---
As part of this investigation, the FOX 6 Investigators obtained hundreds of pages of records, including emails, letters, internal memos and executive reports through an open records request to the Kenosha Unified School District. The records were released in five PDF files.

To see them click the links below:
Part One -- Part Two -- Part Three -- Part Four -- Part Five
---


Stone was the only person with access to the club's private bank account. After all, the Bradford End Zone Club was registered in Tom Stone's name as a for-profit corporation, rather than a charity, as school district rules require.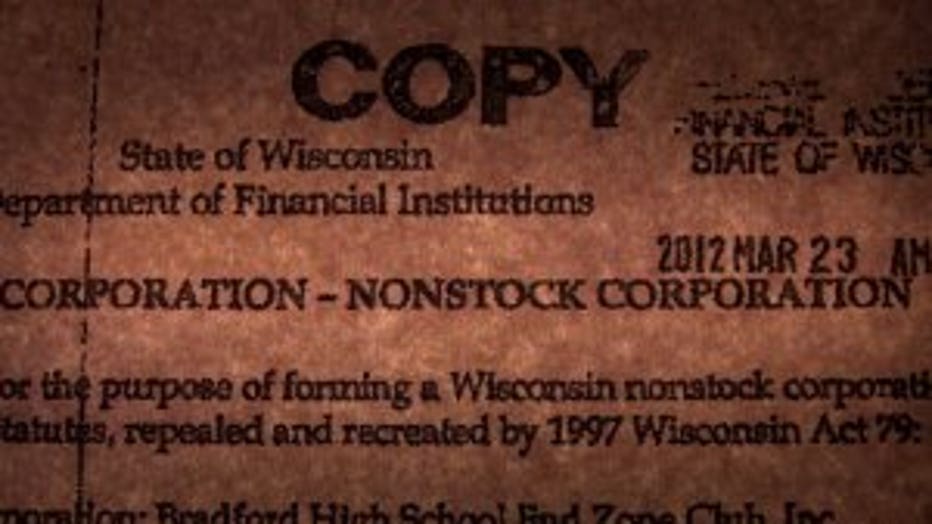 In 2012, Tom Stone registered the Bradford End Zone Club as a private corporation in his own name, rather than a 501(c)(3) charity, as the school district had directed him to do as early as 2007.


And while the district insists the club operates independently, Stone listed the high school's address as the club's principal office.

"He had a mailbox," Vega said. "The head coach's secretary was doing his paperwork."




In addition to registering the End Zone Club, Stone owns a business called Prime Fundraising, which sells discount cards to the club. He also owns T-Shirts Your Way, which produces Bradford football apparel.  In other words, Stone's businesses sold products to the club he ran which then sold those products to parents using the Bradford name and logo.

"Who said it was OK for a private business to come into a public school and make money off our kids?" Vega said.

She complained to the football coach, the athletic director, the principal, the school board and eventually, in November of 2015, to the superintendent of the Kenosha Unified School District.  Dr. Sue Savaglio-Jarvis declined repeated requests for an interview. FOX6 found her at the dedication of Bradford's new $6 million, taxpayer-funded football stadium.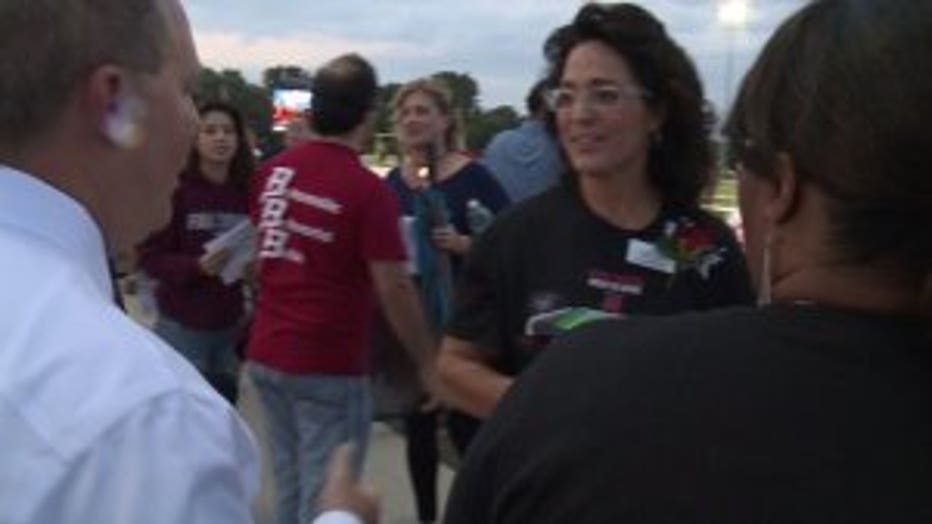 Kenosha Unified School District Superintedent Sue Savaglio-Jarvis declined multiple requests for an interview about the End Zone Club. When approached before the dedication of Bradford's new stadium, she walked away from FOX 6 Investigator Bryan Polc


FOX6's Bryan Polcyn: "Dr. Savaglio-Jarvis, do you have just a minute?"

"No I don't, we're goin' on the field," she said.

"We're getting ready to go on the field," an assistant interrupted.

"If you won't talk now, when can we talk?" Polcyn asked, as the superintendent walked away.

In a brief statement sent to FOX6 News, the superintendent wrote that parent organizations are "run entirely separate from all district operations" and that members are held accountable by the club, "not the Kenosha Unified School District."

Last winter, at Vega's request, the school district conducted its own investigation of the End Zone Club. Since most of the money raised was in cash and Stone didn't keep any formal documentation of meetings, the district wrote that it "could not conclude fraud" had been committed.

"I can't prove to you he's stealing. Nobody can prove to me he isn't," Vega said.

Vega took her complaints to Kenosha police, who declined to investigate. So she went straight to the Kenosha County district attorney, who requested an interview with Stone.  The DA told FOX6 it would be inaccurate to call it a "formal investigation."

"That's why I came to you," Vega told FOX6 Investigator Bryan Polcyn. "Find my money!"

FOX6 asked Stone to show us the club's financial statements and tax filings for the past several years. At first, he agreed to do so, even scheduling an interview nearly two weeks in advance.  The night before the interview, however, he backed out. Stone wrote that the "leadership" of the club had directed him not to talk to the media.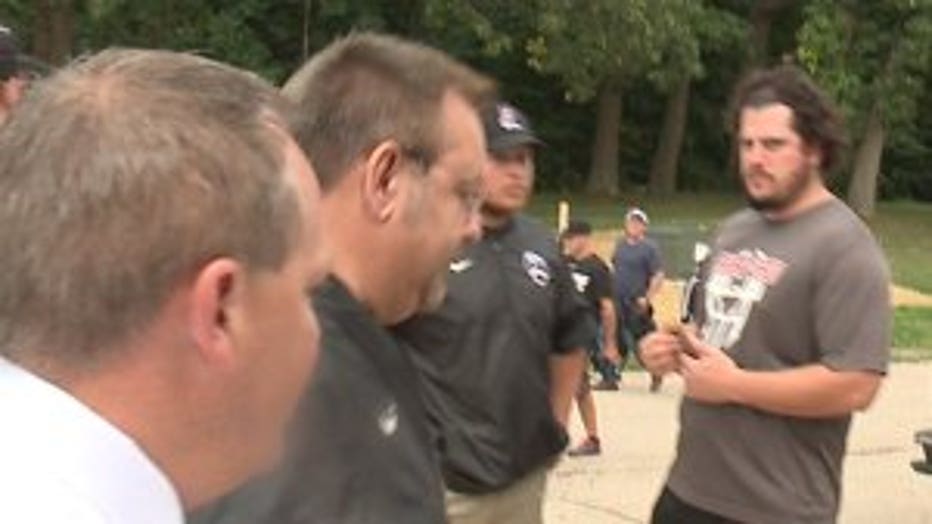 After initially agreeing to meet with FOX 6 Investigator Bryan Polcyn to go over the club's finances, Tom Stone canceled the interview. He then avoided questions when Polcyn approached him before Bradford's first game in its new home stadium.


"All you have to do is talk to me," Polcyn said, as Stone walked away toward the Bradford players' locker room. "If you have good answers, I'm right here, Tom."

While he refused to talk to the FOX6 Investigators, Stone did tell school officials that all the money raised went to the football team and that Vega's allegations are an insult.

"If it was me, I'd be giving you every ounce of paperwork to prove I was innocent," Vega said.

The district has acknowledged that Stone's role as both president of the End Zone Club and one of its primary vendors  "raises the appearance of impropriety." So, earlier this year, the district recommended that the old club be stopped and a new one created in its place as an official 501(c)(3) charity.

As the 2016 season got underway, however, the 'new' End Zone Club had yet to file for non-profit status. Tom Stone was still heavily involved as the club's game day coordinator.  His T-shirt and prime card businesses were once again chosen as the club's official vendors.  And Stone had yet to return over whatever funds remained in the old club's account.

"If he was for the kids this whole time, what is the problem with him handing the money over?" said Kim Aker, a Bradford parent and former co-chair of fundraising for the club.

It wasn't until after the FOX6 Investigators got involved that Stone finally wrote a check for nearly $10,000 to the new End Zone Club.  Four days after that, the new club paid the IRS application fee to begin the process of becoming a charity.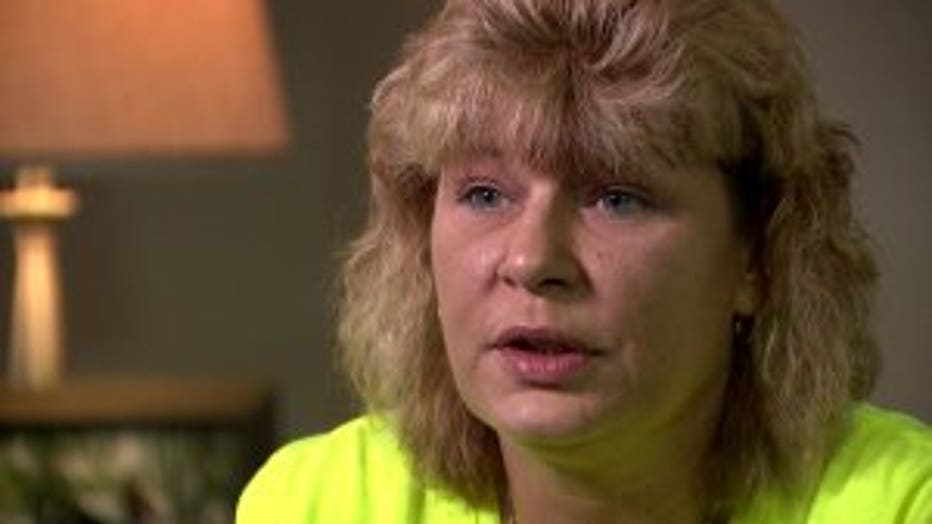 Michele Vega joined the End Zone Club in 2012 when her son was a freshman in Bradford High School. She has been involved in fundraising ever since.


Now, Bradford has a new football stadium and a new End Zone Club. But Vega won't be satisfied unless a proper accounting of the money already raised finally comes to light.

"Show me where our money went," she said.

Booster clubs are not required by law to register as 501(c)(3) charities, but -- if they use their own private bank account -- they are required by Kenosha School District policy to have 501(c)(3) status.

Why does it matter? Because the tax returns of non-profit organizations are public records. That means you can see how much money they raise , how much they spend and how much they have in the bank at the end of the year.

That way, you know if the money you're donating is going where it is supposed to go.