Westboro Church protests gay marriage on Marquette University campus


MILWAUKEE (WITI) -- Westboro Baptist Church members traveled from Topeka, Kansas on Monday, December 8th to protest in Wisconsin.

One main stop for them was the Marquette University campus in downtown Milwaukee. They were protesting gay marriage. The university was ready for them though. Dozens of students banned together across the street from the small group of about five Westboro Church Members, with signs of their own and chants of school spirit.

"Our goal is to reiterate a message of love and remind people regardless of your religious orientation, sexual orientation or anything, we are one campus. We are Marquette," said Haley Wilson, a senior at Marquette.

Westboro Baptist Church is known for traveling around the country, protesting issues they believe God is against, like same-sex marriage. The group has also picketed outside of military funerals.

"This is a group that has built a reputation of hateful and destructive language. For us here at Marquette, we`re the polar opposite of that," said Brian Dorrington, Marquette University spokesman.

Westboro Baptist Church members say they went to Marquette's campus because of what happened last month in an ethics class. A student accused a teacher of not allowing someone in class to voice his opinion against gay marriage. Another professor then got wind of the incident and blogged about it, capturing the church group's attention.

"This is a religious institution which means they`ve invoked the name of God and the Lord Jesus Christ, yet you have a teacher teaching rebellion against God and his plain, plain never-changing standards," said Shirley Phelps-Roper, a Westboro Baptist Church member.

"I was very surprised that something as small as a dispute in an ethics class would catch their attention, but I guess they`ll jump on anything to prove their point," said Doug Floski, a Marquette senior.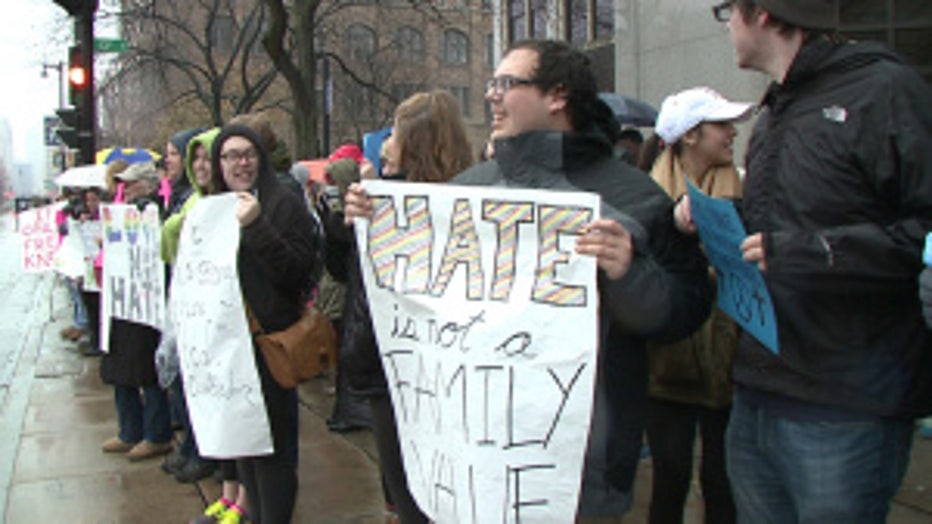 Marquette students provide a counter to Westboro Baptist Church protests


Marquette students took the opportunity to speak their mind, but the Westboro protesters said they actually didn't mind the huge crowd.

"We are preaching to the whole world. It`s so much easier to say the words and show the signs if they come out!" said Phelps-Roper.

"The best way we can put it is this, if they are going to come out here and do what they do best, we`re going to come out here and do what we do best," said John Brick, a teacher at Marquette.

For some that meant uniting with signs of love and chants of school spirit. For others it meant fighting back by reciting Shakespeare. Others went right to the source, asking the protesters questions and speaking their mind.

"In the Bible it says God loves all his children. What do you think of that?" one student asked a protester.

"We`re proud of our students. We`re proud of them for standing up in a civil peaceful way and really embodying who we are as an institution," said Dorrington.

Milwaukee police officers and Marquette's Department of Public Safety were on hand during the half-hour protest. But since things stayed peaceful, they only had to supervise.

Westboro Baptist Church members later demonstrated at Racine's Horlick High School. Church officials say that's because parents and teachers should be blamed for not teaching their children about the Bible. A similar demonstration was held at Bradford High School in Kenosha.