"We're planning on winning races:" Martha Laning elected as new Wisconsin Democratic Party chair


MILWAUKEE — A big weekend for state democrats. They just wrapped up their state convention with the election of a new party chair.

Day one of the Democratic Party of Wisconsin's 2015 State Convention was all about bringing in the headliners to fire up the party faithful -- day two is really focused on the grassroots efforts and choosing a path for the future.

The celebrities of the Wisconsin Democratic Party are absent from the stage on Saturday, June 6th; replaced by people you may never have heard about. But the game of politics is still very much one display.

Four up and coming, or in some cases, returning -- politicos pitched to the party for the chance to become its next state chair.

"We've been losing a lot of elections as you know and it's time to turn the party around and it's good to listen to a whole series of different perspectives on how to do that," said Nancy Kaplan, delegate, 4th congressional district.

Perhaps more is riding on this race than in years past, some democrats see a new state chair as the person who can quarterback the party's rise back to power.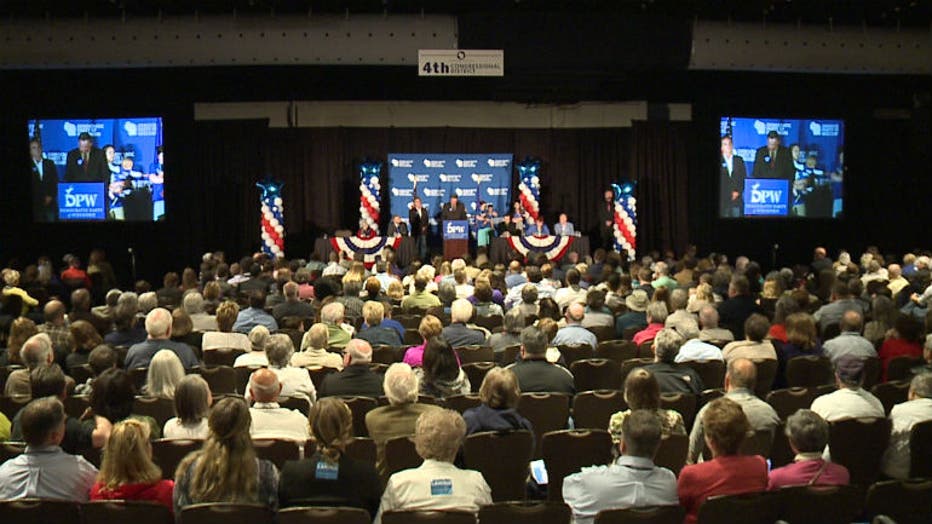 "When we don't have the governorship or the lieutenant governorship or leadership in the assembly, the face of the democratic party in the media and elsewhere is going to be the chair of the democratic party," said Kaplan.

Delegates came carrying signs and sporting t-shirts for their chosen candidates, and initially, it looked like it could be a competitive race.

"You want contested elections, you want people with different visions and opinions, and you know how do we want the future of the party to look," said Jeff Petri, delegate, 2nd congressional district.

In the end, Martha Laning dominated the rest of the field to take the party's helm. She's hoping to help the democratic party do the same in future elections.

Laning has a background in business and community organizing, she previously ran for State Senate in 2014 and lost.

"We're planning on winning races and winning races big in our future and to do that we're going to build the team that has the resources to win to bring in the money but also makes those connections out there and I know we have the democrats within our team to make that happen," Said Laning.

Laning replaces Mike Tate as the party's chairman. He'd served in that post for six years.