"We are thrilled to add to these new animals:" Racine Zoo announces addition of five red kangaroos
RACINE -- The Racine Zoological Society is pleased to announce the addition of five red kangaroos to the Australian-themed Walkabout Creek exhibit on Wednesday, August 26.

One male and four female red kangaroos, on loan from the St. Louis Zoo, will join an existing mob of two female red kangaroos within the Zoo's interactive Walkabout Creek exhibit. The exhibit also includes wallaroos, and emu.

"We are thrilled to add to these new animals into the exhibit because it enhances the experience for both guest and animal," said Theresa Donarski, Curator of Conservation and Animal Care.  "Kangaroos and wallaroos are very accepting of new comers so we don't anticipate any issues incorporating the new additions into the mob. They'll be one big happy family!"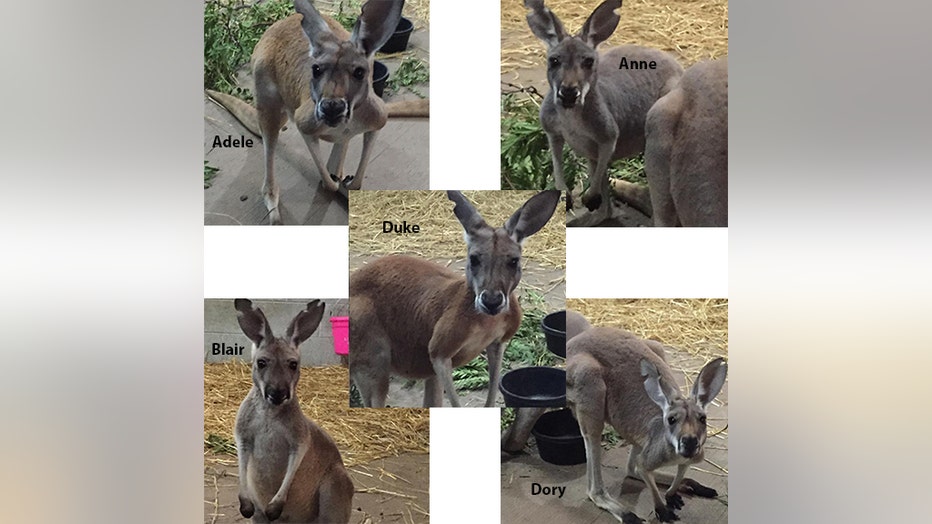 Racine Zoological Society adds five red kangaroos


The only male in the mob, Duke, born December of 2013 is the largest kangaroo at the Zoo and features dark red coloring.  The four females range in age between one to two years with the youngest, Annie, born last October 2014 and the oldest, Adele, born in December of 2013.  The females are also known as "blue flyers" because of their blue-gray coloration and their speed, which can reach 30 miles per hour.

"Walkabout Creek is truly one of the most unique exhibits I've seen anywhere," Beth Heidorn, Executive Director of the Racine Zoo stated.  "Kangaroos and wallaroos hopping and lounging in an environment shared with guests is a fun and humbling experience."

Red kangaroos are the largest species of kangaroo and marsupial often found on the open plains of inland Australia. The red kangaroo is most active from late afternoon to early morning, resting in the shade during the heat of the day. Their diet consists of grasses, herbs and shrubs, with a preference for green feed, such as newly sprouted grasses.